Social media users are calling out the security staff at an Astros baseball game at Minute Maid Park in Houston for failing to help a lesbian couple being harassed by a homophobic woman.
TikToker @talimedina filmed herself at the game and told viewers she was about to "pull the f'k up" after her LGBTQ friends claimed the people sitting behind them made homophobic remarks and took pictures and making fun of them.
She posted the video to TikTok and tagged the Houston Astros in the hopes her message will reach the appropriate people.

Her caption read:
"@houstonastros make it make sense? We missed the game we paid for dealing with this hag... why was this okay 🤦🏻♀️ we lost I blame her."
Tuesday's video received over 51K likes as of Wednesday.
@talimedina

@houstonastros make it make sense ? We missed the game we paid for dealing with this hag... why was this okay 🤦🏻‍♀️ we lost I blame her. #gaypride
The TikToker later explained in the comments the reason for tagging the home team.
"… Minute Maid park doesn't have a tiktok that's why i tagged astros we love them but security failed my friends… so it'll reach whomever it needs."
In the video, we see the person filming the video meet up with her friends. The video playback then slows to focus on the women sitting behind them.

The accompanying text indicated:

"These are the friends of the lady being homophobic who were also being rude."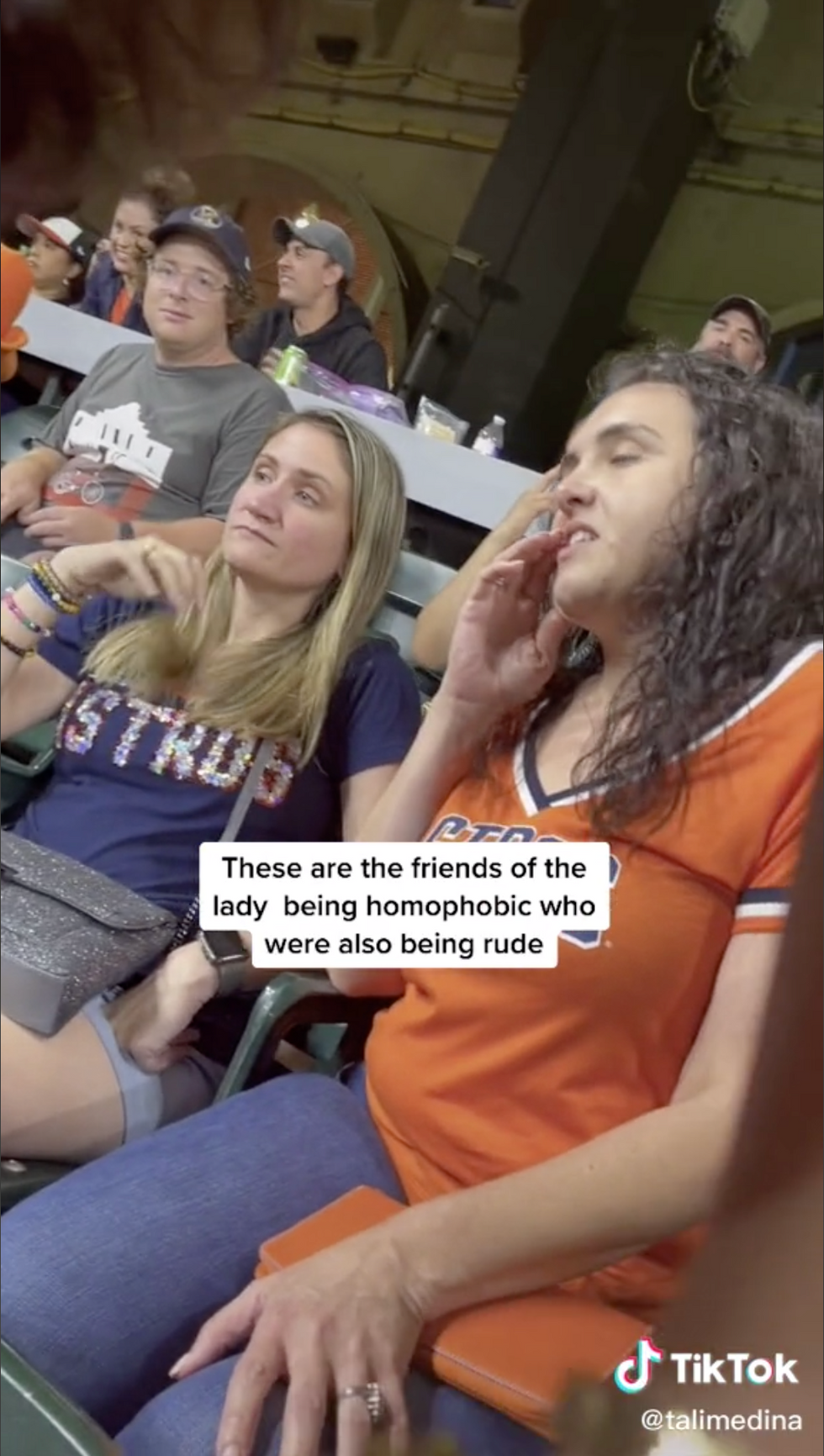 @talimedina/TikTok
Next, the camera showed the woman in question talking to someone who appeared to be from security, and the superimposed text read:
"Not her explaining herself to security and them actually being ok with it. She admitted to making fun of them calling them 'disgusting for being gay' laughing at them the whole game and taking pictures of them and making fun of them while doing so."
The woman wound up not being escorted from the premises for her disruptive behavior.

The TikToker wrote:

"She wasn't removed because she 'didn't use a profanity' as if that behavior wasn't a profanity…Like y'all literally have a whole game dedicated to the gay community y'all even sell Pride merch…. but her making homophobic remarks and making them uncomfortable isn't considered profane?? Weird."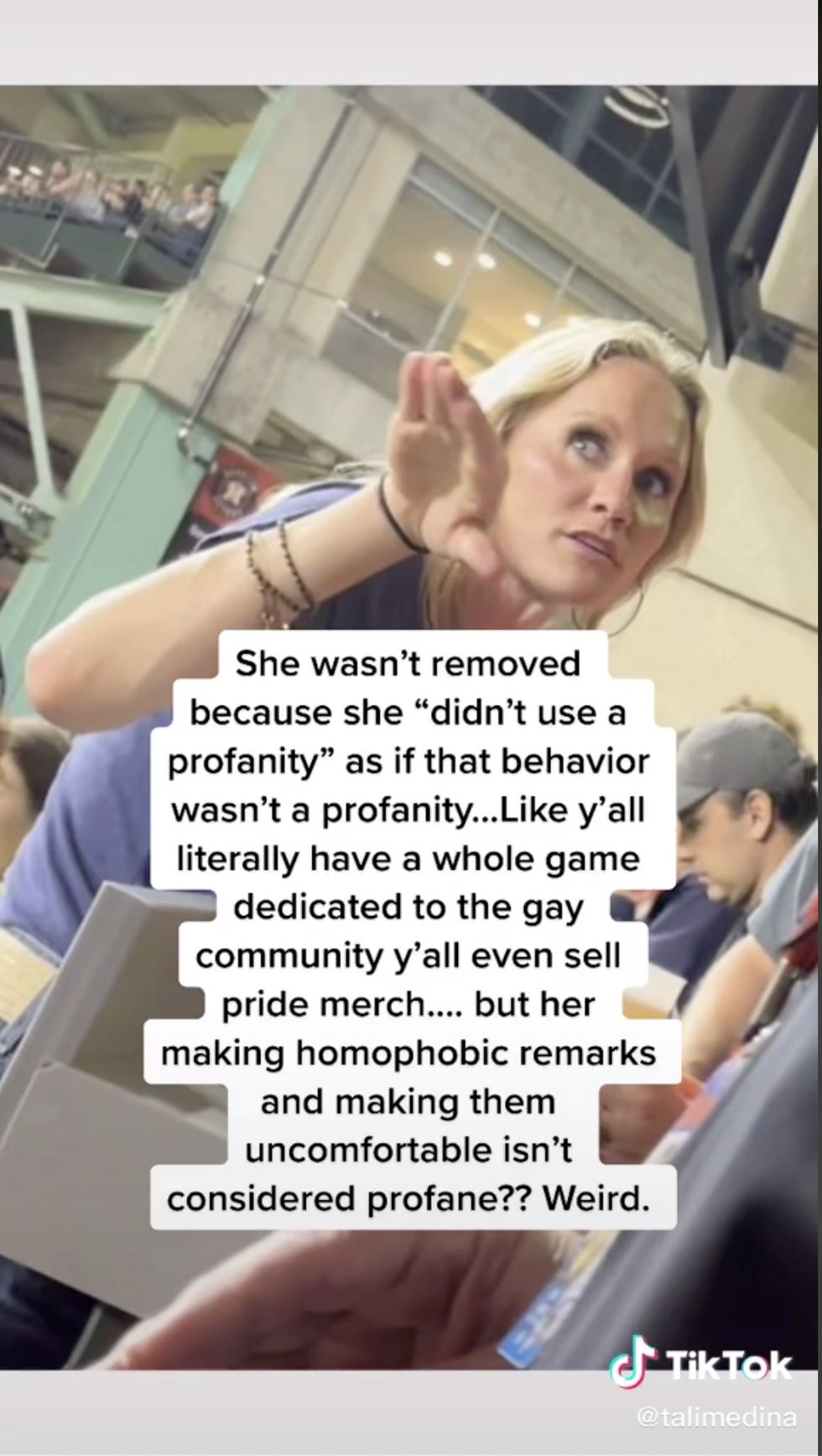 @talimedina/TikTok
Fellow TikTokers sounded off with their frustrations and demanded the stadium's security staff to do better.

@talimedina/TikTok

@talimedina/TikTok

@talimedina/TikTok

@talimedina/TikTok
Many companies showed support for the LGBTQ community on social media during Pride, but some businesses were called out for just talking the talk and not taking action against discriminatory acts outside the month of June.
People saw this as an example of the lack of a gay-friendly environment despite the team's selling of Pride merch.


@talimedina/TikTok

@talimedina/TikTok

@talimedina/TikTok

@talimedina/TikTok
Others expressed empathy in response to the encounter.


@talimedina/TikTok

@talimedina/TikTok
The TikToker posted a follow-up explaining the backstory and of the confrontation she had with the disruptive woman, who told her she was "allowed a "pass" because she didn't call her friend a "b*tch" or use profanity.
But @talimedina argued what the woman did to her friends – who were out on a date night trying to enjoy the game – was worse.

@talimedina

thanks for supporting them guys. Hopefully moving forward this behavior won't be tolerated. We love the Astros this just sucked to see happen.🤦🏻‍♀️
"Y'all can't let sh*t like this slide," she addressed the Astros directly, adding, "I'm not blaming the team… I'm still gonna go to Astros games… But y'all need to do better and treat that as a profanity," she says in the video."
She said of the rude woman:

"She completely got away with making them feel so uncomfortable for being gay."
The Daily Dot said they reached out to the Houston Astros but have not written about a response from them.
But the media outlet did share MLB's stance on discrimination from their website, which reads:
"Harassment and discrimination have no place within or around Major League Baseball—we must work together to build an even playing field for all those involved in our beloved game."
"If you wish to report a concern about conduct inconsistent with these principles, please call our externally managed Speak Up hotline at 1-844-993-0562."