Imagine going through all this pandemic and self-isolation stuff without the internet.
What would we even do?
No grocery delivery, no Zoom, no FaceTime, no gifs, no memes and certainly no ducks twerking.
---
If that last one took you by surprise, you've clearly missed out on the single best part of this entire pandemic era: a TikTok video of a Tennessee teen breaking it down with his pet duck that has taken over the internet.
This sanity-saving video comes to us from 17-year-old Hunter Clay and his pet duck, Lauren. Lauren's name in itself sparks joy—nothing is funnier than animals with people names.
But it's Lauren's choreographical—is that a word?—stylings that really get the party going.
Uh oh, sounds like we might be contending with a whole new pandemic—of infectious dance moves.
So how are we so lucky to be blessed with this truly magical duck and her truly magic dancing? As Hunter told BuzzFeed News, Lauren joined the Clay family when Hunter's brother bought her with his first paycheck at his job.
After he went to college, Lauren's care fell to Hunter and they became extremely close. Now, Lauren is living the high life for a duck—she has her own house and a kiddie pool in the Clay's backyard, but also gets to come inside for snuggles with Hunter.
She also frequently stars in Hunter's TikTok videos. And one day back in February, he had a song stuck in his head—"Vibe" by Cookiee Kawaii. And suddenly he was struck by inspiration.
As he put it to BuzzFeed:
"If you touch [Lauren's] tail feathers, she'll shake them, like twerking. And my brain just connected the dots."
And from the sounds of it, Lauren is a consummate professional—a true artist:
"The duck was surprisingly photogenic with the video. She was really well behaved throughout the whole thing."
And thus the greatest TikTok ever made was born.
Even better, Hunter's mom and sister happened to walk in while he was filming Lauren's music video debut and they got in on the action too—for what has become many people's favorite moment in the video. The video quickly went viral back in February on TikTok—racking up over 15 million views in no time—and then went viral again on Twitter.
And it just keeps going viral all the way here in April as people turn to it for a moment of levity during all this lockdown and quarantine business.
As Hunter told BuzzFeed:
"More and more people have been retweeting it. I've seen messages like the world is going through a tough time right now so here's something positive."

And judging from Twitter, there's no end in sight to Lauren's viral fame.
So what does Hunter think is the key to Lauren's virality?

"I think it's just because, first off, it's a really happy TikTok, really good vibes, but also I think the duck throws a lot of people off. It's just like, it's an infectious mood — like, He has a duck that's dancing."
Yep.
And for these times, it's just what the doctor ordered.
Get your own duck with the Melissa & Doug Jumbo Yellow Ducky Stuffed Animal, available here.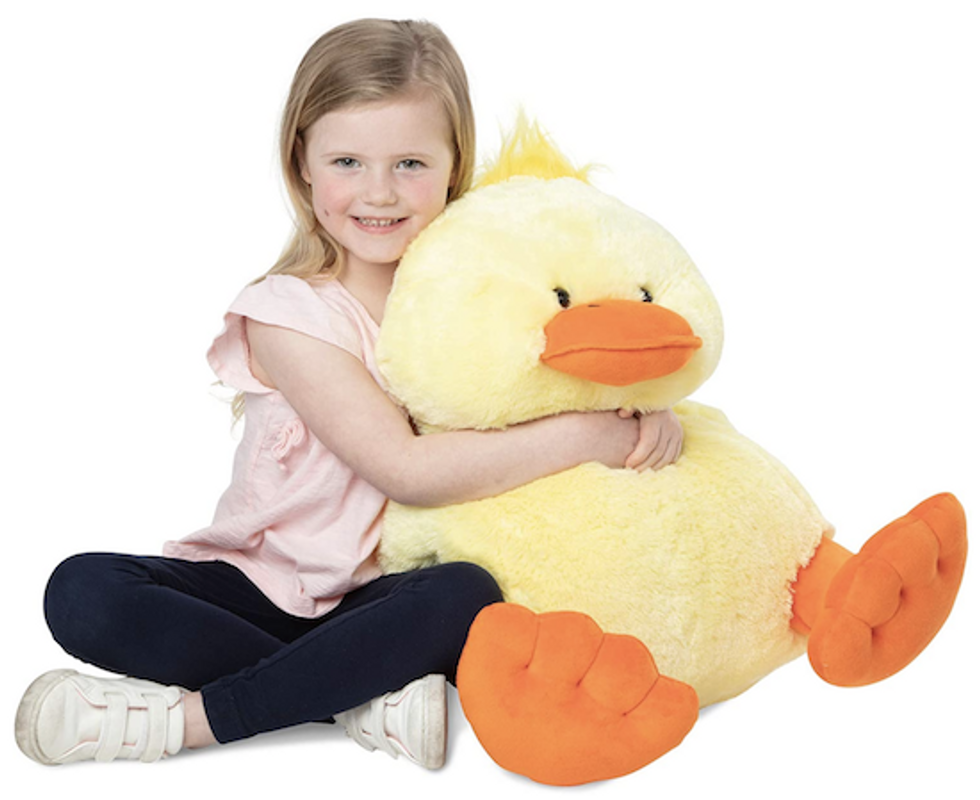 Amazon