---
Recently, track star Sha'Carri Richardson was barred from competing in the upcoming Tokyo 2020 Olympics due to testing positive for THC in a drug test. Famous singer Rihanna threw some hilarious shade at the Olympics on Richardson's Instagram post.
The three photo series was of Richardson wearing a gorgeous silver and black dress with fairly large bed to the left of her.
Rihanna took this as a chance to make a dig at the Olympics beds that are made of literal cardboard.
Rihanna known as @badgalriri on Instagram said:
"Yassss for the non cardboard bed."

@badgalriri/Instagram
Rihanna's comment did not go unnoticed by her fans.

@hellokittybenz/Instagram
@jenodell504/Instagram

@cloutonmar/Instagram

@rhymeswith_acasia/Instagram

@davyduhamel/Instagram

@kaydeesaidit_/Instagram

@jamaalbuster/Instagram
Apparently, many people were speculating that the cardboard beds from the Olympics are meant to deter the athletes from having intercourse with one another.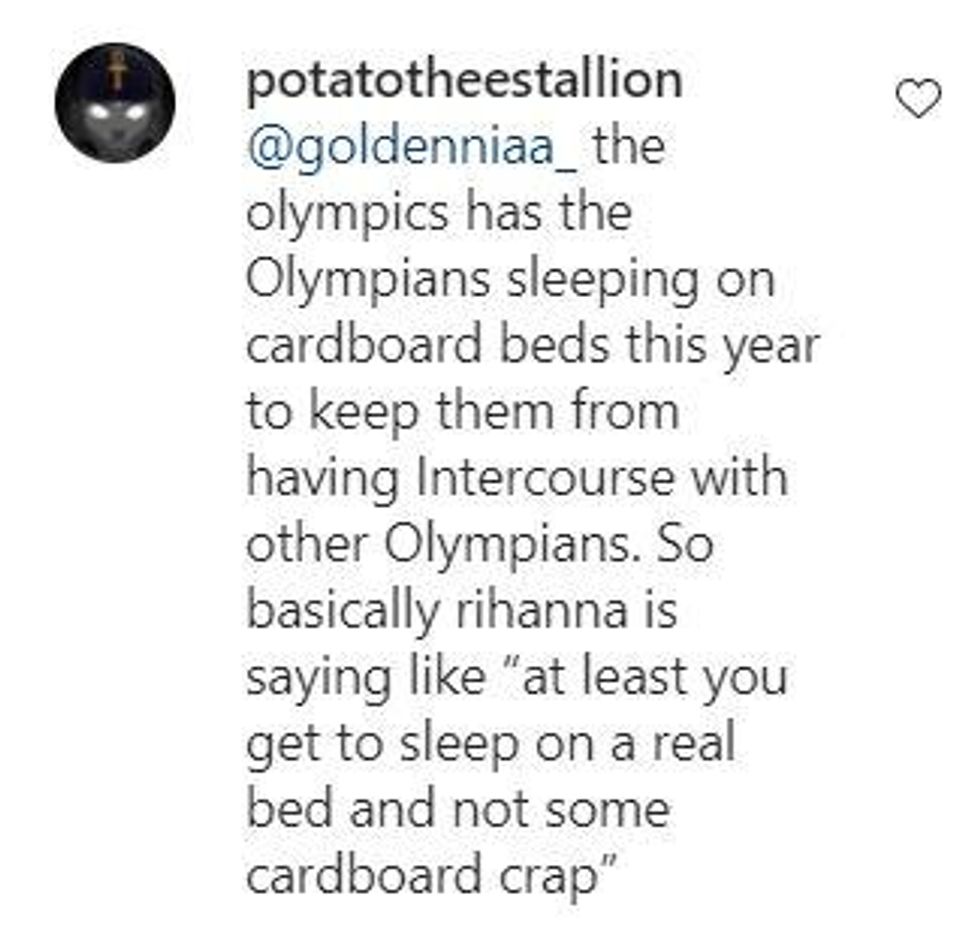 @potatotheestallion/Instagram
That rumor is actually false.
The beds can hold up to 441 pounds and are made of completely renewable materials, which is a first for the Olympics.
It was announced on July 2 Sha'Carri Richardson had tested positive for THC just days after she smoked a bit of weed. She said she smoked as a way of coping with the death of her biological mother.
Richardson's ban will last 30 days.
In spite of it all, many have cheered Richardson on, like Rihanna, and have spoken out against rules against use of a drug that is legal in many states, including Seth Rogan and Jen Psaki.
Richardson also has a new commercial in collaboration with Kanye West and Dr. Dre.