For one woman in Mesa, Arizona, spicing things up in the bedroom ended with a buzzing abdomen and a visit to the operating room.
---
The abdominal emergency arose while she and her boyfriend used a new vibrating sex toy they'd been eager to take for a spin, the woman told Arizona's Family.
They were apparently so eager, in fact, that she wore the vibrator on a necklace during the dinner date before the injurious bedroom romp.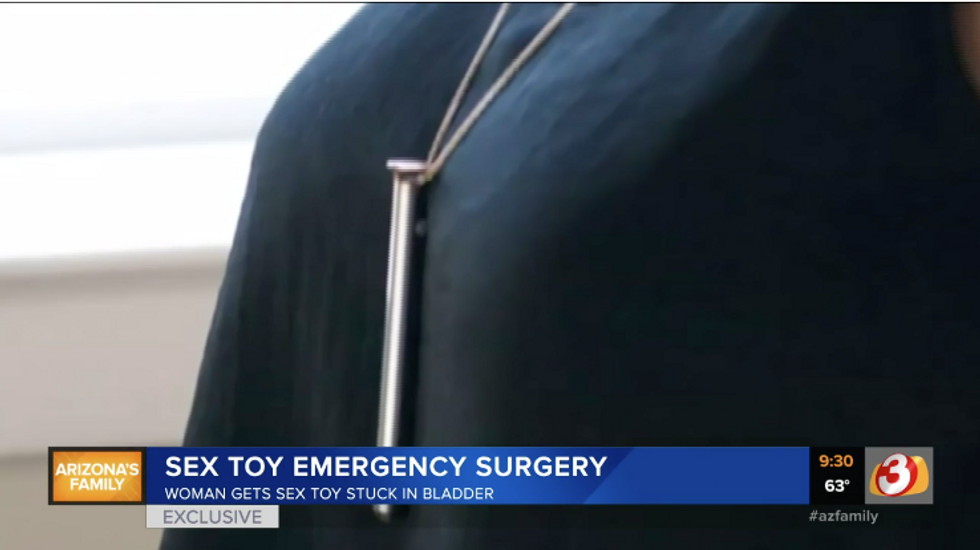 azfamily.com
While donning sex toy jewelry at a restaurant may sound bizarre, she was actually using the product as intended.
The 'Vesper Vibrator Necklace,' manufactured by adult toy company Crave Innovations, was designed to be wearable.
In hindsight, the super sleek, bullet-like design is a tad ominous.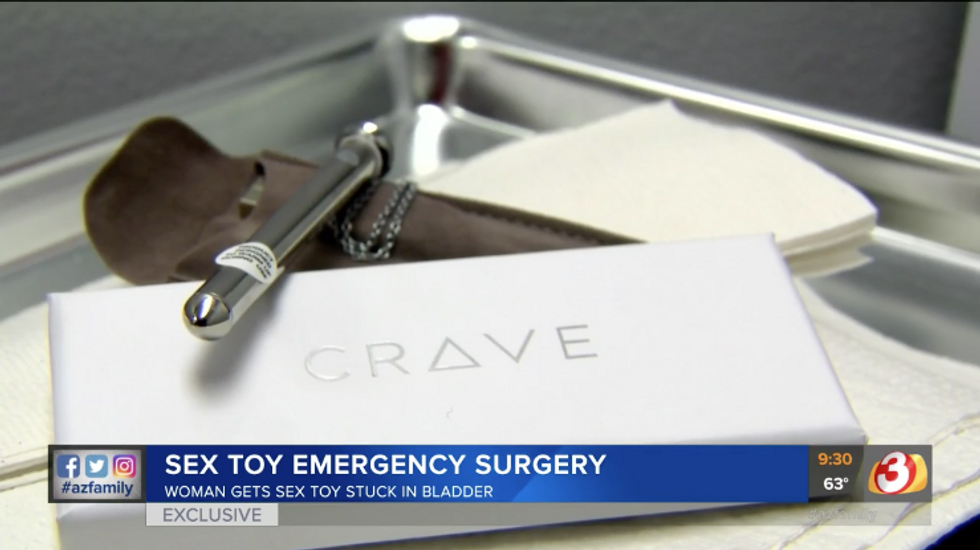 azfamily.com
According to the woman, who has chosen to remain anonymous, she and her boyfriend were using the product only on the outside of her body, as intended.
That explains the sudden surprise she described when disaster eventually struck.
"I moved and out of nowhere I just felt a really sharp pain."
Not surprisingly, the evening's romance disintegrated immediately.
"First reaction was panic because I had just lost something inside of me that was still going off."
"Yes, still vibrating."
With nowhere else to turn, she went straight to the emergency room, her belly vibrating the entire time.
Multiple pelvic exams conducted in the ER yielded no answers. OBGYN Greg Marchand had to step in.
"The emergency room staff wasn't able to find it in the vagina."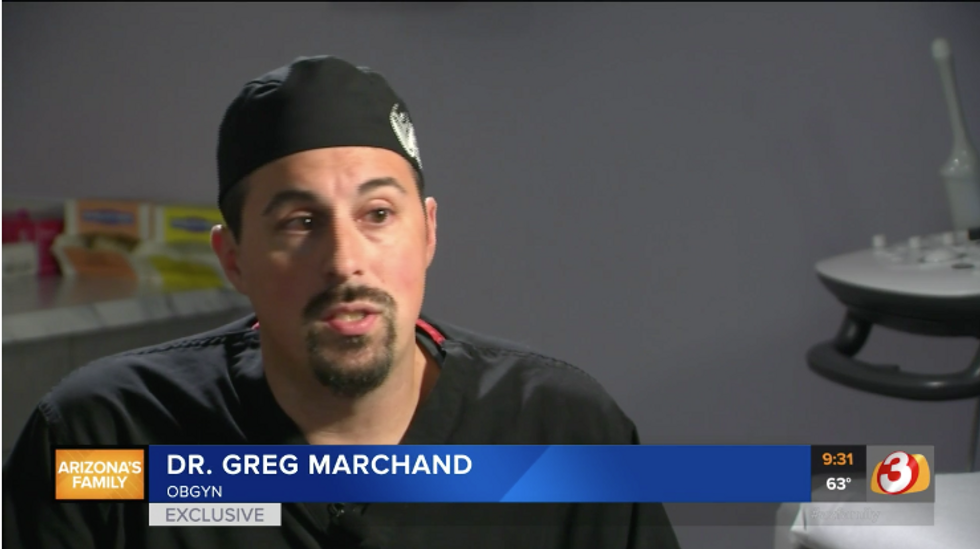 azfamily.com
Dr. Marchand's X-Ray exam revealed, clear as day, where the pain—and vibration—was coming from.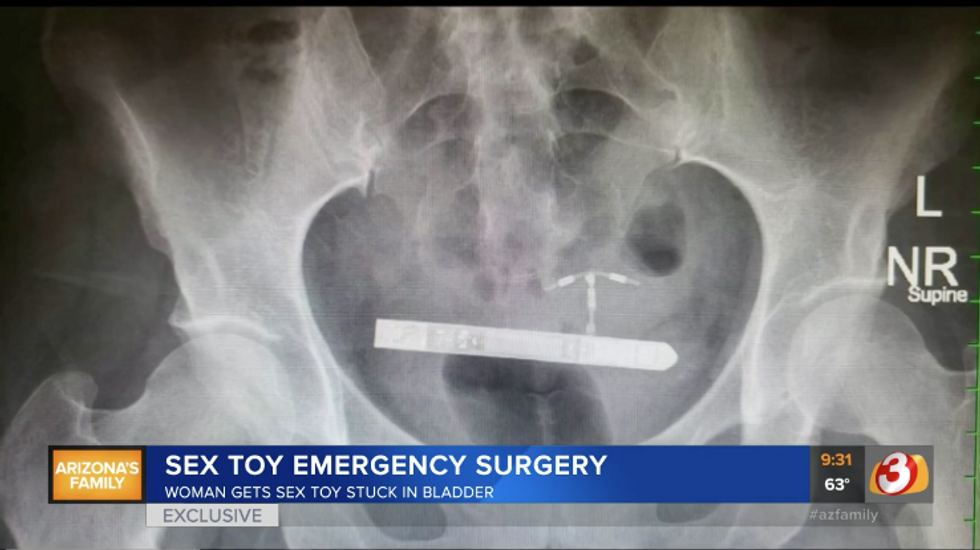 azfamily.com
"I was really surprised when I'm looking in the abdomen and realizing this device is actually in the bladder."
"I've never seen a case like this in my entire career."
Marchand concluded that the Vesper Vibrator accidentally entered her urethra, continued up into her bladder, and became lodged sideways once there.
@BrianaWhitney @azfamily https://t.co/aq5n3k4xwy

— Moose Onda Loose (@Moose Onda Loose) 1579924034.0
Surgery was required to remove it.
Think arcade claw game.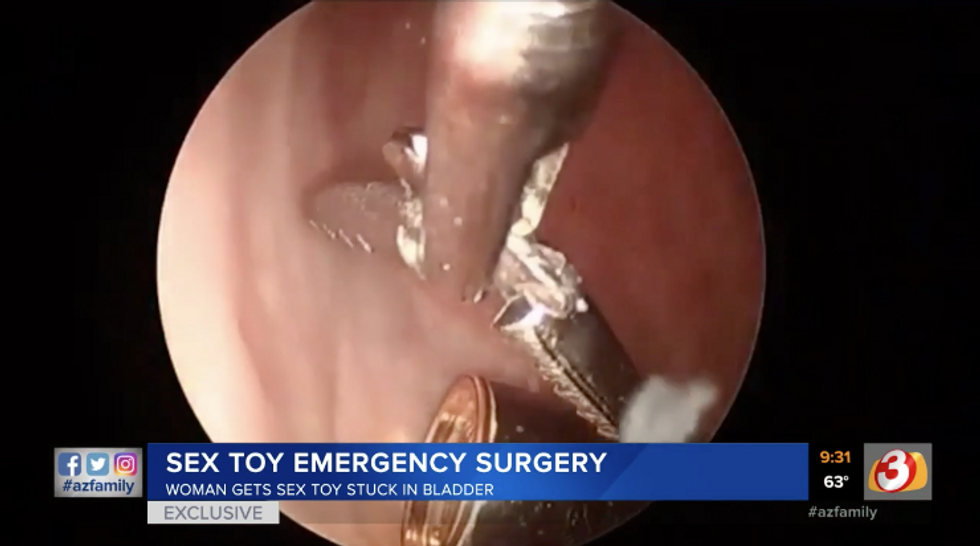 azfamily.com
People have been freaking out about the story.
@BrianaWhitney @azfamily Everybody knows NOT to vibrate the bladder!

— Jason Eisen (@Jason Eisen) 1579922644.0
@BrianaWhitney @azfamily https://t.co/uXWJ5GSOWK

— Saturday (@Saturday) 1579923624.0
@BrianaWhitney https://t.co/RadleQmu3H

— TheDevilInside (@TheDevilInside) 1579925619.0
@BrianaWhitney https://t.co/AlqmMxB9h1

— Rich Gaun (@Rich Gaun) 1579925149.0
Some predictions and puns were aroused.

Mariela Ramos/Facebook

Luciano Ferreira/Facebook

Sandie Constant-Payton
That last comment was spot on.

The now lighter woman plans to bring a lawsuit against Crave Innovations, claiming that the package label doesn't include nearly enough warning about the possibility of urethral slip-ups.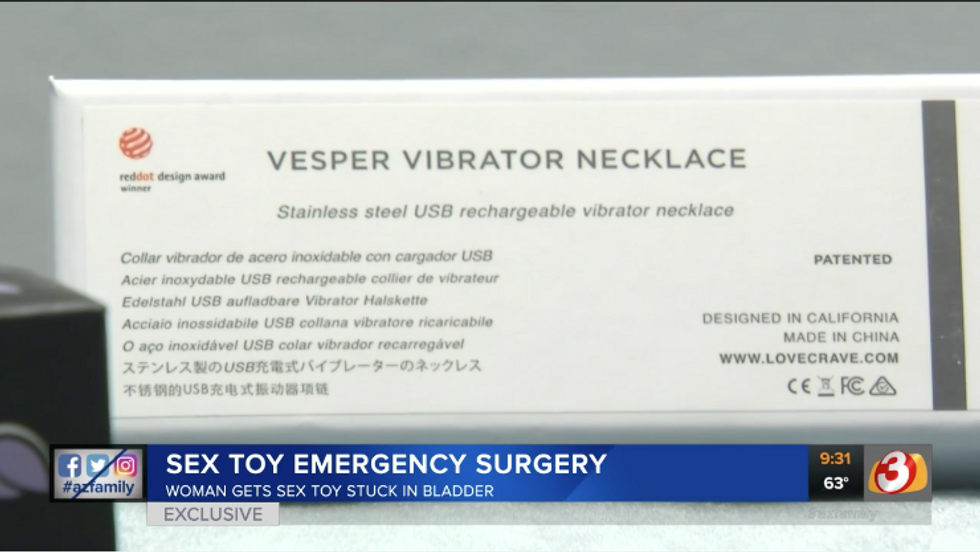 azfamily.com
Arizona's Family reached out to Crave and asked for a statement regarding the injury and lawsuit.
Crave gave the following statement, contradicting the original reporting.
"Media reports have come to our attention making the claim that a woman using our Vesper 'outside of her body as intended' resulted in the product entering her urethra and ending up in her bladder."
"We care first and foremost about the health and well-being of our customers and design all our products through that prism. The Vesper is designed for external use only and we stand behind its safety and quality for this use."
"Additionally, every Vesper is shipped with a clear safety label attached directly to the product that says 'Warning - not for anal, vaginal or urethral insertion.'"
"Because the woman has not contacted us, we have no direct insights into how the product was actually used. What we do know is that the Vesper cannot enter an individual's urethra by itself as the story implies."
"Since our inception we have been keenly focused on bringing modern design and safe products to a category historically dominated by novelty items, and we stay committed to that mission."

Looks like the 'Vesper Wearable Vibrator' will remain on the market for the foreseeable future, in case anyone's intrigued.
Be safe, people.