Selena Gomez put some trolls in their place after they made a comment on one of her latest TikTok videos.
The Only Murders in the Building star created a video of her skincare and makeup routine. While applying product, her hands were barely noticeably shaking.
Of course that was the focus of trolls. They quickly scrutinized her unsteady hands and commented on it.
Gomez didn't waste any time addressing them.
She commented—but then later deleted:

"Lol I shake because of my medication for lupus."
"Also read my disclaimer. I ain't no pro."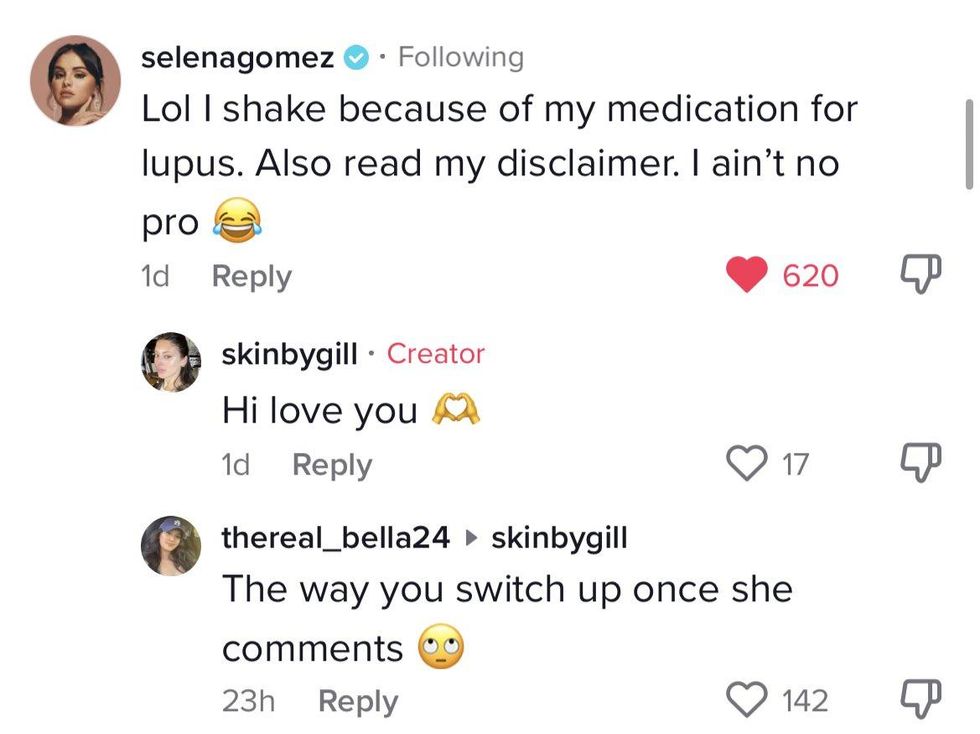 @selenagomez/Twitter
Her fans were also quick to have her back.
The singer and actor was diagnosed with lupus in 2014 and has been public about her struggles with the disease as well as the effects of her medication.
Gomez had a kidney transplant in 2017 and opened up about the challenges she faces—both physically and mentally dealing with an invisible chronic illness—in her 2022 documentary Selena Gomez: My Mind and Me.
Invisible chronic illnesses are those that can't be detected by just looking at a person. The person not "looking sick" leads to a lot of ignorant reactions and misunderstandings from others.
Gomez revealed:
"I haven't felt it since I was younger. In the morning when I wake up, I immediately start crying because it just hurts, like, everything."
The "Love You Like a Love Song" singer also discussed her diagnosis and continued treatment for bipolar disorder in the film.
You can watch the documentary and learn more about her journey on Apple TV+.