A Christmas tree in Rome that drew criticism for its unhealthy appearance and high cost has been pronounced dead days before Christmas.
---
The tree, which was bought for €48,000 (or roughly $57,000) and erected in Piazza Venezia, was given the nickname "spelacchio," which means "mangy" or "balding" in Italian. It has also been compared to a "toilet brush."
And it's a pretty accurate description:
Welcome #spelacchio, Roma te salutat #piazzavenezia https://t.co/48t7g0y3df

— LauraDeliQuintiliani (@LauraDeliQuintiliani) 1512756017.0
Prayfor #Spelacchio https://t.co/DSWysaldcu

— Luca Nobili (@Luca Nobili) 1512842643.0
People around the world have ridiculed the tree, and the government has been sharply criticized for wasting so much public money:
you vs. the guy she tells you not to worry about #Spelacchio https://t.co/TLmKeF1sHm

— AH (@AH) 1513794534.0
Rome's 'dead' Christmas tree, dubbed 'the mangy one', sparks accusations of wasting public money https://t.co/OVWYTPINTC

— The Telegraph (@The Telegraph) 1513799298.0
A spoof Twitter account for Spelacchio has even been set up, amassing over 5,000 followers: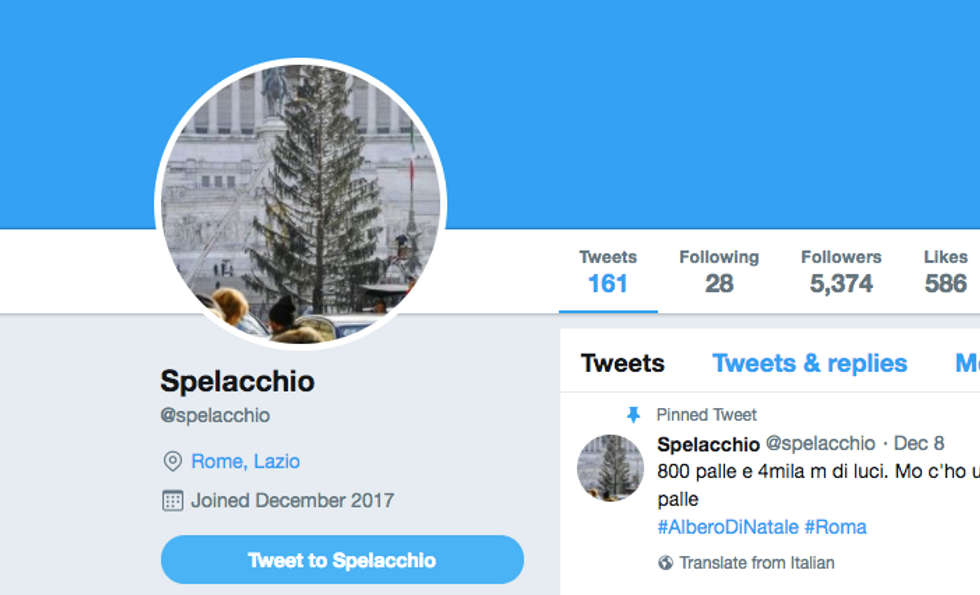 But not everyone on Twitter was quite so hard on poor Spelacchio. A few were able to find its sad beauty:
Dear citizens of Rome - I never thought it was such a bad little tree. It's not bad at all, really. Maybe it just n… https://t.co/rVm2XG6f5I

— Hailey Conniff (@Hailey Conniff) 1513777213.0
A sorry sight during the day, but poor old @spelacchio looks alright after dark. https://t.co/7cLvMelAKl

— Agnes Crawford (@Agnes Crawford) 1513700356.0
Shine on you crazy Spelacchio... just one more night... #spelacchio #rome #roma #christmas #natale https://t.co/G9xZVpsqD7

— Deimos rocks! (@Deimos rocks!) 1513753606.0
Unfortunately, Spelacchio was dead on arrival, according to environmentalists. The tree literally left its roots back in the Dolomites. But that doesn't necessarily explain Spelacchio's sickly look.
A spokesperson for the area of Northern Italy where the tree was taken from has said that "despite being technically dead, trees can remain luxuriant for a month and a half, two months," adding, "It left our valley in optimum condition."
The symbol of an endless Rome decadence. "SPELACCHIO", the frail and shabby Christmas Tree of the Eternal City rece… https://t.co/dGUkFs93OB

— Antonello Guerrera (@Antonello Guerrera) 1513677706.0
"What happened is that it wasn't unloaded correctly once it arrived in Rome, which is an extremely delicate operation because there's a risk of breaking the branches," the spokesperson explained.
Meanwhile, Twitter mourned the demise of the poor tree:
I can confirm that Rome's Christmas tree is officially dead before Christmas #rome #italy https://t.co/sdQJn6dGHq

— Alberto Pizzoli (@Alberto Pizzoli) 1513682911.0
RIP @spelacchio We will never forget you #roma #spelacchio https://t.co/VrdxcVAX31

— Giorgia Burzz (@Giorgia Burzz) 1513697378.0
I'm sorry for laughing, but this #tree is the saddest thing ever. Which makes it unique and beautiful in an odd so… https://t.co/0oT6VgmMHM

— Donna Cordova (@Donna Cordova) 1513707537.0
rest in peace😢💔 #Spelacchio https://t.co/fPmktHp94J

— Leonardo◇Aslan (@Leonardo◇Aslan) 1513773478.0
But for Romans looking for a festive tree that isn't quite so depressing, you can always head over to St. Peter's Square in the Vatican and check out their gigantic red fir from Poland that clearly survived its trip much better than Spelacchio.
Vatican Christmas Tree it was wonderful to see in person https://t.co/AvrpGThP2k

— MyBoomerLife (@MyBoomerLife) 1513777307.0
And as for Spelacchio, it'll live on forever in our hearts, and continue to haunt our dreams until the end of time.
R.I.P. dear Spelacchio. You were too good for this Earth.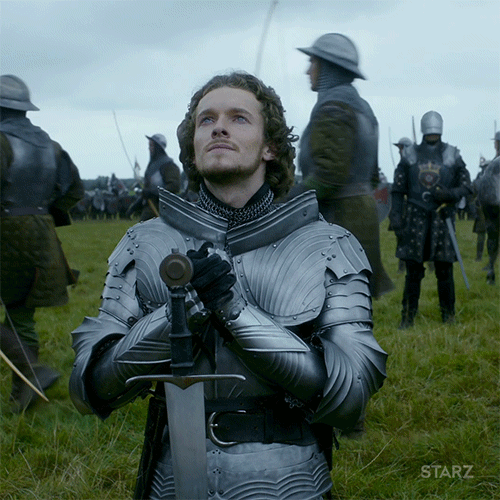 Please SHARE this with your friends and family.