Since he helped to incite the violence at the Capitol building on January 6, many online have been calling for the resignation of Republican Senator Ted Cruz of Texas.
Among Cruz's many critics is actor, comedian, writer, director, and producer Seth Rogen, who replied to one of the Senator's tweets by saying:
"F'k off you fascist."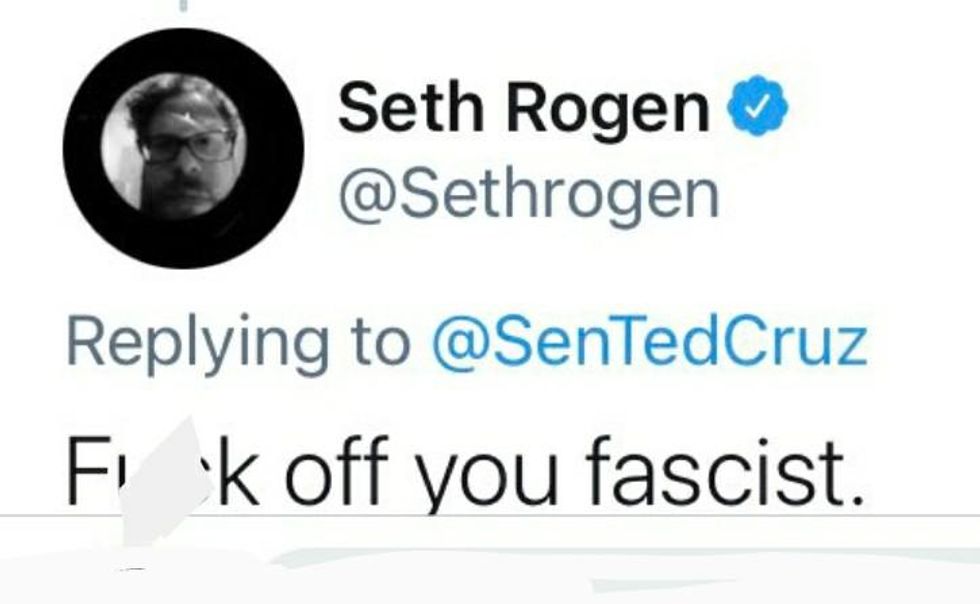 @Sethrogen/Twitter
Canadian export Cruz—who was born in Alberta, Canada—responded not directly to his fellow Canadian export Rogen, but by screenshotting his comment.
Cruz—the millionaire Senator thanks to his wife's income who consistently votes for tax breaks for his tax bracket—then claimed to be some sort of working class hero.
At least Cruz tagged Rogen in his self promotion post.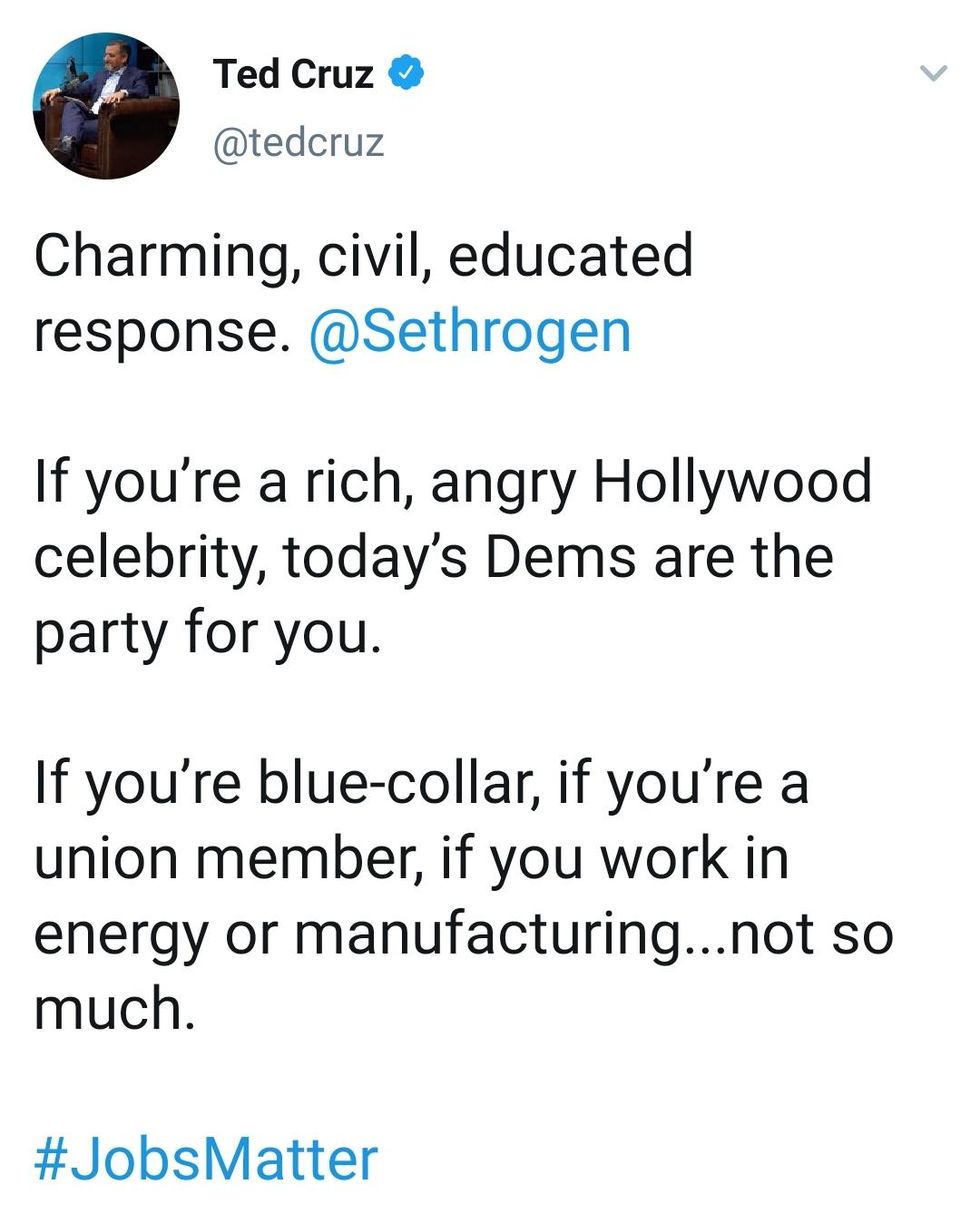 @tedcruz/Twitter
So began a heated back and forth between Rogen and Cruz, who continued to respond to each other, trading insults.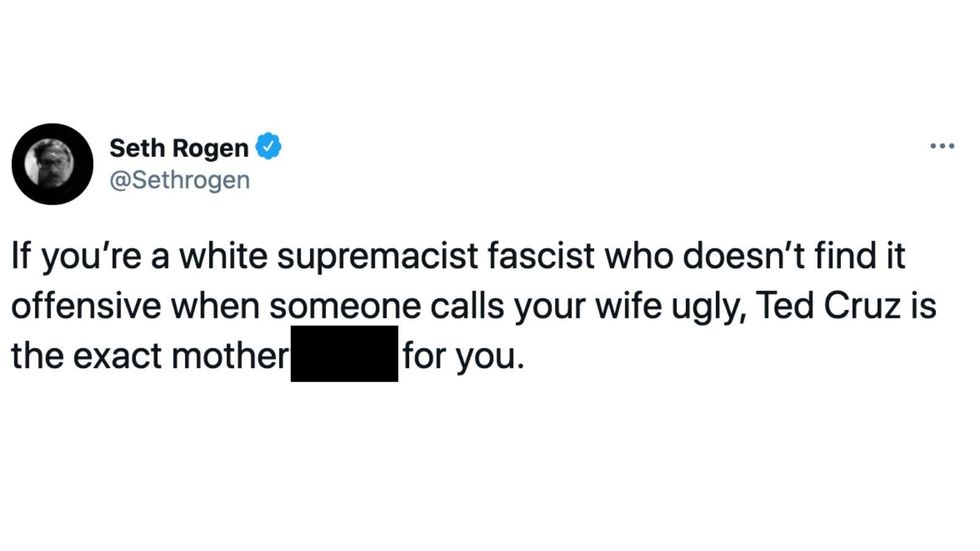 @Sethrogen/Twitter
Many, including Rogen, pointed out Cruz was likely in a petty Twitter fight to distract from the shameful role the Senator played in the January 6 insurrection at the Capitol where five people died.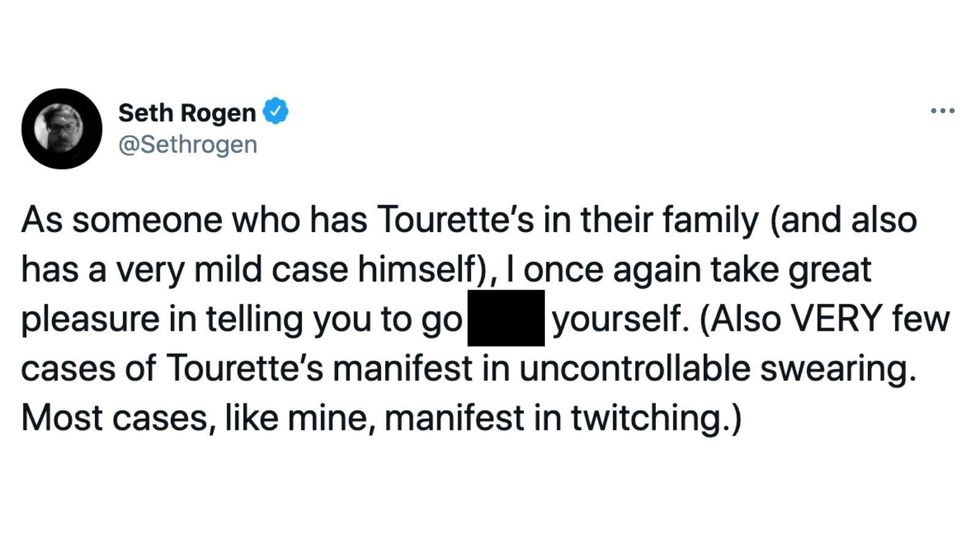 @Sethrogen/Twitter
The argument, which was laced with profanity, was followed closely by Twitter users everywhere.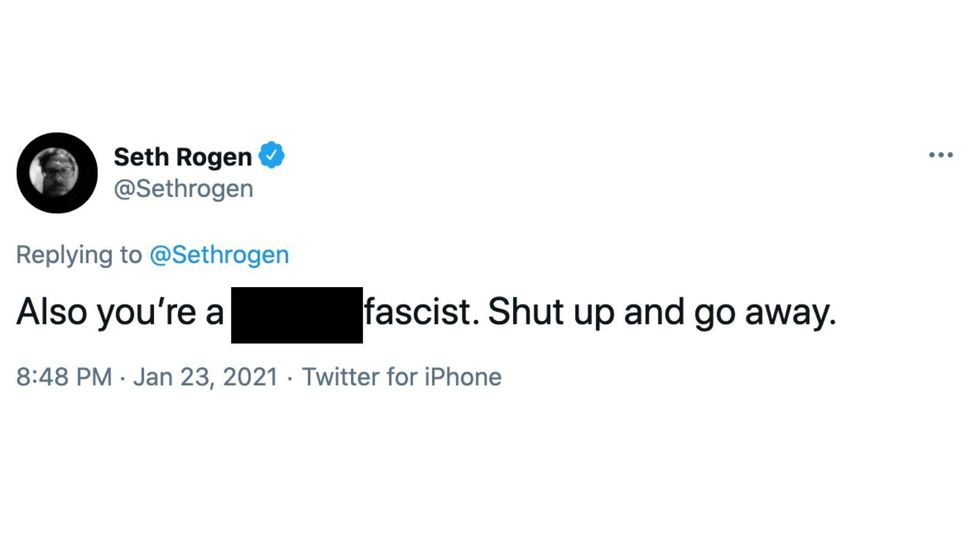 @Sethrogen/Twitter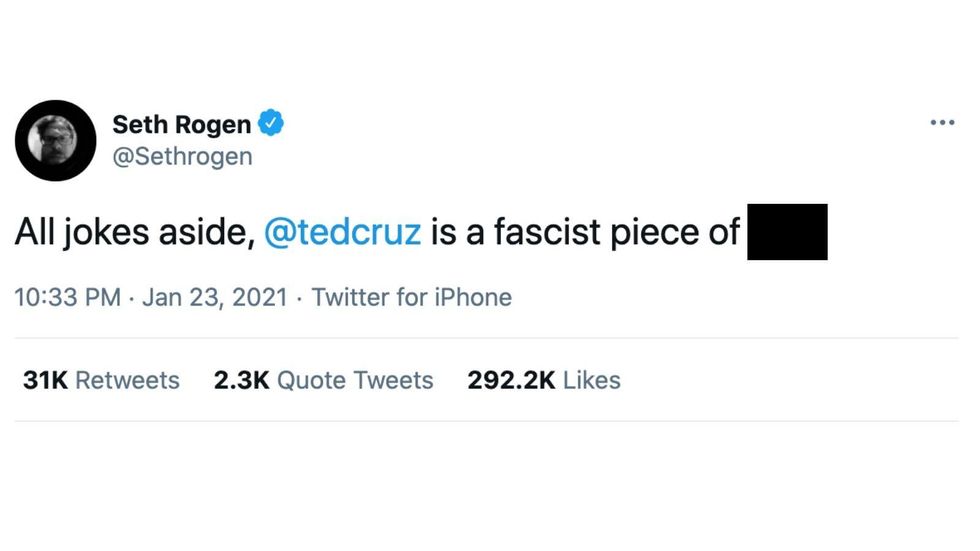 @Sethrogen/Twitter
At different points, both parties attempted to put in the last word.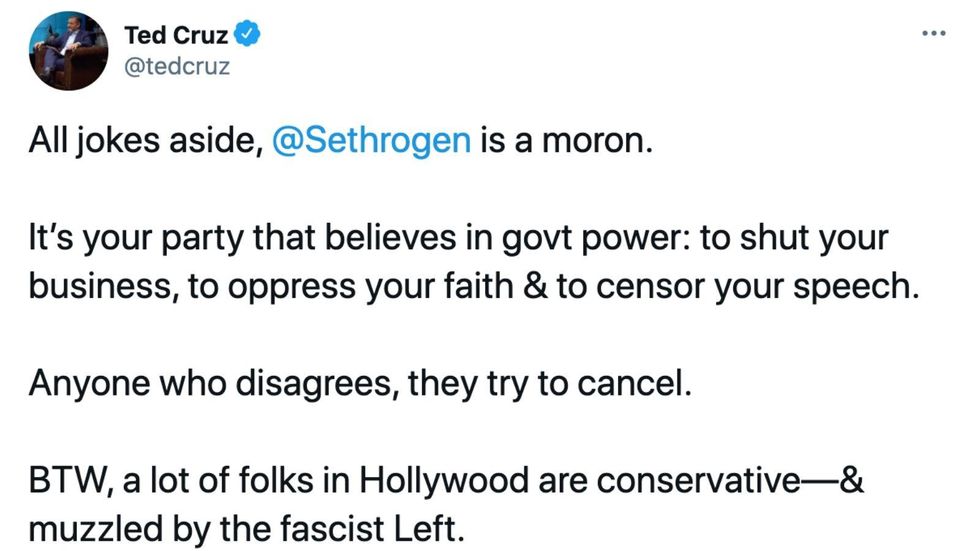 @tedcruz/Twitter
Ultimately, however, it was probably the U.S. Senator's reputation who took a hit for trying to squabble on Twitter with a famously raunchy writer and comedian.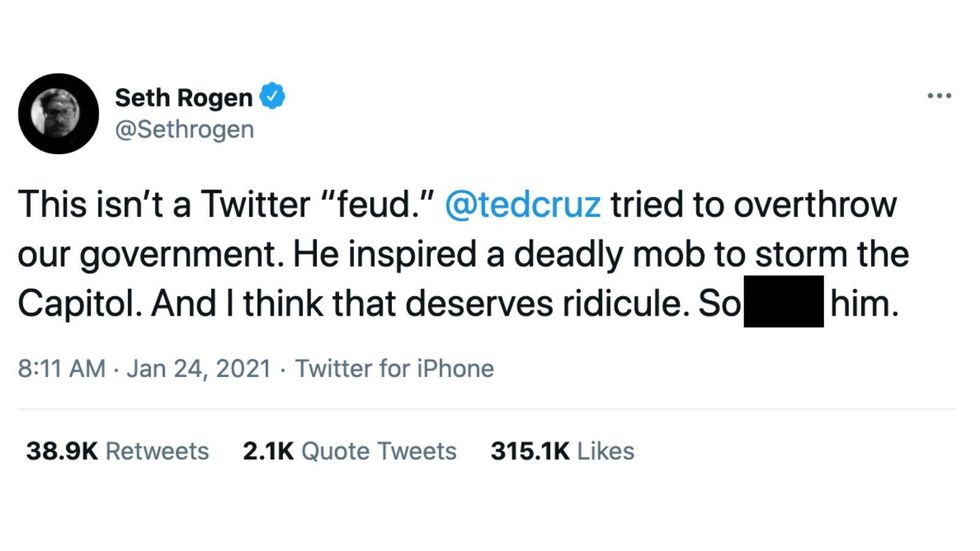 @Sethrogen/Twitter
Some pals of Rogen even commented on Cruz's participation, like actor Joseph Gordon-Levitt.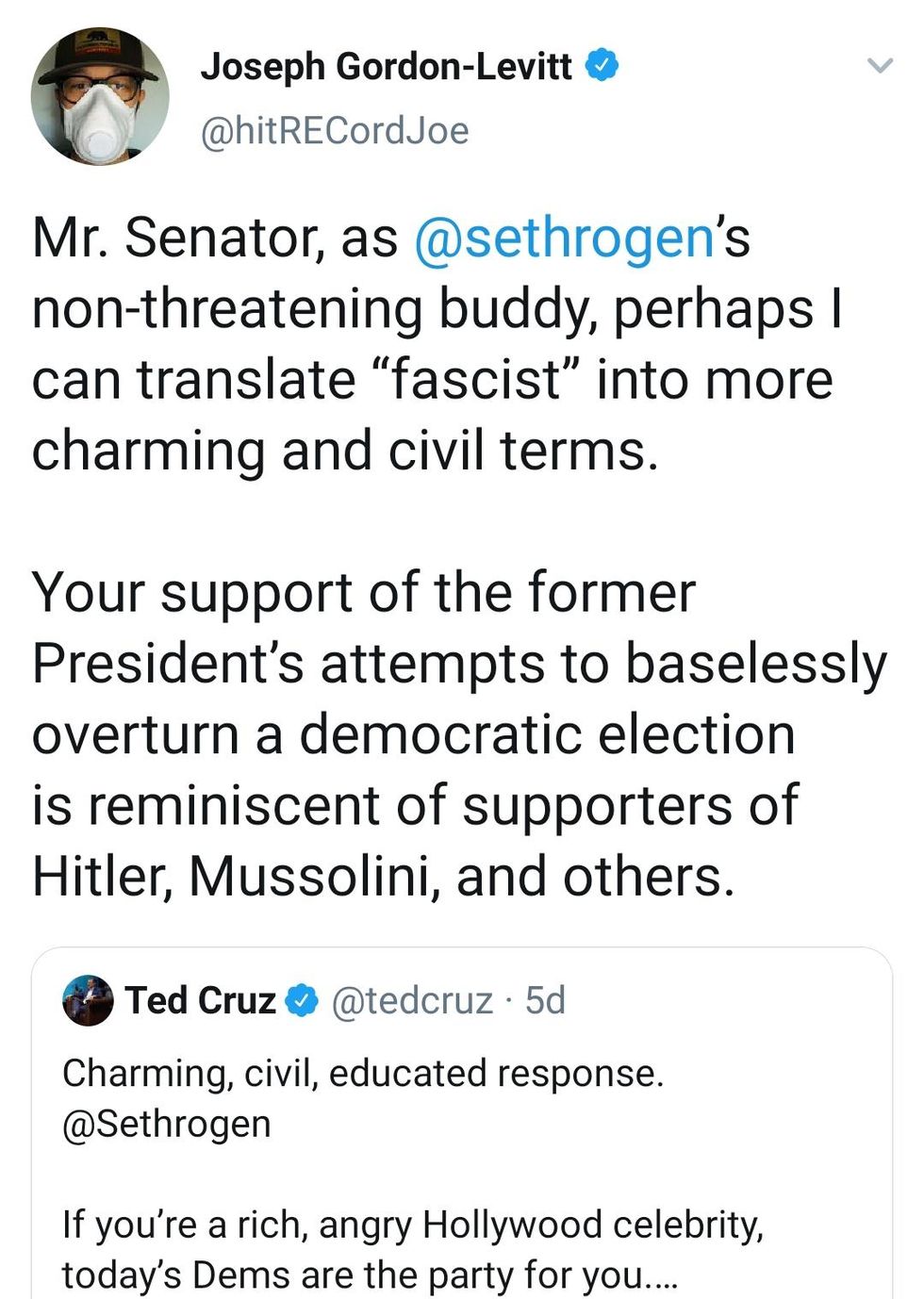 @hitRECordJoe/Twitter
If someone gets paid to make jokes, Senator Cruz, it's almost never a good idea to get into a fight with them online.