A new poll conducted for ABC News by Langer Research Associates shows that half of all Americans want to see Donald Trump impeached.
---
The poll also showed that Trump's approval ratings have hit an all time low, although not by much.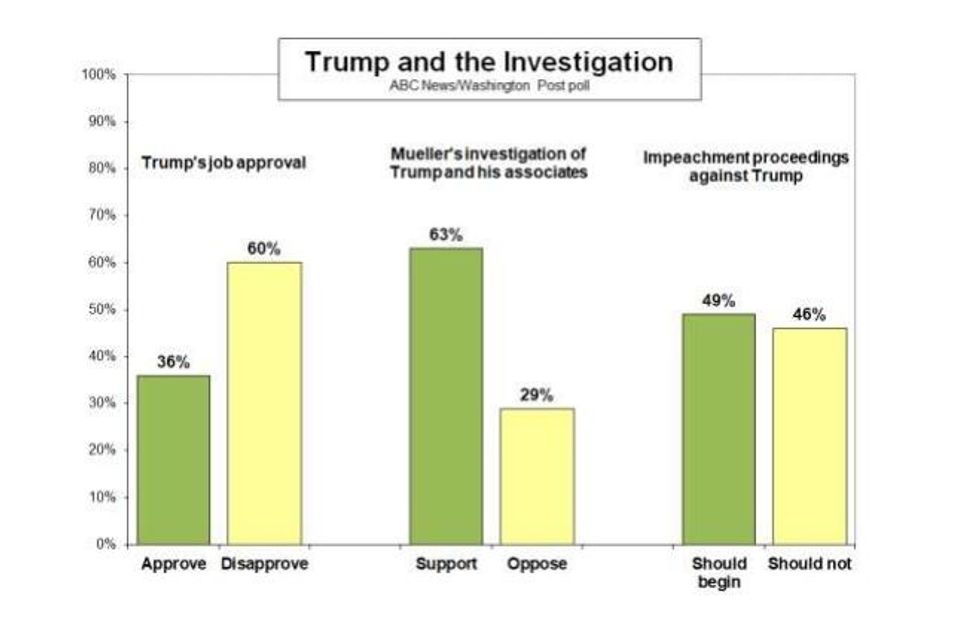 Langer Research Associates
Trump seems to be dropping his approval rating across a large swath of people from different backgrounds.

Langer Research Associates
It seems the two issues at hand are Robert Mueller's ongoing investigation of collusion between Trump's campaign and foreign agitators of the election and the arrest and conviction of Trump's campaign chairman, Paul Manafort.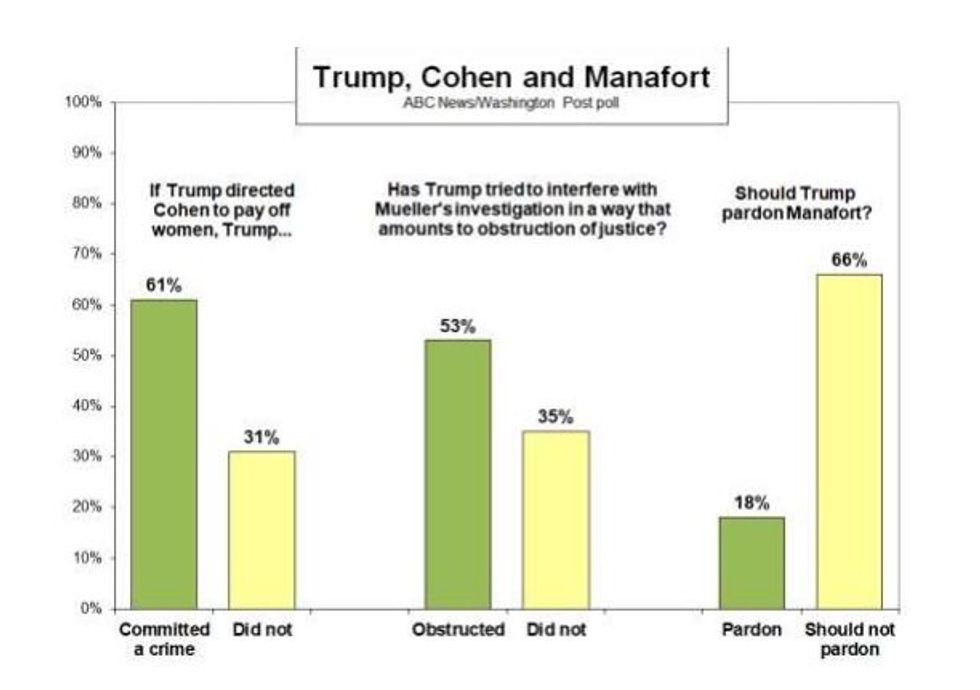 Langer Research Associates
Many are blaming the fall in Trumps numbers on his increasing attacks on Mueller and Attorney General Jeff Sessions. Also noted was Trumps ad nauseam use of the term "Witch Hunt." Twitter certainly is over it.
"You can fool all the people some of the time, and some of the people all the time, but you cannot fool all the peo… https://t.co/8lzGPDFeb2

— Tim O'Brien (@Tim O'Brien)1535718139.0
NEW POLL: Trump's disapproval hits new low—60%. His "rigged witch hunt" propaganda assault to discredit the Russia… https://t.co/A6yzXOpzVA

— Paula Chertok🗽 (@Paula Chertok🗽)1535722082.0
It isn't looking good as this former member of Congress pointed out.
60% disapproval. 36% approval. 49% support impeachment proceedings. 19 months into a 1st term. https://t.co/lUiEVoHsXl

— David Jolly (@David Jolly)1535714043.0
Some folks celebrated the news.
@tribelaw Thank the good Lord above. Finally the American public sees what everyone who ever lived within 50 miles… https://t.co/9xnVrhfyxg

— jupitergirl (@jupitergirl)1535729976.0
@tribelaw Oh happy day! There is a light at the end of the tunnel.

— Miss G (@Miss G)1535729835.0
@tribelaw This is the light at the end of the tunnel that should guide us on the path to saving our democracy. Best. News. Ever.

— Angie (@Angie)1535729857.0
@tribelaw Disapproval may go higher after his admission that his policies have created an economic "emergency" in h… https://t.co/qv6Nflrt9r

— Claudia Pearson (@Claudia Pearson)1535731238.0
But others found the numbers shocking.
@NateSilver538 I find the 40% approval mind boggling, really that many people approving him is hard to fathom

— DanFromPhilly (@DanFromPhilly)1535728279.0
@kylegriffin1 That this bigoted moron has even a 40 percent approval rating is frightening.

— Sarah Freligh (@Sarah Freligh)1535731925.0
@tribelaw Surely it is much highrr!

— DeborahB (@DeborahB)1535730176.0
@tribelaw WHY IS SUPPORT FOR IMPEACHMENT NOT ALSO AT 60%? It boggles the mind, it does.

— Stephen Watkins (@Stephen Watkins)1535730176.0
We can't figure it out either.