This idyllic Caribbean beach scene, as a pretty mother and doting dad renew their wedding vows, witnessed by their playful six-year-old son, hides a tragic secret.
Determined to live life to the full, traveling the world with her son, Danny, and her accountant husband, Chris, 38, former merchandiser Caroline Richards, 39, fears she may not live to see her little boy finish primary school.
Struck down by recurrent stage four bowel cancer – leading to the removal of most of her abdominal organs – at one stage the vibrant woman, from Bridgend, South Wales, had a 12lb ovarian tumor that made her look nine-months pregnant which, once cut out, grew back nearly as big again.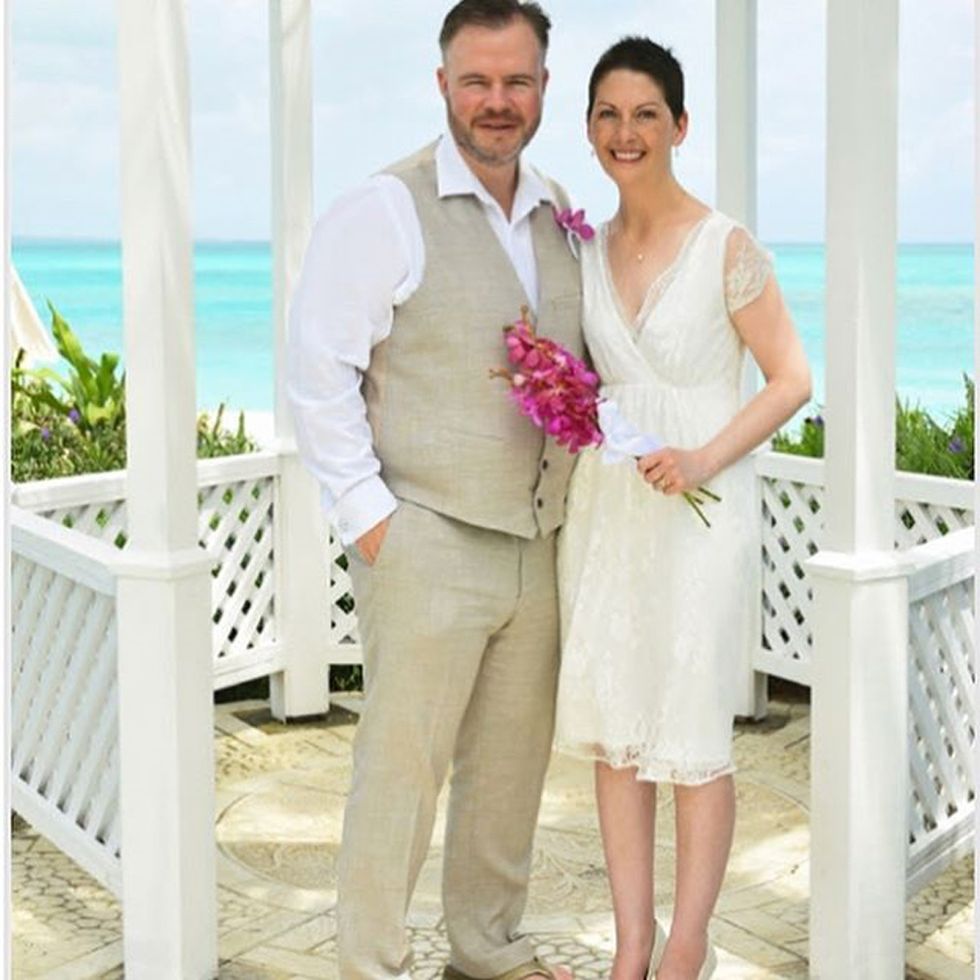 Renewing vows in Turks and Caicos, May 2018 (PA Real Life/Beaches Turks & Caicos Resort Villages and Spa, Epix Professional Imaging )
Now Caroline, who asked Danny to walk her down the aisle at her vow renewal on the Turks and Caicos islands in May this year, is making the most of the time she has left, saying:
"When you know that you could be dead next week, you appreciate the life that you do have far more."
"Chris, Danny and I have done so much together that we wouldn't have done otherwise, because you realize that material wealth is not nearly as important as making happy memories together.
"Strangely, I sometimes think that I'm lucky to know that I'm dying."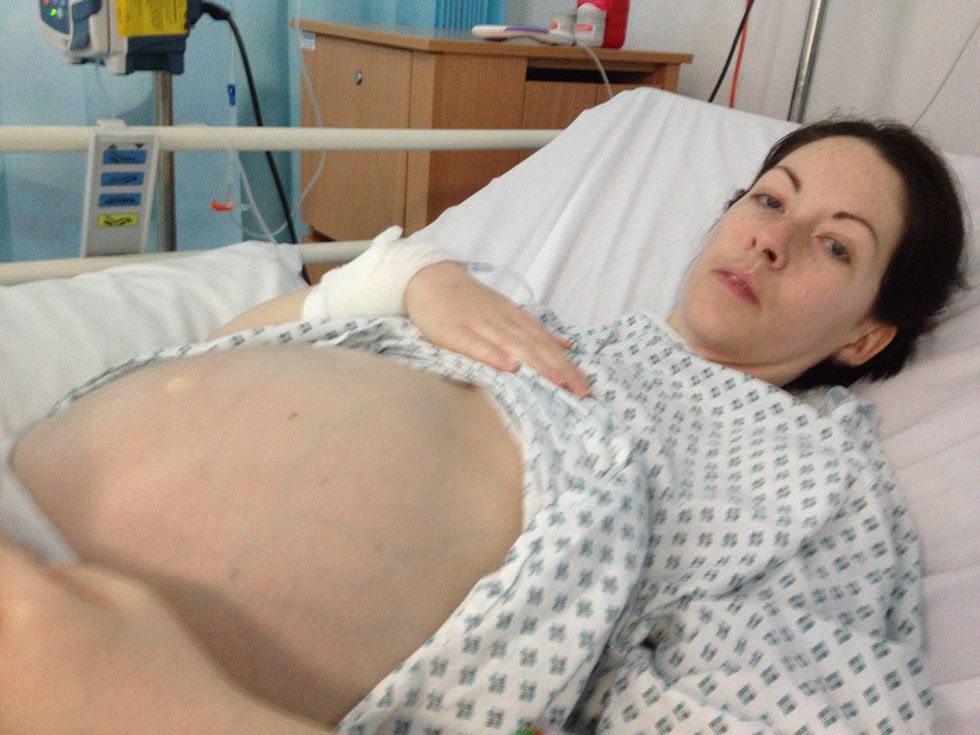 Before surgery for the removal of her 12-pound tumor, May 2014 (Collect/PA Real Life)
Caroline's problems started during the Yuletide festivities in 2013, when the stay-at-home mother's waistband felt tight and she assumed she had eaten too much Christmas pudding.
Moving into the New Year, busy looking after her little boy, she tried to ignore her bloating stomach and increasingly erratic bowel movements, putting them down to a bad case of irritable bowel syndrome (IBS).
She recalled:
"I knew something wasn't right, but it never crossed my mind that it was anything to worry about too much."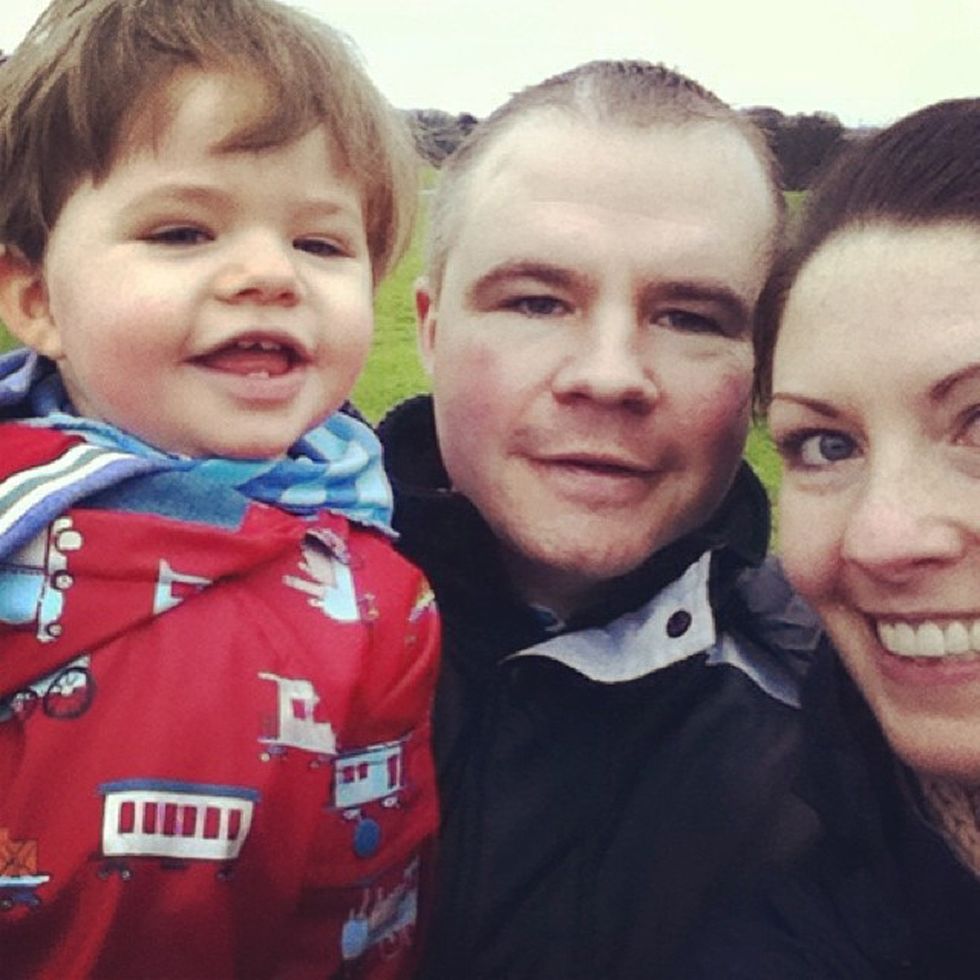 With Danny and Chris in December 2013, months before being diagnosed with terminal cancer (Collect/PA Real Life)
She continued:
"I just put it down to my body reacting to the stress of being a new mum and planning for Christmas."
But by March 2014, it was clear something was very wrong and becoming more and more unwell, she finally decided to visit a doctor.
Referred to Swansea's Singleton Hospital, she and Chris were in shock when in the same month they were told she had a "horror movie-like" 12-pound tumor growing on her right ovary – nearly TWICE the size of her baby when he was born.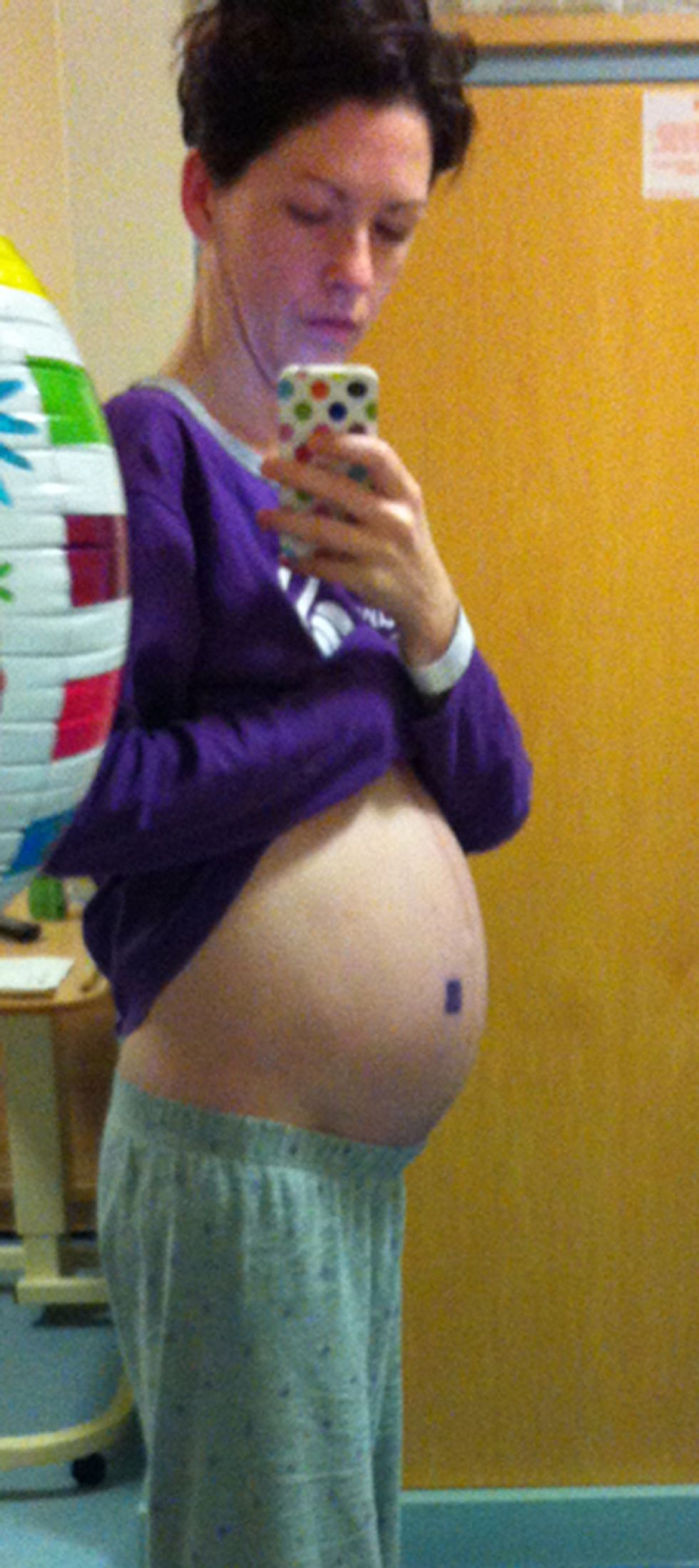 Before surgery for the removal of her 12-pound tumor, May 2014 (Collect/PA Real Life)
The normally slim 98 pound Caroline soon ballooned in size and by April was constantly wearing her old elasticated maternity jeans.
Her stomach was now even bigger than it had been at nine months pregnant the previous year, just before Danny was born in September 2012 weighing 6 lb 6 oz.
"It was unbelievable," said Caroline, who by April was not able to keep anything more than soup and tea down. "I had never once thought that something growing inside me was the cause of all of it."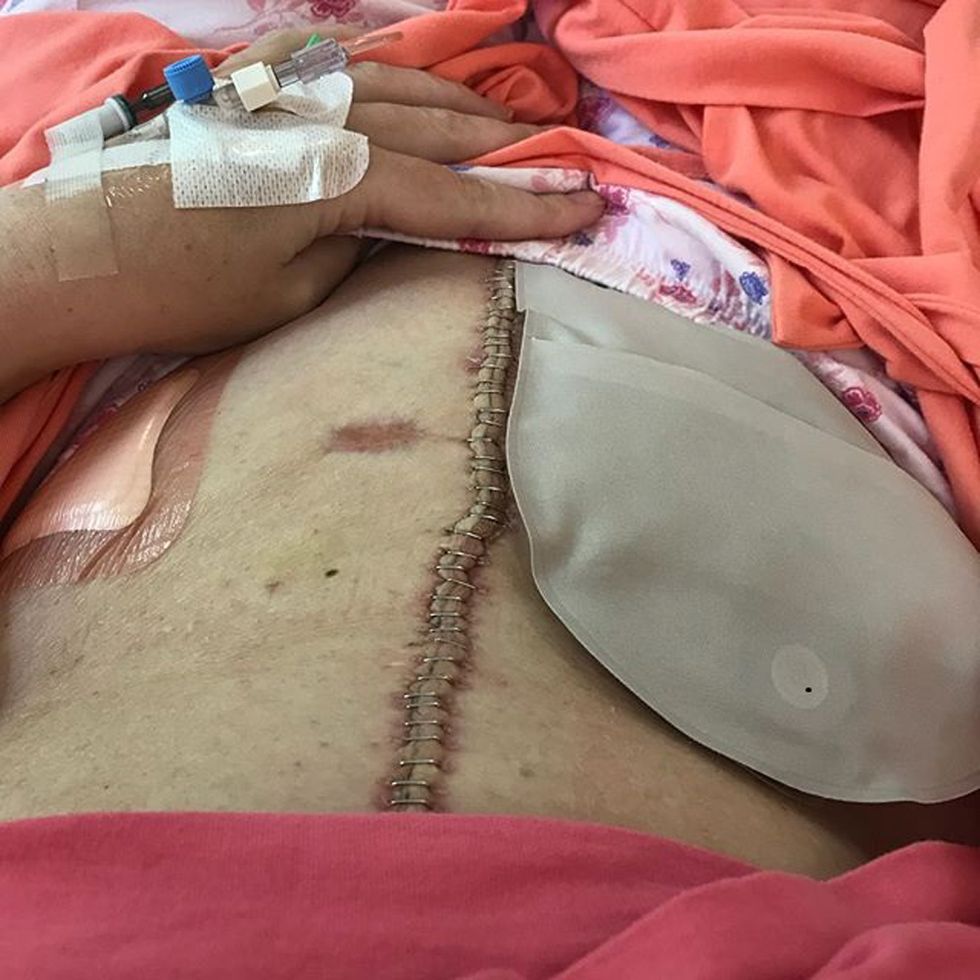 After her first tumor removal, May 2014 (Collect/PA Real Life)
Caroline continued:
"My first thought was, 'Get it out of me!' I felt as though there was this alien invader inside me, like in a horror film."
The stage four cancer had started in her bowel, where doctors found a smaller growth, but had spread to her ovaries – resulting, early on, in her being given less than a 10 percent chance of living for more than five years.
"In those first few weeks, I just cried constantly, thinking about how I wouldn't see my little boy grow up," she said.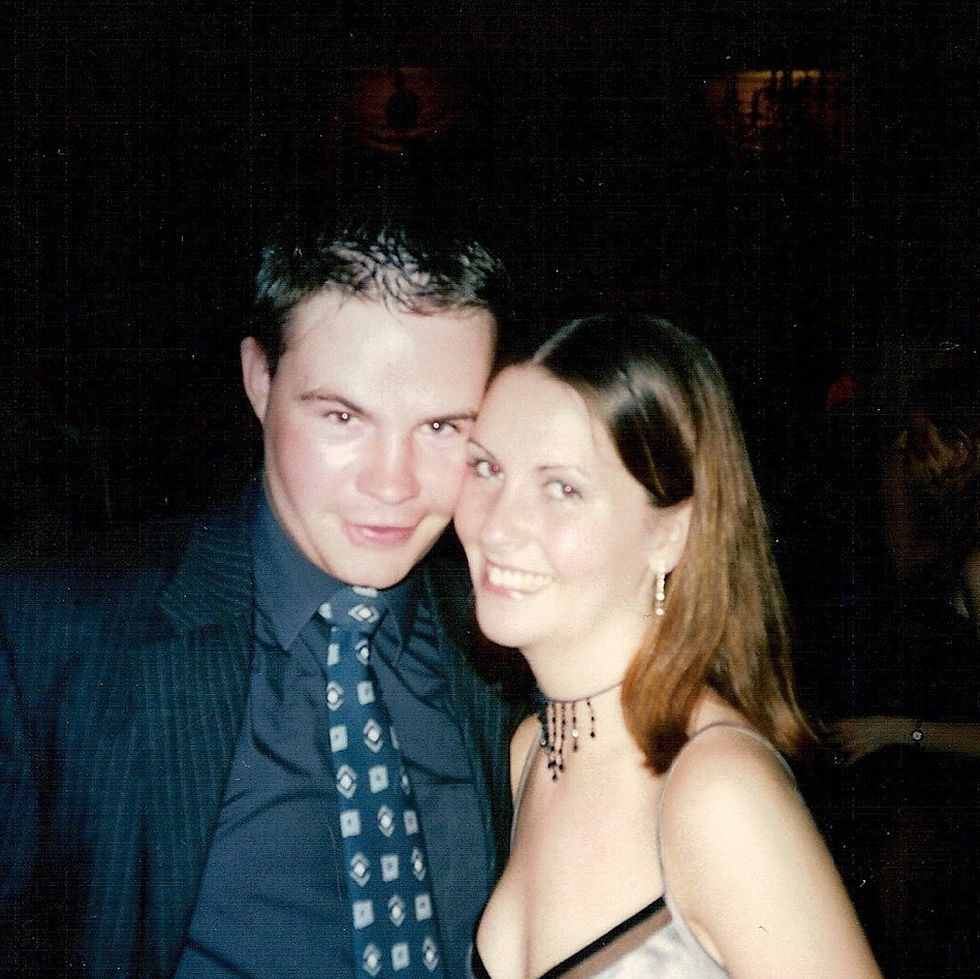 With Chris at Aberystwyth University, where they met in 1999 (Collect/PA Real Life)
"It often crossed my mind not to go ahead with the treatment, which would only delay my death, and just to let myself die then, before Danny became old enough to really know who I was and miss me when I was gone."
Holding on to a faint glimmer of hope that her treatment would somehow make her better, Caroline went ahead with surgery to remove her tumor.
When her day for surgery at the Morriston Hospital in Swansea arrived, in May 2014, Caroline was so big she had to tell the paramedics, who transferred her to the operating room, that she was not pregnant.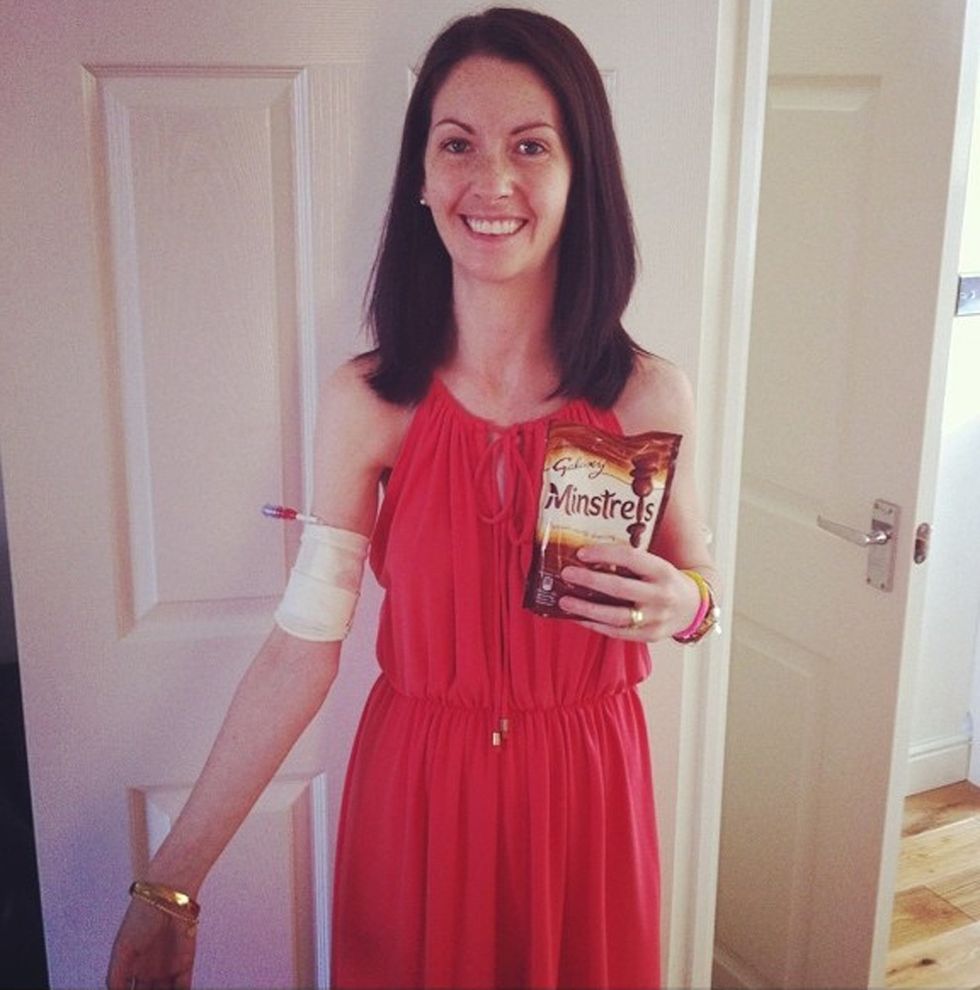 After tumour removal, weighing just five and a half stone (Collect/PA Real Life)
After her successful operation, surgeons told her they had never before seen anything quite like her tumor, which was so big that, once removed, her weight plummeted to just 77 pounds.
With no history of bowel cancer in her family, which is highly unusual if people develop it under the age of 50, Caroline tried to work out what had caused her ordeal.
"Bowel cancer is rare in people of my age and no one in my family has ever had it," she said.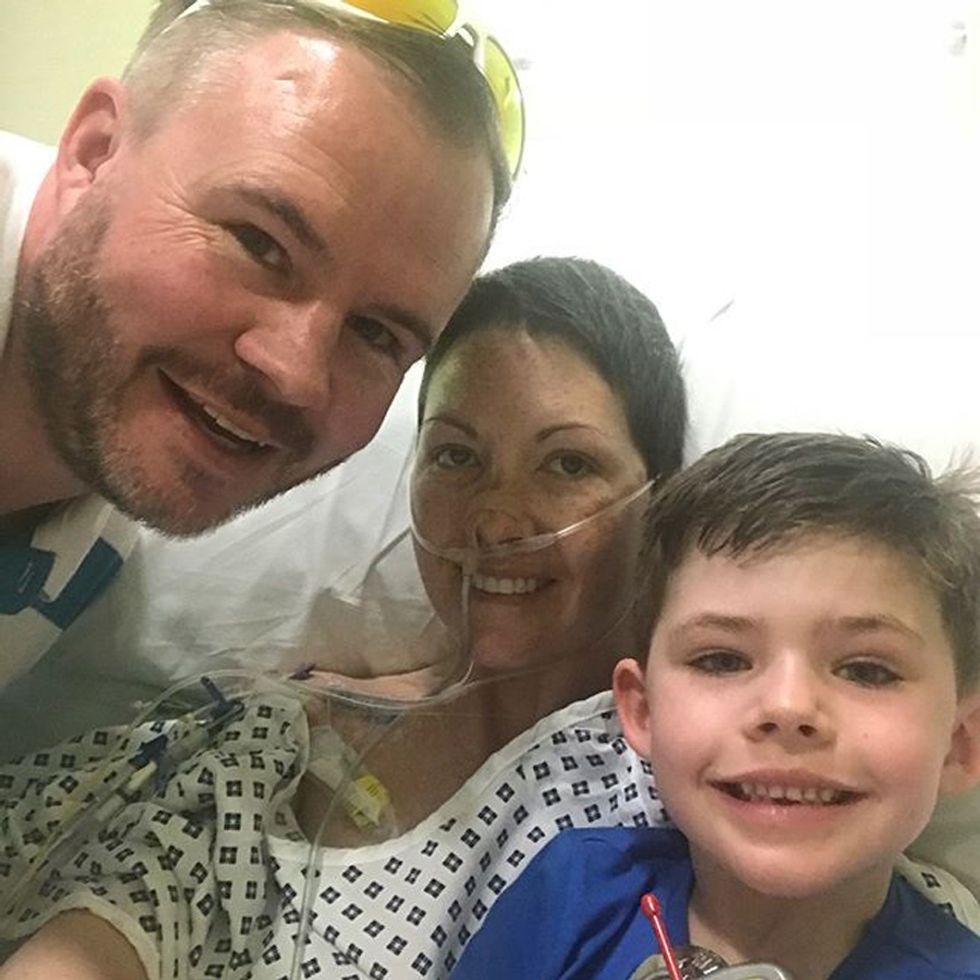 In hospital June 2018 before her most recent operation (Collect/PA Real Life)
She continued:
"I started to think it over and over in my mind, wondering whether I had not eaten the right food or had enough exercise."
"I just thought, 'Why me?'"
Stopping work, so that she could direct all her energy into her recovery, Caroline then had a six months course of chemotherapy.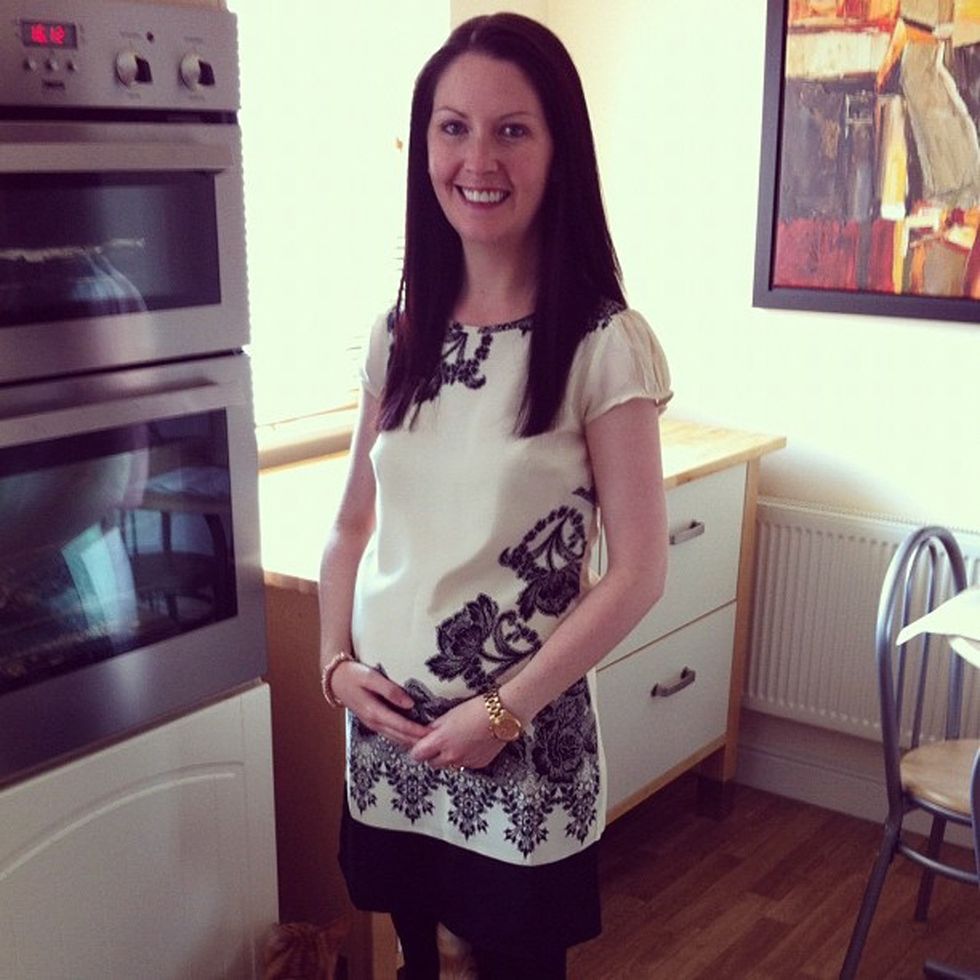 Caroline, while pregnant with Danny in 2012 (Collect/PA Real Life)
But, after several months, tests revealed another huge tumor, almost as large as the first, that had grown on her left ovary.
The monster growth was, again, successfully removed in November 2015 but, despite doctors' best efforts, the highly aggressive cancer has since returned numerous times.
After frank conversations with her oncologists Caroline knows that she will never get better and that each new treatment is only buying her more time.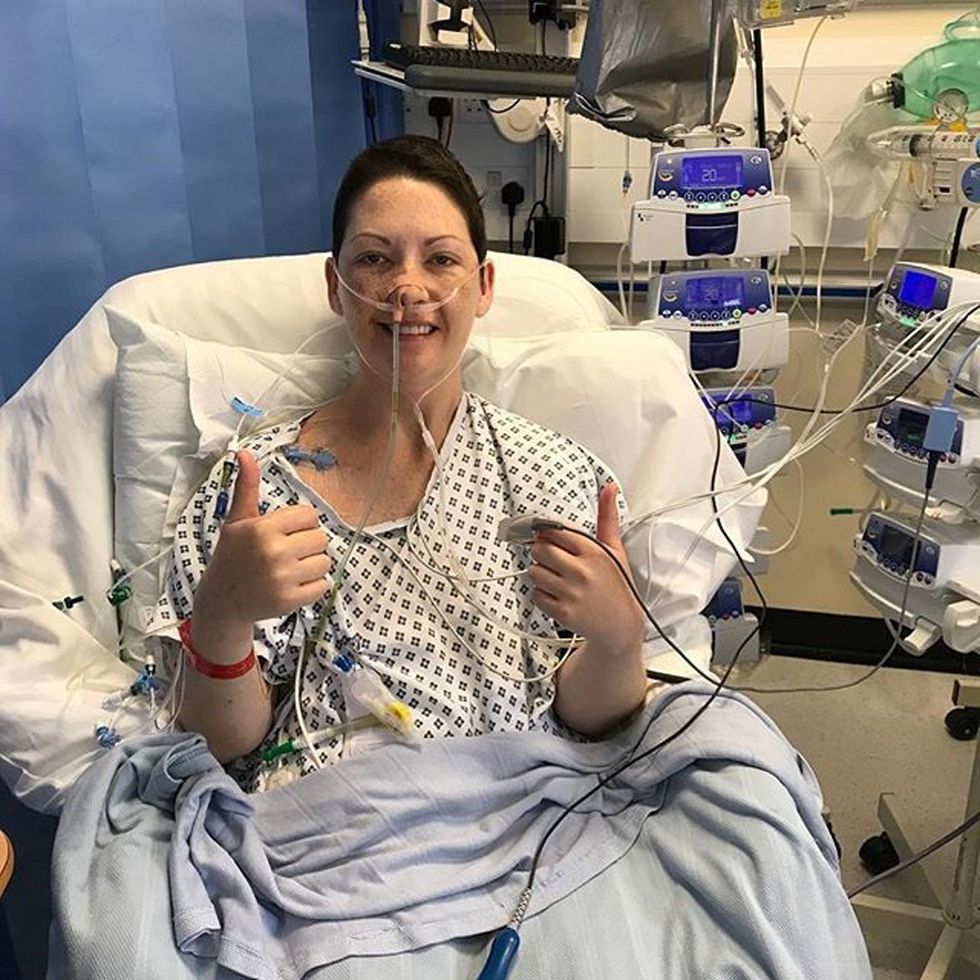 In hospital June 2018 before her most recent operation (Collect/PA Real Life)
And she fears for Danny, who has only ever known his mum as a sick woman, having seen her using chemo pumps, which she hooks herself up to every few months when the cancer returns.
"As he gets older, he is starting to understand that I'm not the same as his friends' mums," she said.
"He has always known me as an ill mummy and Chris and I tell him that Mummy has 'naughty bubbles' inside her, which every now and then she has to have taken out of her."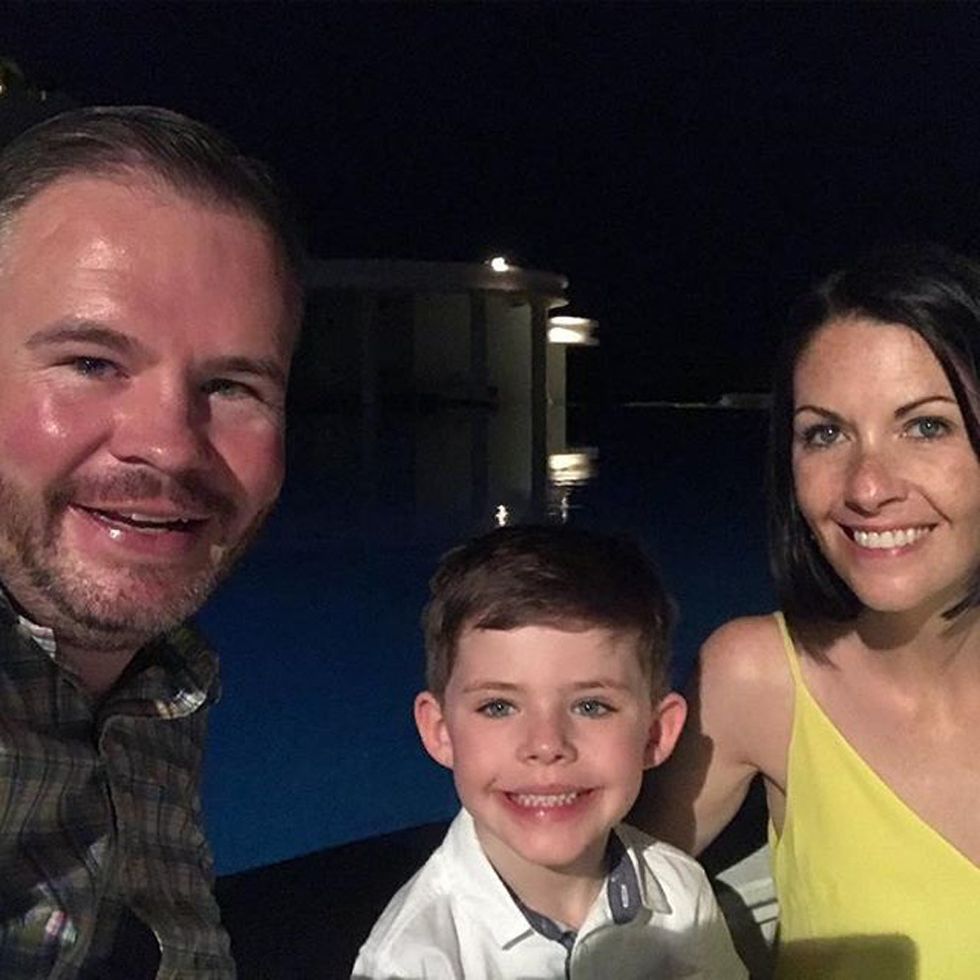 On holiday in the Jamaica, October 2017 (Collect/PA Real Life)
"As he gets older he will at some stage start to understand that I may not be here for much longer – and that's really hard."
Still, throughout her cancer treatment, which has involved four operations and 32 bouts of chemotherapy, leaving her without her womb, spleen, gall bladder and most of her intestines, Caroline has never given up hope.
Instead of wallowing in self-pity, she is using her remaining time to see the world with her two favorite men – Chris and Danny.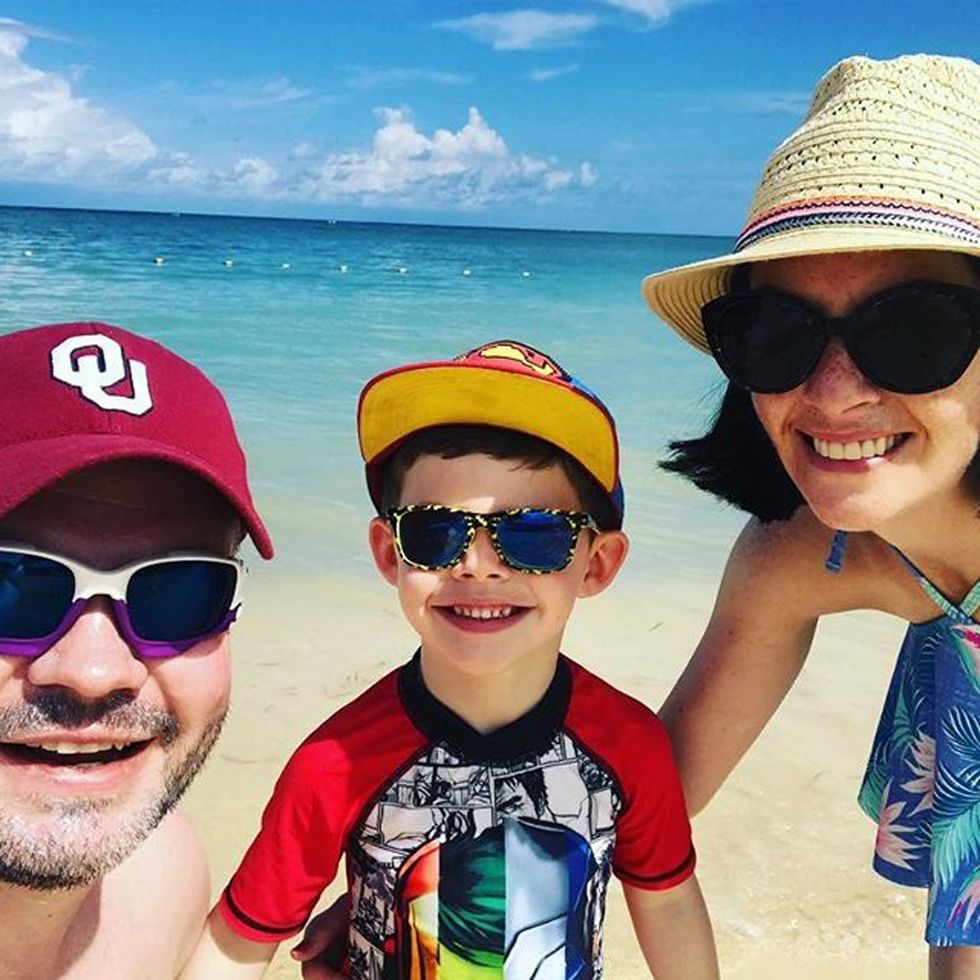 On holiday in the Jamaica, October 2017 (Collect/PA Real Life)
Since being told after her first operation in 2014 that her care would now only be palliative, the family have enjoyed memorable holidays to Norway, the Caribbean and Lapland, where Danny was treated to a special visit from Father Christmas.
But the highlight has been renewing her wedding vows in May in a beach side service on the Turks and Caicos islands.
Knowing that she would be going in for surgery as soon as they got back from the sunny destination, for an operation to remove the majority of her small intestine, Caroline tried to soak up every minute of the sunshine holiday, saying:
"It was such a lovely trip."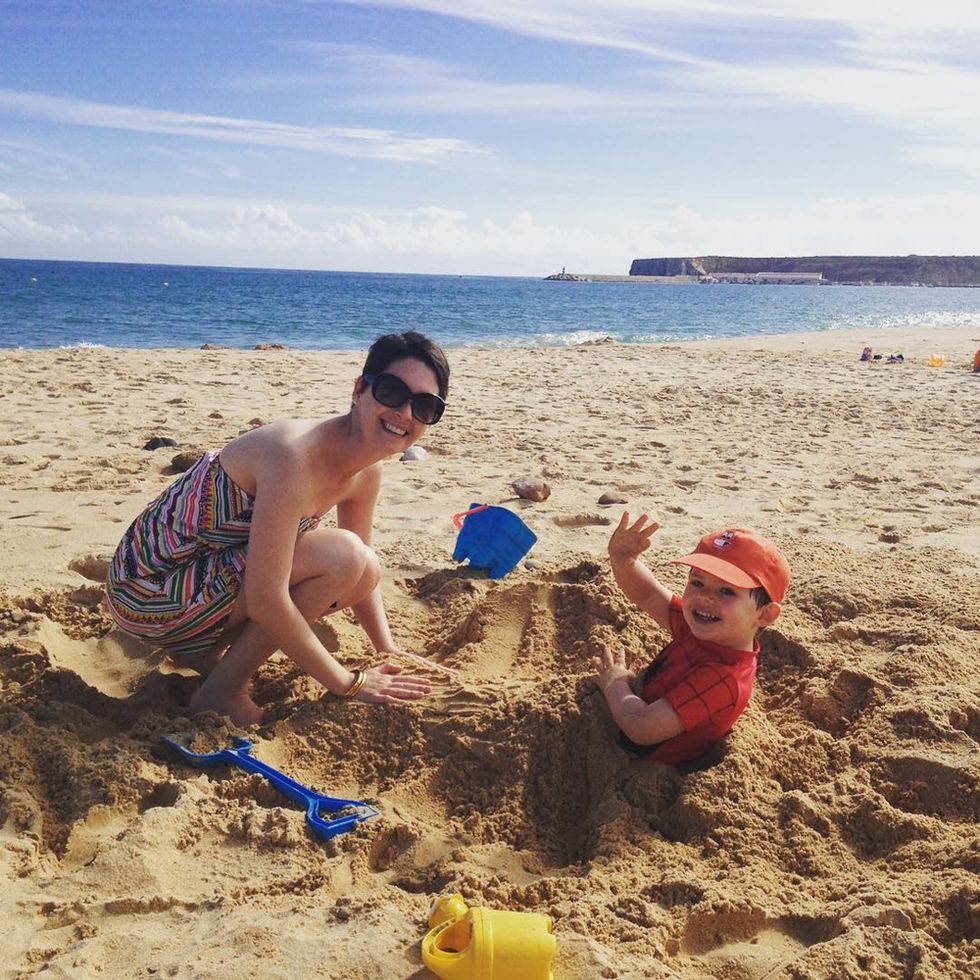 On holiday in Portugal, October 2016 (Collect/PA Real Life)
She added:
"Even though I had in the back of my mind that I was going back in to hospital as soon as I came home, I tried to forget about it and enjoy the experience, the happiness and the memories I knew we were creating."
Thankfully, her operation went well and Caroline is currently in remission.
But with the ever-looming prospect of the cancer returning and an indeterminate prognosis, she plans to keep enjoying what time she has left.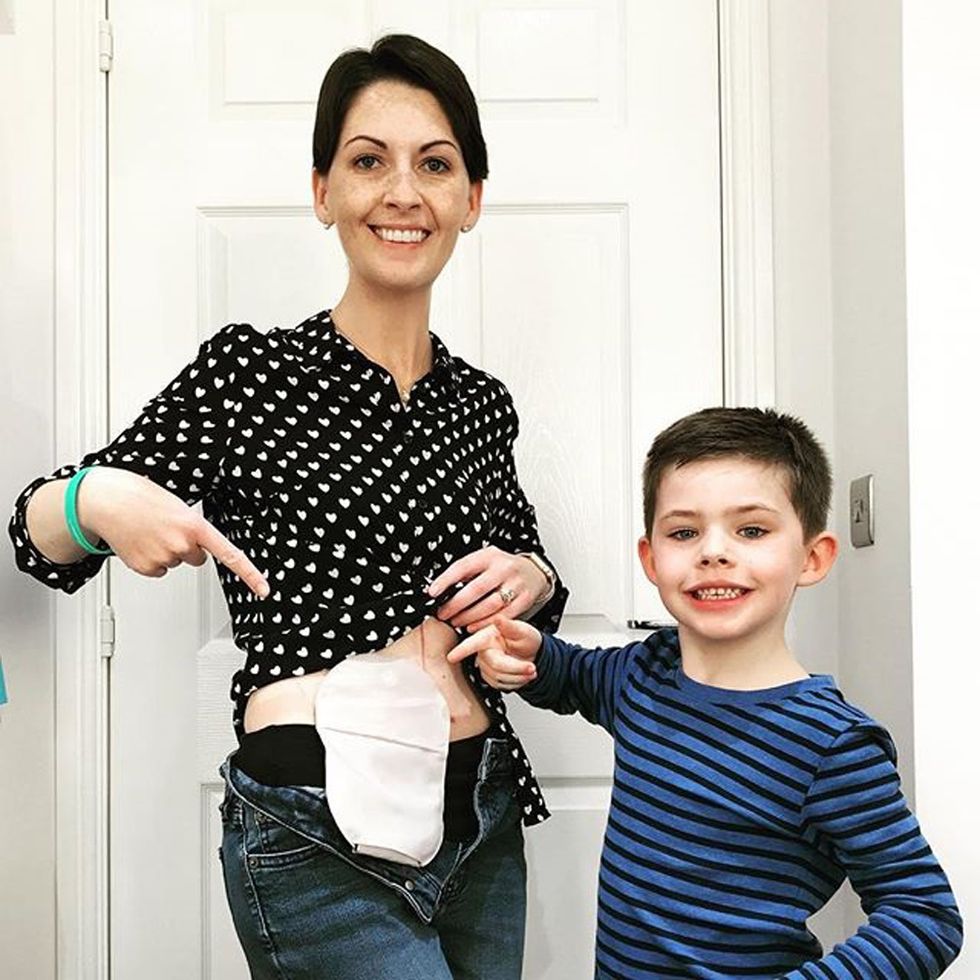 Showing her stoma bag, October 2018 (Collect/PA Real Life)
In May 2019, all being well with her health, she plans to travel to the Maldives for a joint celebration of her 40th birthday and she and Chris's 10th wedding anniversary.
Also, planning for the day when she will no longer be able to go on holidays with her son and husband, Caroline has created a memory box, filled with old diaries, a lock of her hair and her perfume, to help bring happy recollections of her back.
Reflecting on the life lessons that her experience with cancer has taught her, she said:
"When you're lying in the dark the night before another operation which might kill you, you don't think about your job or your car or your house, you think about your family and the memories you have of them."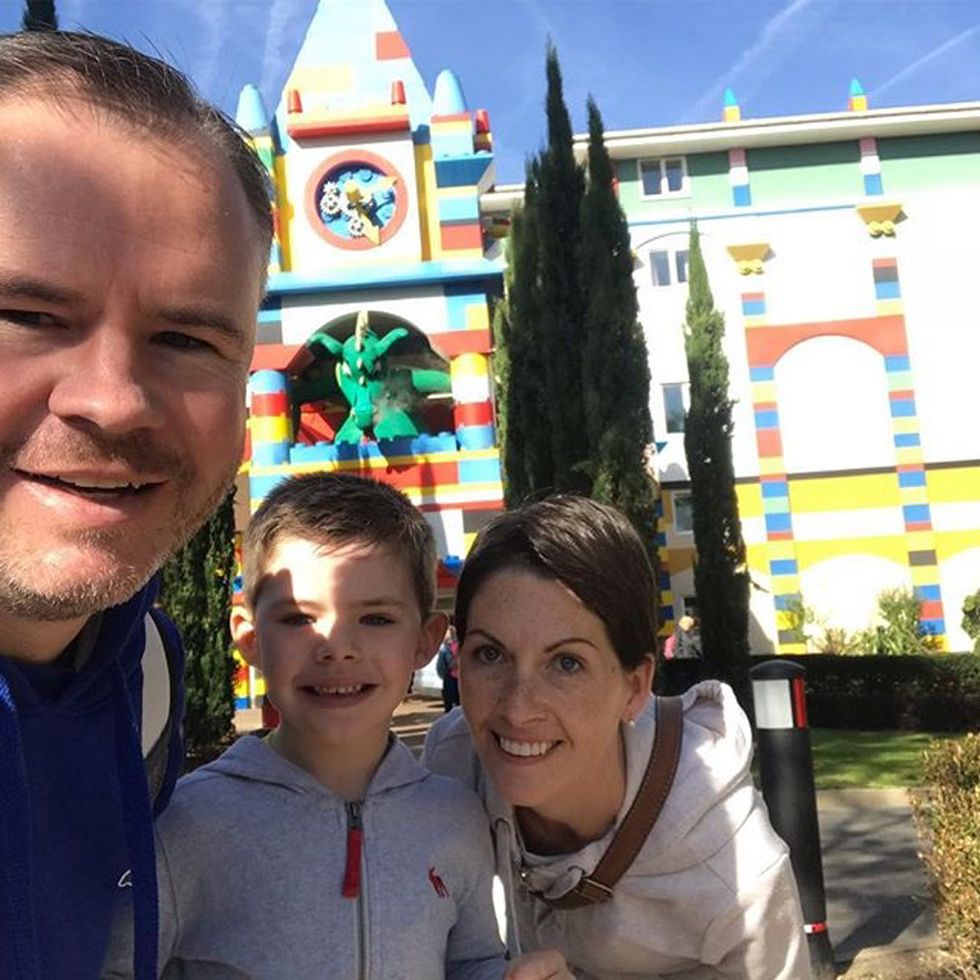 At Legoland in September 2018 (Collect/PA Real Life)
She continued:
"There were times at the beginning when I thought about not going through with the treatment and dying before Danny really knew who I was."
"Now, though, I'm so grateful that I've had these years with him and that we've made such wonderful, happy memories together, which I hope he will cherish forever."
A version of this article originally appeared on Press Association.