Sometimes the side characters are truly the best characters. Mercutio in Romeo and Juliet , Neville Longbottom in Harry Potter , the "MY LEG" guy on Spongebob . Don't you ever wish that these unspoken heroes got their own stories? These Redditors certainly do.
---
u/be4u4get asked: Who is a minor character that you would like to see given a full story?
That sounds so cool!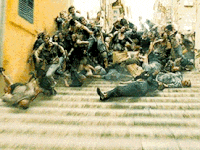 Giphy
In World War Z, the book, there is this footnote about how a group of three five colleges in relatively close proximity to each other managed to join forces and turned the area between the colleges into a massive fortification and were able to stay safe and well fed until the army rolled up to clear things out several years later.
I'd really love a whole story telling about the effort they went through to defend themselves while linking up their wall systems and so on.
Shine your shoes, wipe your.....face.
In Shrek, Duloc is a large and important city state, albeit a dystopian society that mostly exists as playhouse for Lord Farquaad.
In Scared Shrekless, a Halloween special that takes place sometime after Shrek 4, Duloc is depicted as being completely abandoned a few years previously.
I want a gritty political drama depicting the fall of Duloc and the power struggle resulting from the untimely death of it's godking.
I bet a lot of fans didn't know this.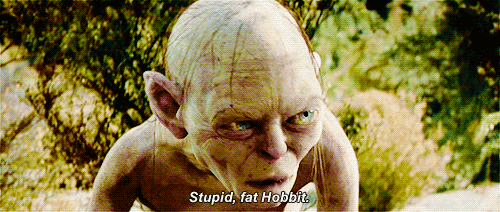 Giphy
In the Lord of the Rings lore, there are five wizards roaming Middle-Earth. Throughout the course of the LotR trilogy and the Hobbit, we meet three of them: Saruman the White, Gandalf the Grey, and Radagast the Brown.
There are two wizards, alternately known as either Alatar and Pallando or Morinehtar and Rómestámo, who we know practically nothing of. These were the Blue Wizards, who traveled together east into the lands of the Haradrim and Easterlings. While originally sent to rally the people against Sauron, practically nothing is known about them, apart from some magical sects they set up in the far East - even Gandalf has forgotten their names, by the time the books happen.
I am completely in favor of hearing the story of two best-friend wizards traveling the desert and setting up beneficial cults in such secrecy that even their brothers forget them.
Gotta have a Harry Potter one in here.
A fully formed thought out origin story about Professor Quirrell from Harry Potter.
What kind of person was he through the years that he'd agree to or vulnerable to Voldemort taking form in his skull
Quirrel is quite young, in his early 20s. His years as a student in Hogwarts are very similar to Snape. He was meek and shy and, as such, due to the bullying, he developed an interest in the Dark Arts, which was only theoretical at the time.
He taught Muggle Studies before taking a sabbatical, a year before Harry went into Hogwarts, to go on a Grand Tour (classic tradition for wizards is to travel around the world for a year to experience new sorts of magic and magical properties).
However, he actually tried to find Voldemort. He heard the rumors that he was alive and wanted to find him. He thought, in worst case scenario, he would be the one who finally ended Voldemort once and for all, at best, Voldemort would teach him something.
However, Quirrell was no match for Voldemort, who turned him into a temporary Horcrux and they departed back to England, leading to the start of Phillosopher Stone
Ah, Superbad. A forgotten gem.
Bill Hader and Seth Rogen's cop characters in Superbad.
I'd watch the hell out of some buddy-cop flicks of those 2.
So many unanswered questions!
Giphy
Beedle (hear me out). He is there in quite a few Zelda games, and always looks pretty much the same.
Does he reincarnate like Link, Zelda, and Ganondorf? Is there a Beedle-family that trains its sons in the ways of merchants? Does he clone himself? Why is he always there? Why does he think buying 609 bokoblin fangs and selling one (1) arrow is solid business practice??
Untapped potential, indeed.
Ford from Gravity Falls. For anyone who hasn't seen the show, Ford was trapped traveling across hundreds if not thousands of alternate universes, dimensions and timelines.
There's so much untapped potential, especially since the creator of Gravity Falls and the creator of Rick and Morty are good friends and both shows are confirmed to be in the same universe.
Let's hope for it in the new movie....
Skinny Pete.
Hey man, I'm slinging mad volume and fat stacking benjis, you know what I'm saying? I can't be all about like... spelling and s**t...
Absolutely.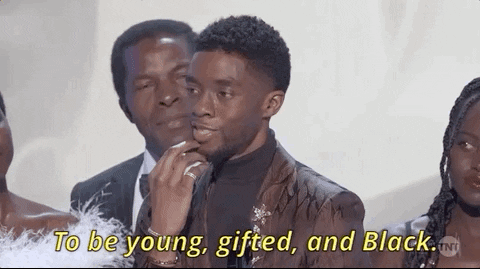 Giphy
M'Baku from Black Panther. It would be cool to see how the Jabari tribe operates compared to the united tribes of Wakanda, seeing as they are more traditional and seem to be even fiercer warriors.
Not to mention that M'Baku was a fantastic character in the movie, seeing that he didn't steal the power of the Black Panther when he 100% could have, gave it back to the rightful king, and came to the aid of T'Challa near the end of the movie.
Poor Jar Jar....
Jar Jar Binks, post fall of the Republic.
During his Sith training.
Fool, he is immortal and he created the Sith.