United States Women's National Team co-Captain Megan Rapinoe is one of the superstars of this year's World Cup, but the Soccer legend was temporarily upstaged by teammate Alex Morgan.
---
After sexist criticisms of the legendary team's celebratory antics upon scoring a goal, all eyes have been on the way the women's team behaves in victory.
When facing England earlier this week, Morgan pantomimed drinking from a tea cup, what some perceived as mocking the English tradition and an unsportsmanlike behavior.
Rapinoe was quick to defend her.
U.S. forward Megan Rapinoe on Alex Morgan's tea cup celebration: "I think I might have been upstaged. That was next… https://t.co/Jql5XEZvAu

— Davidde Corran (@Davidde Corran)1562172311.0
The co-Captain said:

"Wah, wah, wah. I mean, we're at the World Cup. What do you want us to do? This is the biggest stage, the biggest moment. I don't think anyone truly believes that we disrespect the game or disrespect our opponents."
Others couldn't agree more.
@DaviddeCorran @sntvstory Nothing but respect for MY President. https://t.co/fv2t33D0lr

— me (@me)1562174988.0
@DaviddeCorran @BenRothenberg @sntvstory Fair play to the USA. Celebrate all you want

— John B (@John B)1562174045.0
@DaviddeCorran @sntvstory "Wah, wah, wah" how about YOU train your @$$ off for years and sacrifice everything in y… https://t.co/9qo3Oh7S44

— Tim Hamilton (@Tim Hamilton)1562190138.0
@DaviddeCorran @sntvstory Megan is a flippen rock star

— Lisa Eisen Bauer (@Lisa Eisen Bauer)1562191015.0
@DaviddeCorran @sntvstory Perfectly said!!! Game time Sunday,,,heal up!!!🙏

— Bobby Reta (@Bobby Reta)1562208480.0
Even many of the English people rooting for their home team found Rapinoe and Morgan's antics to be in good fun.
@DaviddeCorran @BeccaHayne @sntvstory From what I saw on Twitter the criticism was a relative handful of lip wobbli… https://t.co/Lp8b1V48TM

— Angry Exile (@Angry Exile)1562194014.0
@DaviddeCorran @sntvstory To be fair once I realised she wasnt pretending to smoke a joint, I thought it was quite… https://t.co/HV8gKbkqnE

— Rob Simpson (@Rob Simpson)1562189115.0
@DaviddeCorran @sntvstory Please don't call it English criticism. Most of us don't care, she scored and celebrated,… https://t.co/T7gFsopxhX

— Dave Hippocampe (@Dave Hippocampe)1562185618.0
@DaviddeCorran @sntvstory For the reporter: it's the ENGLISH media. We bloody loved it here 🏴󠁧󠁢󠁳󠁣󠁴󠁿🏴󠁧󠁢󠁳󠁣󠁴󠁿🏴󠁧󠁢󠁳󠁣󠁴󠁿🏴󠁧󠁢󠁳󠁣󠁴󠁿🏴󠁧󠁢󠁳󠁣󠁴󠁿

— Trendy Hendi (@Trendy Hendi)1562186165.0
You do you, ladies.
Get your own replica customized USA women's World Cup jersey here.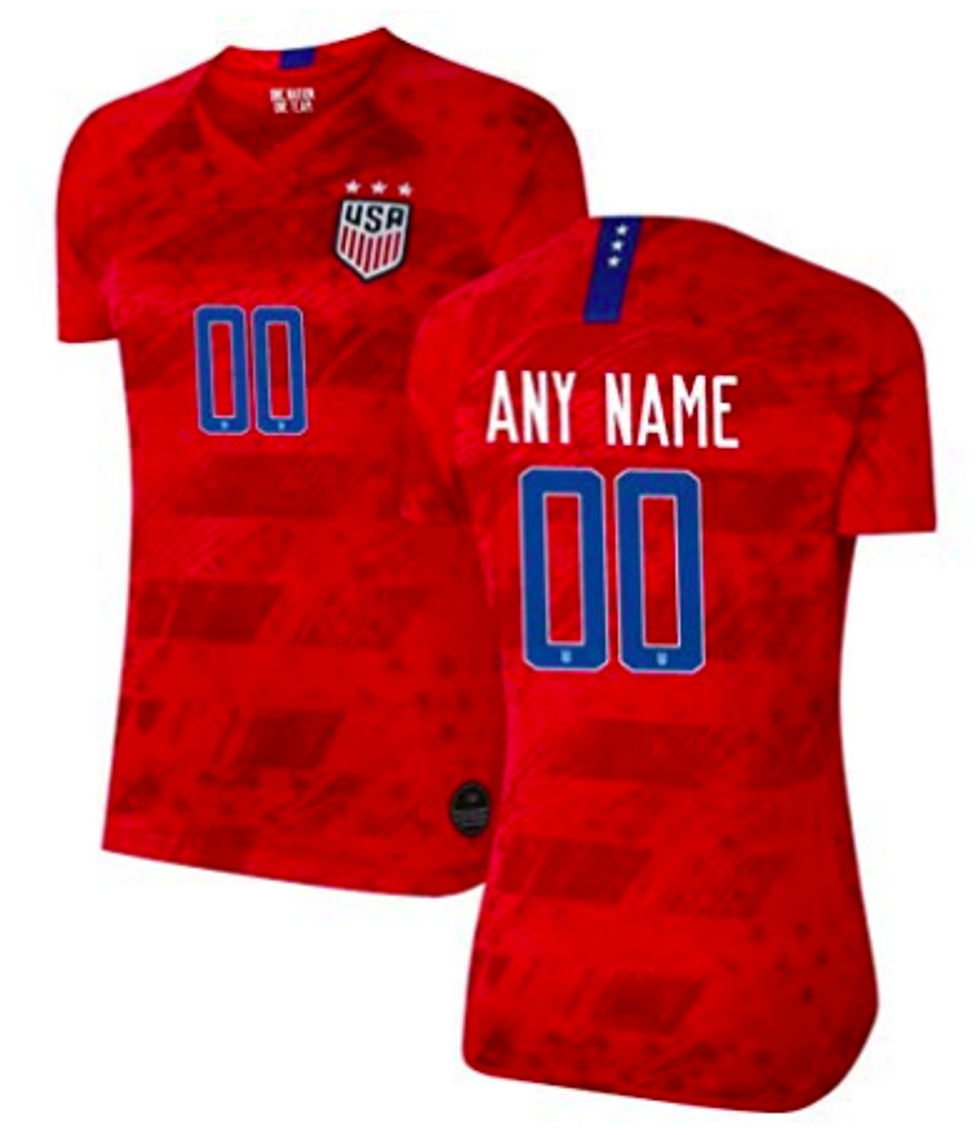 Amazon
The soccer player in your life can declare they're proud to play like a girl with this shirt, available here.