Matthew McConaughey and his wife Camila Alves McConaughey were passengers on board the Lufthansa flight that was diverted from its flight path to Germany due to extreme turbulence resulting in seven passengers being hospitalized.
Flight 469, which left Austin, Texas, was forced to make an emergency landing in Virginia's Washington Dulles International Airport on Wednesday evening.
Alves McConaughey shared her account following the terrifying flight and posted brief footage of the aftermath showing food scattered across the floor among other unsecured items that were tossed around.
On Thursday, the Brazilian model and designer wrote in her Instagram caption:

"On Flight last night, I was told plane dropped almost 4000 feet, 7 people went to the hospital, Everything was flying everywhere."
"To respect the privacy of those around me that's all I am showing but the plane was a CHAOS And the turbulence keep on coming."
The video she posted can be seen below.

She assured followers that she and her A-lister hubs were safe despite the horrific airborne experience.

"The @lufthansa flight you are seeing on the news today!!!! Yes…that one. Thank God everyone was safe and ok."
The co-owner of the organic food company, Yummy Spoonfuls, also expressed her gratitude for the friendly accommodations after the plane landed safely at their detour destination.

"I must say everyone @marriottbonvoy by the airport of Washington where we had to divert to and spend the night was so kind!"
"@officiallymcconaughey and I made it to the bar with 1 minute before closing…slept well, getting on new flight today, To the journey I continue…"

She concluded her post by giving a special shoutout to the agent who helped the couple update their travel plans.

"Karin Lacy was a savior with me until 1am working on new flights!!!
Followers were relieved to hear there was nothing worse to report.

@camilamcconaughey/Instagram

@camilamcconaughey/Instagram

@camilamcconaughey/Instagram

@camilamcconaughey/Instagram
The post served as an important reminder about in-flight safety.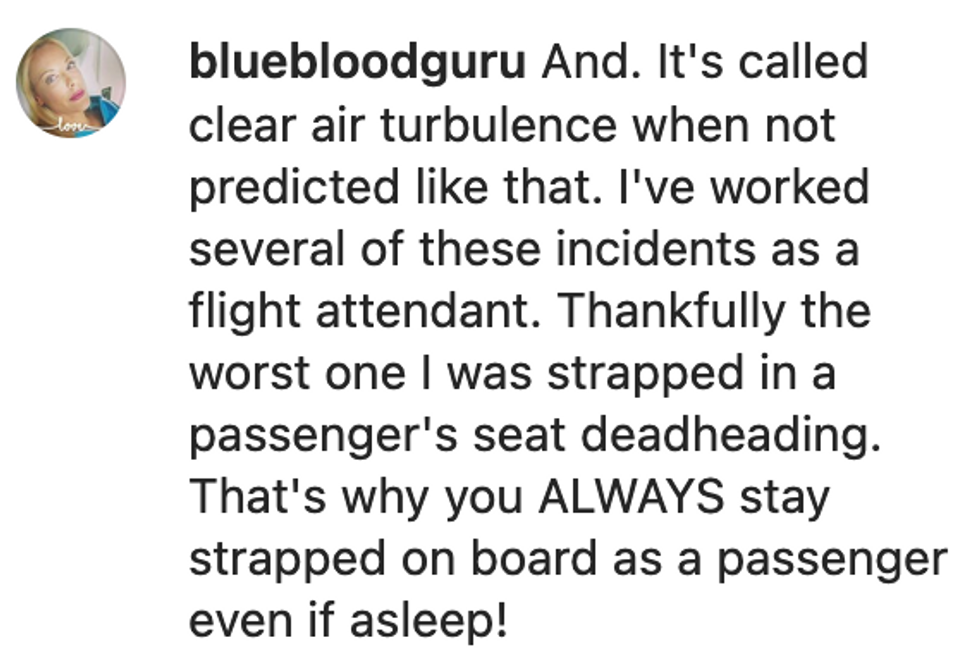 @camilamcconaughey/Instagram

@camilamcconaughey/Instagram
However, the video didn't help those who are apprehensive about this particular mode of transportation for travel.

@camilamcconaughey/Instagram

@camilamcconaughey/Instagram

@camilamcconaughey/Instagram
According to the Metropolitan Washington Airports Authority spokesperson Michael Cabbage, the flight was flying 37,000 feet above Tennessee when it experienced "severe turbulence" 90 minutes after taking off.
Seven passengers wound up being transported to the hospital for minor injuries after the plane reportedly landed "without incident" at 9:10 p.m.
A Lufthansa spokesperson issued a statement, telling CNN:
"This was so-called clear air turbulence, which can occur without visible weather phenomena or advance warning."
Details regarding the extent of injuries have not been released.
Alves McConaughey met the Interstellar actor in 2006, and they married in a private Catholic wedding ceremony on June 13, 2012.
They reside in Austin with their three children.