Romanian born actor Sebastian Stan, who's captured the hearts of moviegoers and Disney+ subscribers with his performances as James "Bucky" Buchanan Barnes in Marvel's Captain America films and now The Falcon and The Winter Soldier and drew critical acclaim for his role in I, Tonya, just gave fans a whole new reason to pay attention.
But this time, Stan's fans aren't reaching for the tissues. They're drooling.
Coming just days after the airing of Stan's tear-jerking performance in The Falcon And The Winter Soldier series on Disney+, he posted a rather risqué photo of himself in Greece on the set of Monday, a romantic comedy set for release on April 16, UPROXX reported.
Let's just say, the photo speaks for itself.
And if Stan's goal with the nighttime booty photo was, indeed, "shameless promotion," then my goodness was he successful.

The slew of wide-ranging Instagram comments proved, at the very least, people were paying attention.
@clara_franzoni/Instagram
@elliemcphers0n/Instagram

@reynaaglc/Instagram

@aylinsaracc_/Instagram

@fannyytorress/Instagram
Over on Twitter, word spread Stan's butt cheeks were fully exposed for all to see.

So, of course, people shared their thoughts there too.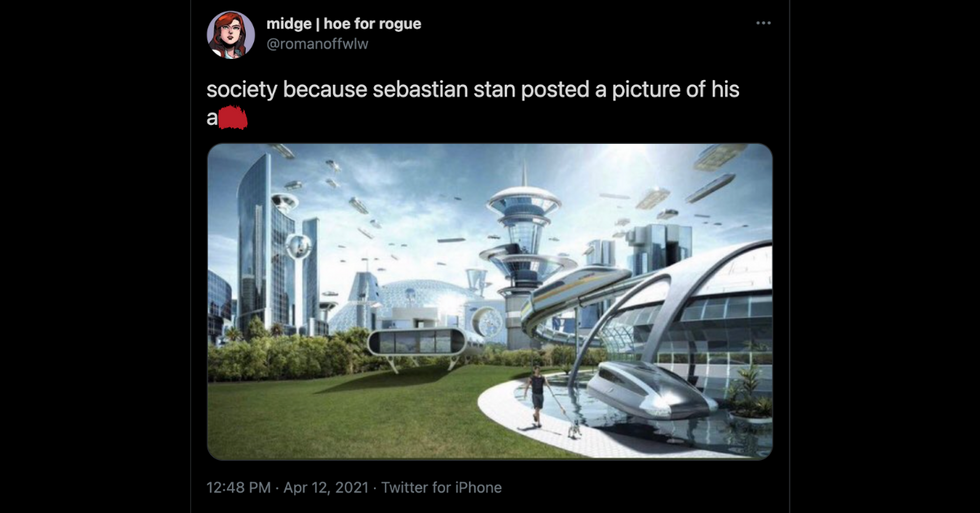 @romanoffwlw/Twitter
Aside from Stan's upcoming film Monday, one other detail made his photo especially timely. The internet just lost its hive mind over another man's butt the other day.

Law and Order's Chris Meloni, at the spry age of 60, also turned heads when BuzzFeed published a listicle featuring 17 of the best photo's featuring the man's rump.

This is the golden age of men's butt content, my friends, and you're living in it.