An Instagram account featuring pastors and church leaders sporting their expensive kicks and designer wear has quickly increased followers for content that is both hilarious and ethically controversial.
---
The popular page called "PreachersNSneakers" has over 65K followers and is run anonymously by "Tyler."
In the page's description, he asks, "Bad and Boujee?"
"More like God and Gucci ayyyee 'The Lord works in mysterious colorways.'"
The 29-year-old created the page as a joke for friends, according to Buzzfeed News, with its commentary on ostentatious pastors exploiting their leadership through fabulous high-end fashion.
However, Tyler didn't expect the tension to escalate quickly with disparaging comments.
One calls a priest wearing Gucci, "flex offenders," while another wrote:
"This account is like the 21st century version of Martin Luther nailing his theses to the church door."
Tyler told Buzzfeed his original intentions in starting the page.

"It started out as me being interested in sneakers and being involved with church culture ... so those two things made for good comedic content."
He recalled:
"This whole thing spun out of me sitting on my couch one Sunday. I was looking for this one song on YouTube and saw the lead singer in this worship band was wearing Yeezy 750s."
He referred to Kanye West's first ever signature Adidas sneakers that generally retail anywhere from $969 to $1,800.
The fascination with finding more youth group leaders and pastors sporting premium clothing and accessories took off from there.
@preachersnsneakers/Instagram
He began juxtaposing photos of religious leaders with screenshots of the designer wear and price. His friends, who instantly found the gimmick hysterical, encouraged him to create a separate account for that sole purpose.
"I'm a Christian and [have] been so for a long time and feel really strongly about the leaders of the church and how high of a calling they have," he said.
"I started questioning myself, 'What is OK as far as optics...as far as pastors wearing hype or designer clothing?' I don't have an answer."
We may never know what it's like to walk a mile in this preacher's $3,721 shoes.
Can we still judge?

@preachersnsneakers/Instagram
@preachersnsneakers/Instagram
Though Tyler did leave his account "open to interpretation," he challenged followers of faith to "have a discussion about what is appropriate."
"I'm just saying the people in church should at least be asking the question."
"Is the money I'm giving the church going to the salary, or spending on sneaks?"
Chad Veach is a lead pastor of the Zoe Church in Los Angeles with a quarter of a million followers.

He was not amused after discovering himself as a target on PreachersnSNeakers's viral page.
In one of the photos, the pastor is sporting a pair of $795 Rhude brand pants and a $2,000 Gucci backpack but humbles himself with some Mickey D's.

Veach defended himself, writing:

"Wanna know what's crazy? I legit did not pay for one thing i am wearing. Nor the back pack. Is that wild to you? That's wild to me... shoes hat shirt bracelets... none of it. Thanks for the shoutout tho. You're a blessing."

One commenter fired back at Veach with:
"Wanna know what's crazy? Feeling the need to defend your outrageously priced outfit while being an ambassador of Christ."

@preachersnsneakers/Instagram
Veach got another honorable mention.
For some, a $298 price point is considered a discount; however, it dis-not-count as a bargain for the rest of us.

@preachersneakers/Instagram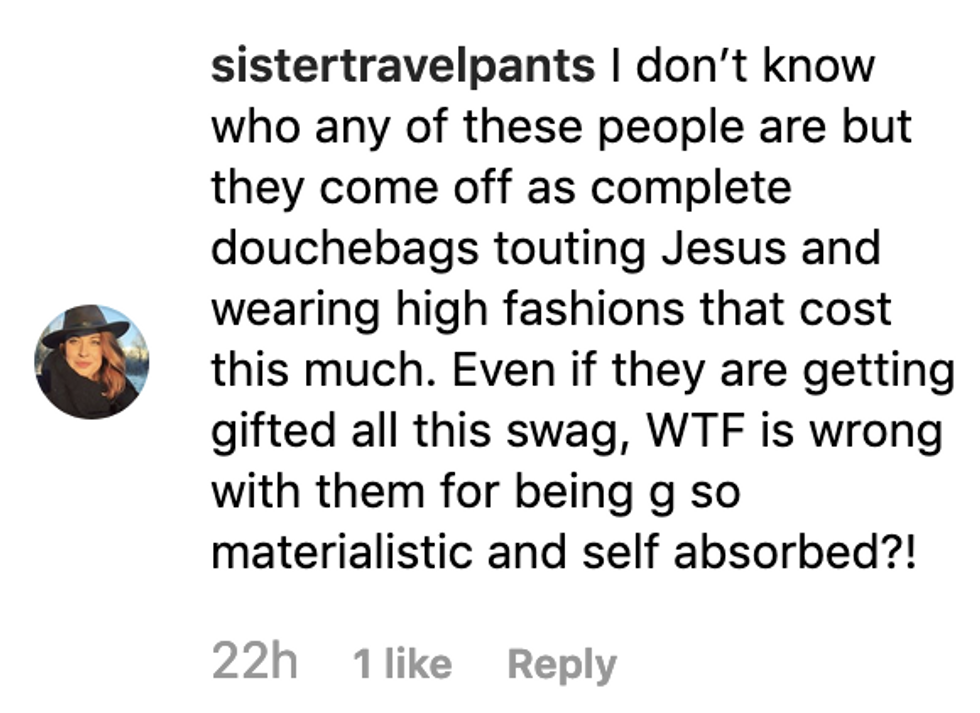 @preachersneakers/Instagram
Tyler assured that his account was in no way meant to be a "bash account" and expressed regret over trolls harassing these leaders because of his triggering content.
"I still feel bad for making that platform available or contributing. People are talking about heavy stuff, which I don't necessarily like."
But he also said he was "proud" to see people in the Christian community interacting with others through humor.
"I don't want people to show up and fuel their argument to not want to be apart of their church or their Christian faith because of these [pastors]. I'm still figuring out how to make that balance but I think it's a fair question to ask the people leading their faiths."
@preachersnsneakers/Instagram

@preachersnsneakers/Instagram
At least people have faith in knowing you can't buy taste.