Lizzo may be a trailblazer and passionate advocate for the body positivity movement that challenges society's archaic image standards, but the negative comments from those resisting to embrace self-love still affect her deeply.
In a heartbreaking and emotionally-fueled Twitter rant, the Grammy winner called out the torrent of fatphobic comments she receives on a daily basis and revealed they are causing the singer to "hate the world."
The "Good As Hell" singer has since locked her Twitter account but not before exposing a handful of the trolls' tweets and speaking her mind.
Lizzo first tweeted a screenshot of a tweet that said:
"How is Lizzo still THIS fat when she's constantly moving this much on stage?! I wonder what she must be eating 🤣"
The "About Damn Time" singer shared:
"I just logged on the app and this is the type of sh*t I see about me on a daily basis."
"It's really starting to make me hate the world."
"Then someone in the comments said I eat 'lots of fast food.' I LITERALLY STOPPED EATING FAST FOOD YEARS AGO..."
"I'm tired of explaining myself all the time and I just wanna get on this app w/out seeing my name in some bullsh*t."
@lizzo/Twitter
The singer then highlighted a tweet that claimed her size is her "brand," adding her nutritionists are "probably showing her how to eat healthy and maintain her size.
Lizzo wrote in response:
"Y'all really need to touch grass."
"I'm not trying to BE fat. I'm not trying to BE smaller."
"I'm literally just trying to live and be healthy."
"This is what my body looks like even when I'm eating super clean and working out!"
"Y'all speak on sh*t y'all know NOTHING ABOUT and I'm starting to get heated."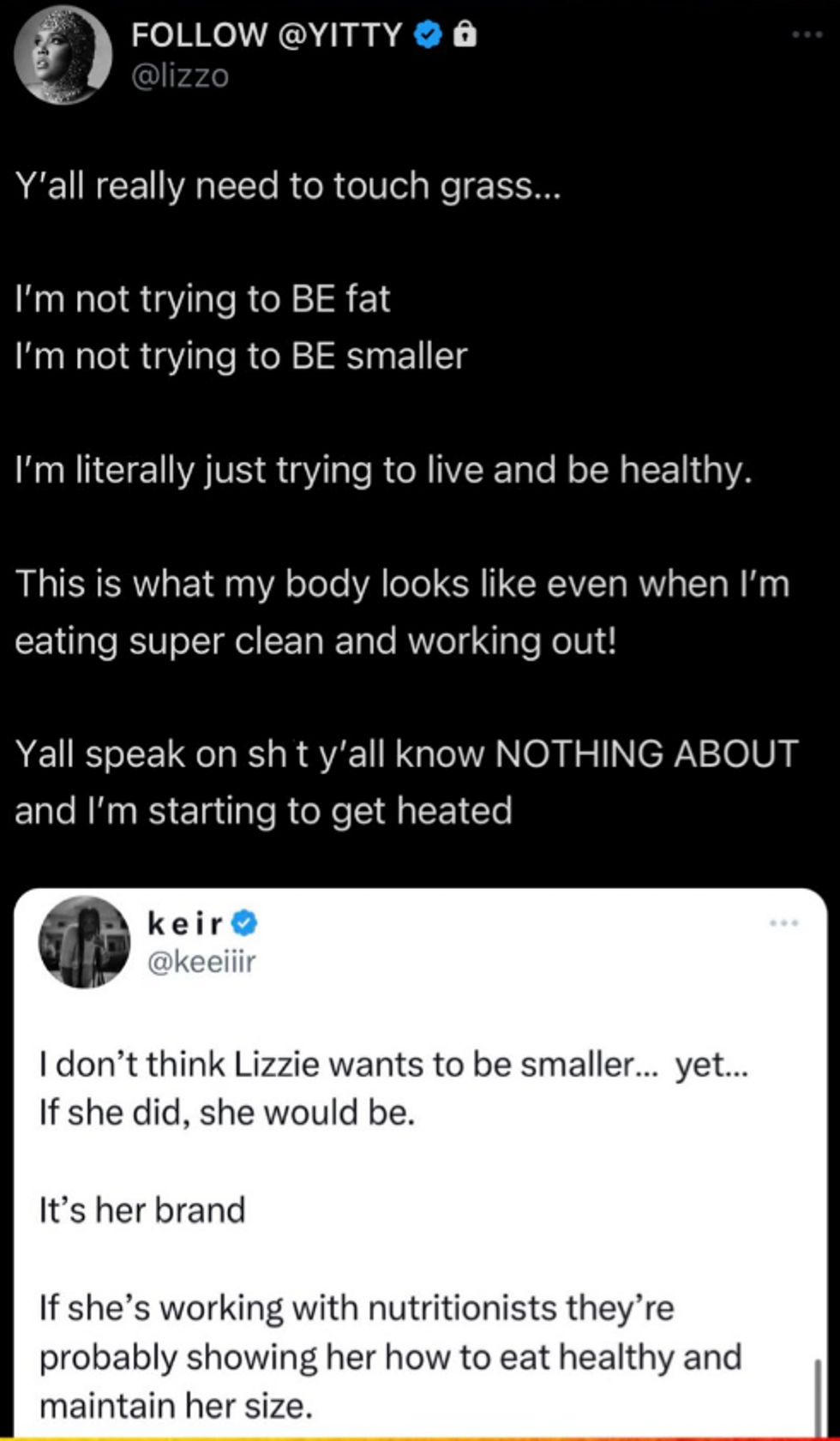 @lizzo/Twitter
She added:
"BEING FAT ISN'T MY 'BRAND.'"
"BEING FAT IS WHAT MY BODY LOOKS LIKE. THAT'S IT. THAT'S ALL."
The "Truth Hurts" singer explained:
"My 'brand' is FEEL GOOD MUSIC."
"My 'brand' is CHAMPIONING ALL PEOPLE."
"My 'brand' is BLACK GIRL LIBERATION."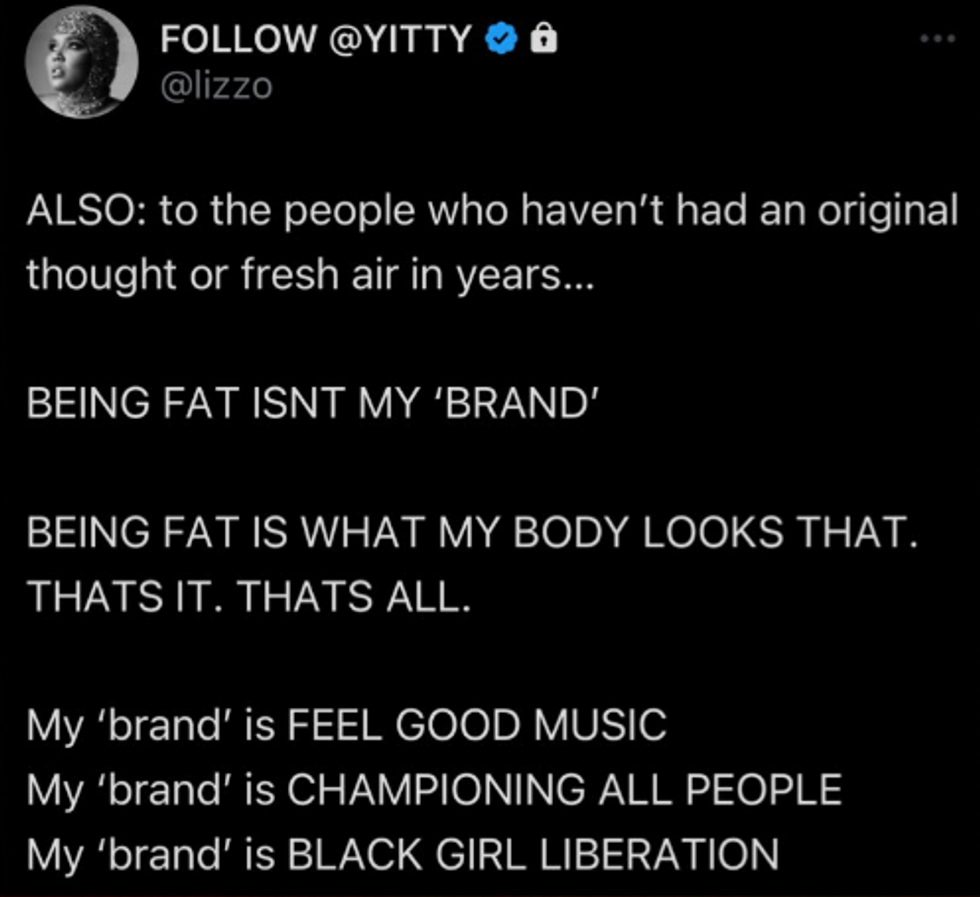 @lizzo/Twitter
Lizzo then shared her perplexity over not being able to please people, both in terms of her music and her body, adding:
"Now everybody on that wave and I'm still sh*t on?! Man f**k y'all."
@lizzo/Twitter
In her last string, Lizzo shared her exasperation, writing she wants to give up and enjoy her money and her man "on a f**king farm."
While the singer acknowledged the support she receives from her fans, she noted:
"The Love definitely do not outweigh the Hate on social media... all because I'm fat???? This is CRAZY."
She signed off:
"I HATE IT HERE"
@lizzo/Twitter
People on social media applauded the singer for speaking out against fatphobic trolls and completely understood her frustration.
It's such a shame that someone who spreads so much positivity and inspiration isn't reciprocated with kindness and compassion.