If there's one thing Kanye West knows how to do, it's get people talking, and the few days since his new album Donda dropped have been no exception. And as always with Kanye, the internet bickering between die-hard fans and those who think West's best work is behind him has reached deafening levels.
It seems we can count among the latter none other than Peppa Pig, the adorable British sow from Nick Jr. known for adorable barnyard hijinx. But she is also, apparently, a master of shade--and no fan of Kanye's.
After her newest album got a better rating on uber-finicky music site Pitchfork, the animated pig absolutely roasted Kanye on Twitter, and the internet can't believe its eyes.
The tweet has since been deleted, but screenshots live forever, as they say, and thank God!
See Peppa's master class in shade below.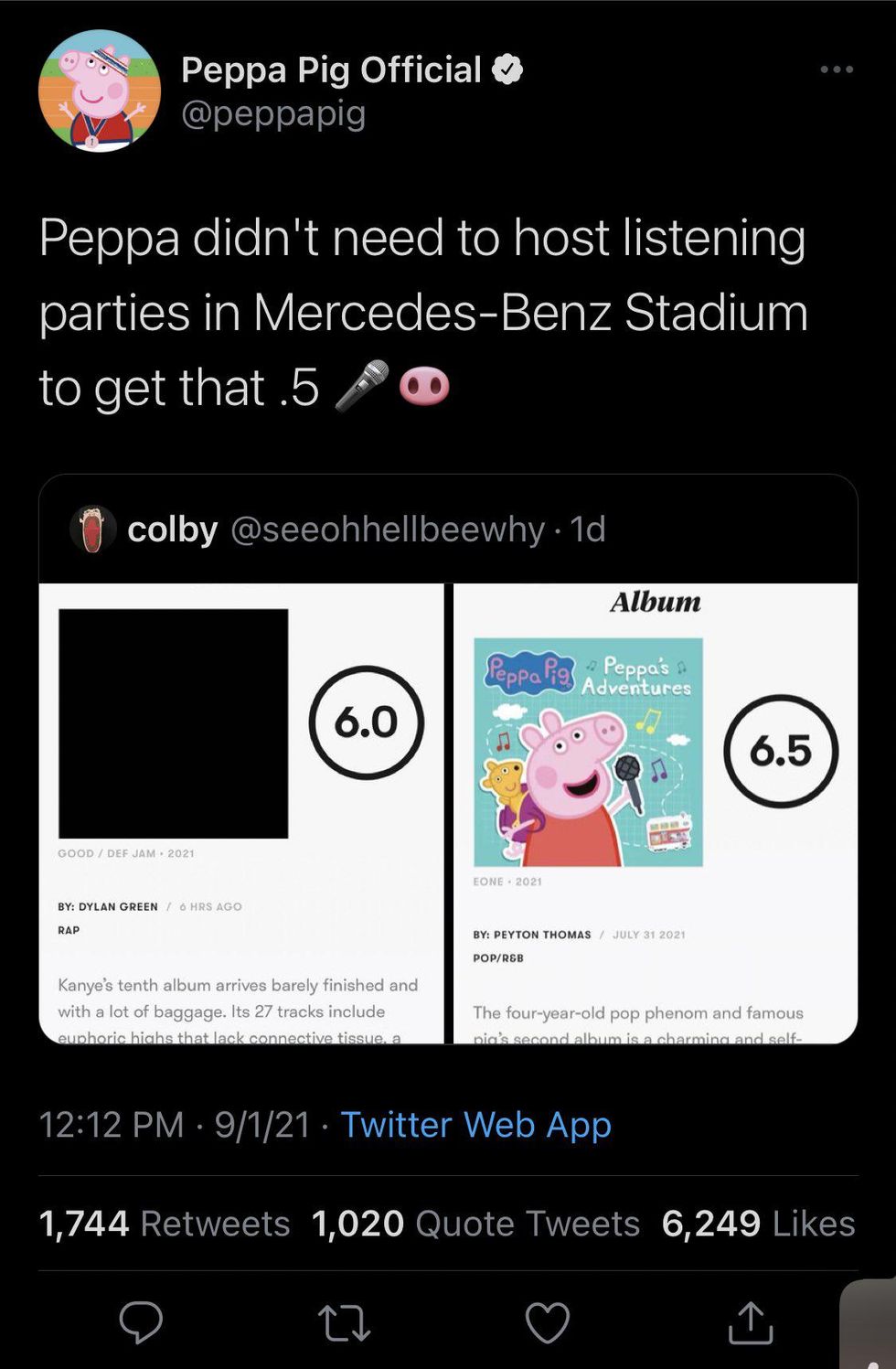 @didjesusdrop/Twitter
Along with side-by-side screenshots of Pitchfork's ratings--a 6.0 for Donda and a 6.5 for Peppa's Adventures: The Album--Peppa straight-up dragged the iconic rapper to filth.
"Peppa didn't need to host listening parties in Mercedes-Benz Stadium to get that .5."
Damn, Peppa, go off!

Peppa's drag of Kanye was a reference to the deeply weird listening parties he held for Donda at several large venues, including Atlanta's Mercedes-Benz Stadium. The events have essentially broken the internet for their strangeness--and in the case of the event held in Kanye's native Chicago, their offensiveness.
That event included musician Marilyn Manson, who was dropped by his label earlier this year following shocking abuse allegations by his former partner, actress Evan Rachel Wood; and rapper Da Baby, who has been dropped by scores of performance rosters after making virulently homophobic comments during a performance in Miami in July. Both men also guest on the album itself.
Kanye's inclusion of these two performers left many fans and critics alike outraged. But many of them would likely forgive him this misstep if Donda weren't being savaged by critics and music fans alike—the album currently has a 53% rating on review aggregator Metacritic and, well, a lower score on Pitchfork than a cartoon pig.
Naturally, Peppa Pig's shade left people all over the internet howling with laughter.

Peppa Pig isn't exactly new to the world of internet hip hop beef, either.
She's previously sparred with both Cardi B and Iggy Azalea. We simply have no choice but to stan!