The riot at the Capitol made international news twenty times over.
On Wednesday, January 6, in response to the President, his family and others at a morning rally egging them on as well as statements made by Republican members of Congress, rioters breached the Capitol building.
They caused a full lockdown to go into effect as Congress was convening to certify the electoral votes declaring President-elect Joe Biden the winner of the 2020 election in the House and Senate. Five people—including a Capitol police officer—died as a result.
Since then, the FBI asked via social media for help determining who participated in the violence in the Capitol building.
And social media has been more than happy to oblige this request.
One woman pulled zero punches and has begun identifying members of her family.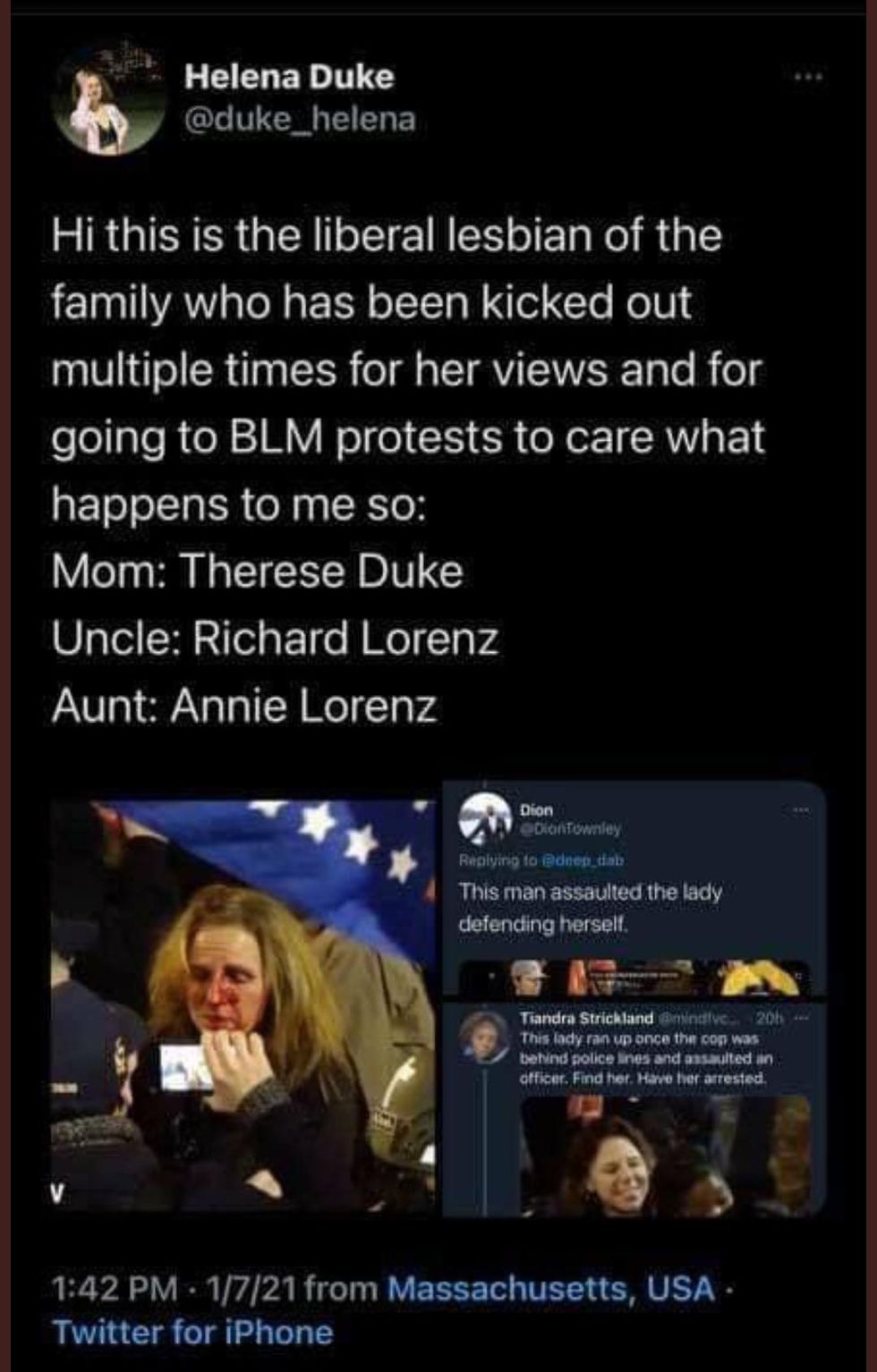 @duke_helena/Twitter
Citing she was kicked out and disavowed by her own family multiple times as a liberal lesbian, Helena Duke (@duke_helena) immediately identified her family members in various photos and videos across the internet.
Her mother appeared in a video taken January 5, 2021 in downtown Washington DC getting punched after repeatedly harassing and assaulting a Black woman in uniform—identified as Ashanti Smith—who was filming the pro-Trump protest on her cellphone. Smith was misidentified as a member of law enforcement, but is not a police officer.
Annie Lorenz—identified by Duke as her aunt—then punched Smith leading to both women being arrested.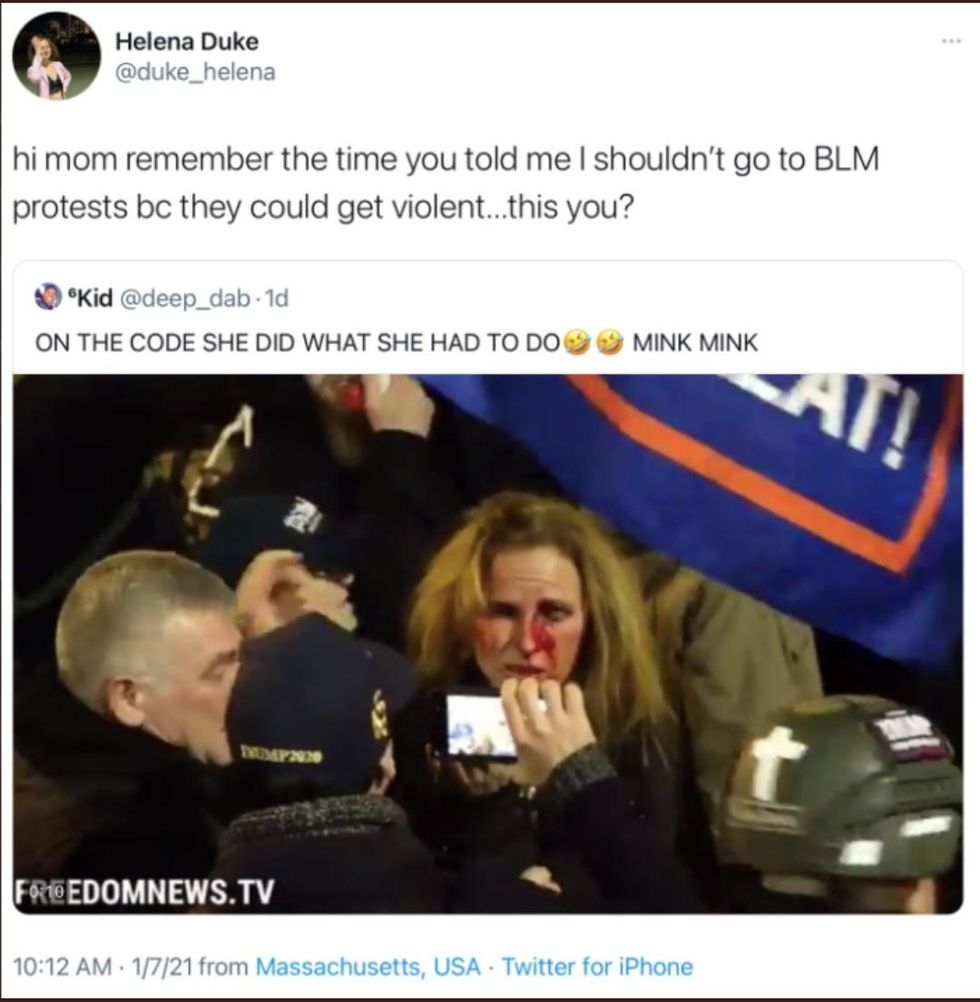 @duke_helena/Twitter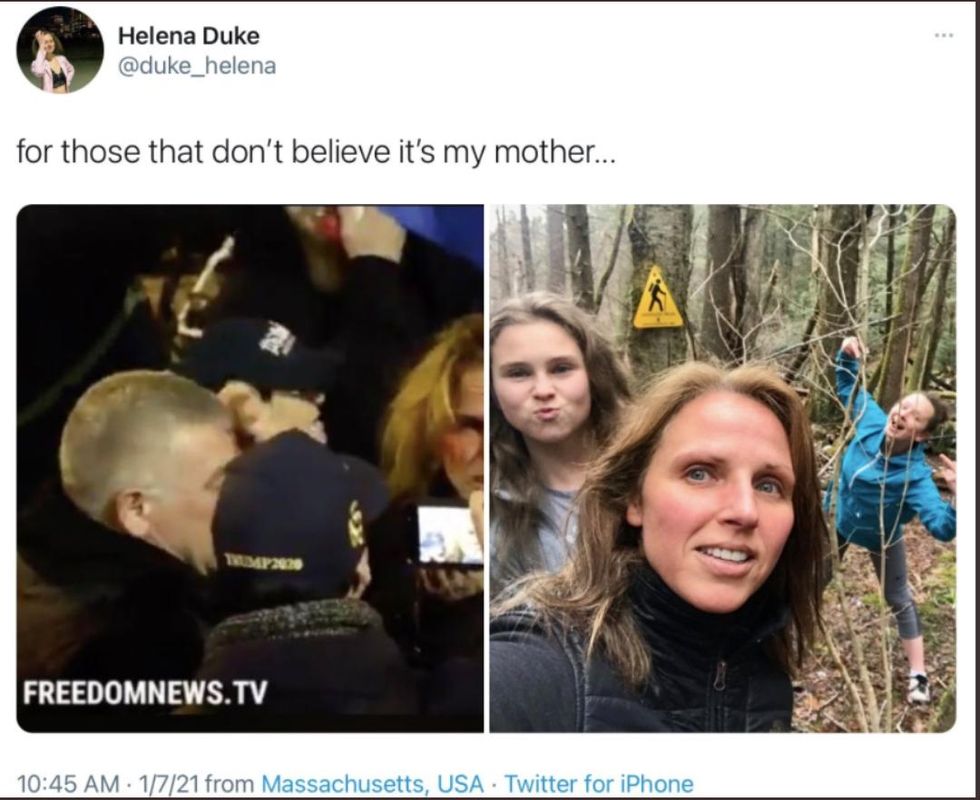 @duke_helena/Twitter
@duke_helena/Twitter
The video shared by right-wing Freedom News shows a brief moment of Duke's mother trying to grab the phone of the uniformed Black woman, Ashanti Smith.
The woman in uniform reported being fired over the incident, stating Duke's relatives kept surrounding her, touching her and trying to take her keys and her phone.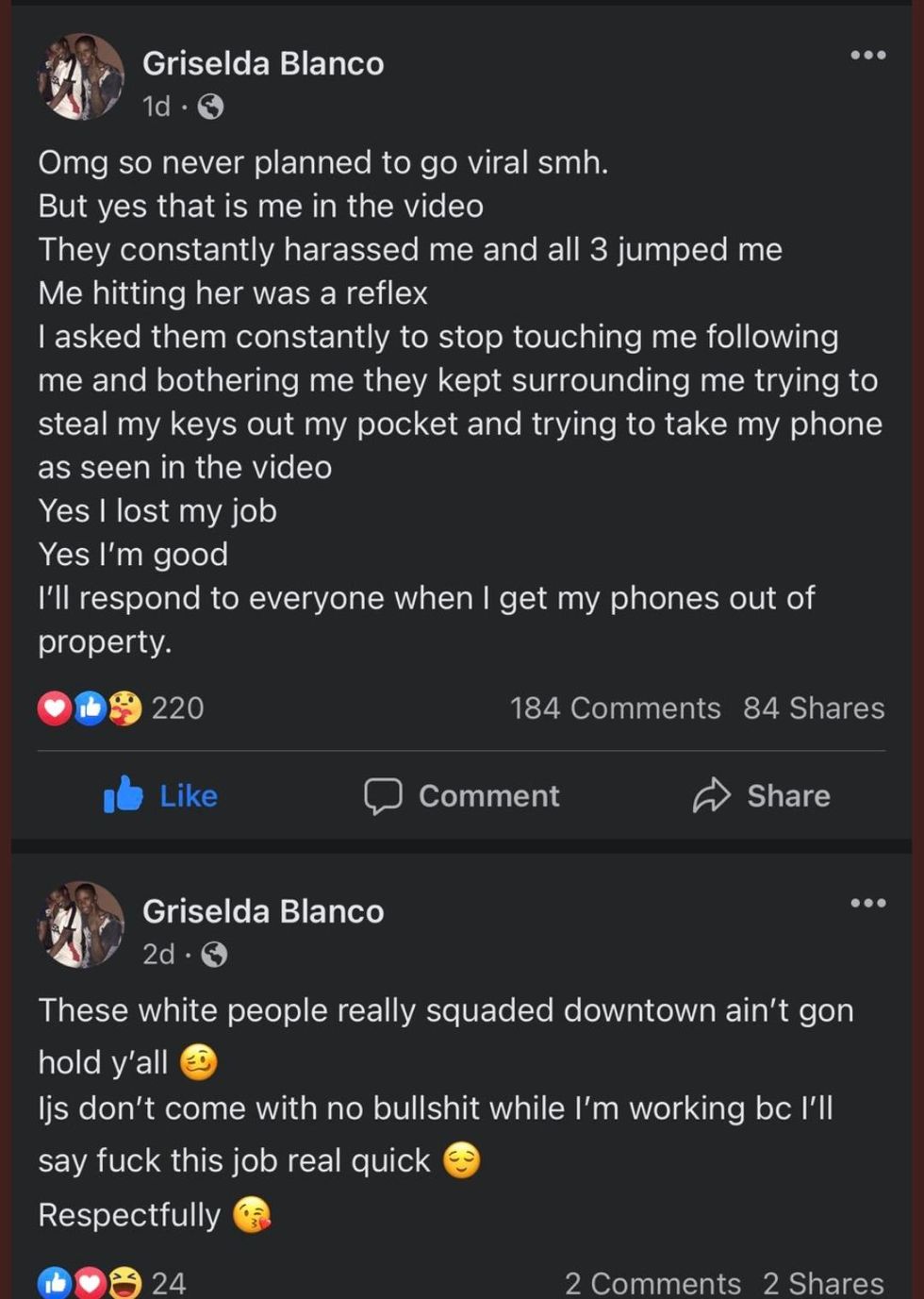 Griselda Blanco (Ashanti Smith)/Facebook
A GoFundMe was created to cover legal fees and living expenses for the woman.
According to the GoFundMe post:

"My name is Ashanti. I am a 28-year-old Black woman who lives in the DMV AREA [metropolitan Washington DC]."
"I recently was assaulted, attacked and harassed by a group of Trump supporters on Black Lives Matter Plaza in DC on January 5th, 2021. A video has surfaced where I was surrounded by a group of Trump extremists, and I honestly feared for my life."
"The video makes me look like I am the aggressor, but it does not show what happened prior to my defending myself."
"People shoved me, tried to take my phone and keys, yelled racial epithets at me, and tried to remove my mask. I asked them to social distance and stay out of my personal space due to COVID."
"They refused, and I was afraid of being hurt and harmed. After being assaulted, I defended myself."
"I am now facing criminal charges. I have also been relieved from my employment pending an investigation, which places me in a hardship."
People applauded Duke for naming names.

The situation at the Capitol was so volatile and unsafe Congress is now considering methods to remove Trump from office in the final two weeks of his term, as they fear the incitement of further insurrection.
In addition, former Trump supporters have begun to break ranks with the President.
Of the over a dozen Senators who were going to object to the election results, only 7 followed through after the siege.
Two members of the President's cabinet and other administration members have also resigned in protest.
University of Massachusetts Memorial Hospital—where Duke's mother worked—reported she had been fired.
After her tweet ID of her mother, aunt and uncle, Helena said she received threats from her mother and aunt.
In a statement to Insider, Duke said:
"Last night around 1 a.m. to 2 a.m., both of them had contacted me, tried to repeatedly call me, and texted me that they are going to press charges against me and to say goodbye to my college, say goodbye to my career, and say goodbye to my life."
Duke's parents are divorced. She normally stays with her mother Therese Duke, but is now living with her father.
Aside from a few anonymous threats, the 18-year-old said response was mostly positive.
"A bunch of people I obviously didn't know have opened up their doors up to me—have told me that what I did inspired them because they've been through similar situations."
The insurrection in Washington forced many to expose where their true loyalties lie.
And if your own children aren't looking kindly at you now, think of how history will look back on you later.