A woman found that displaying her emotional distress during a minor surgery had cost her. Literally.
On her medical invoice for a mole removal procedure, Midge—whose Twitter handle is @mxmclain—claimed she was additionally charged $11 for "crying."
Among the services for which she was charged, Midge was dumbstruck to discover "Brief Emotion" was listed as something she was responsible for compensating.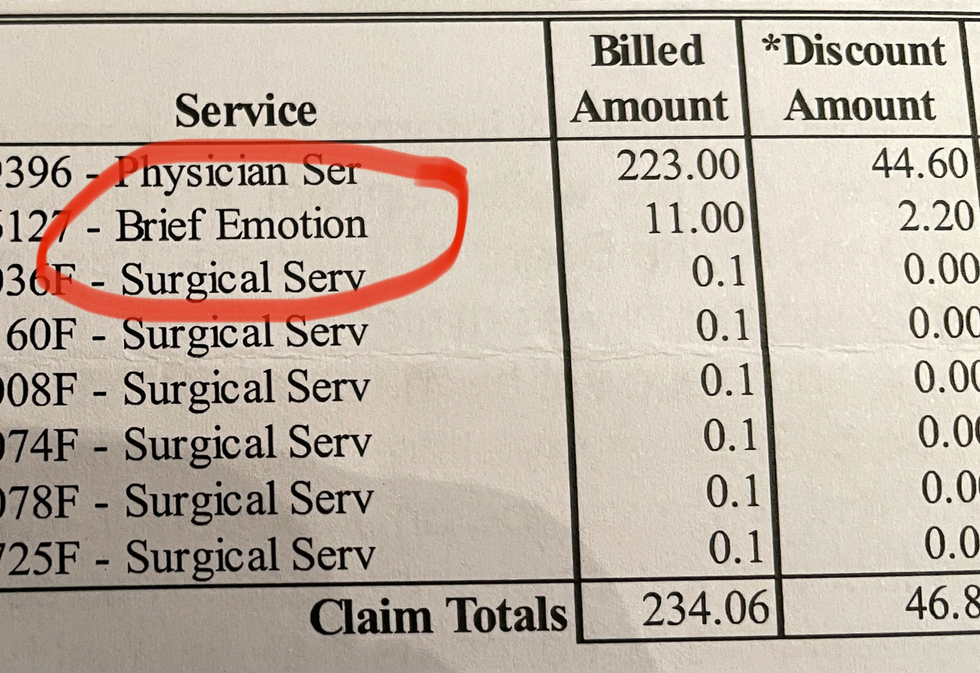 @mxmclain/Twitter
Midge followed up her tweet by making light of the situation, saying, "I didn't even get a damn sticker," and "Is a lollipop too much to ask?"

People from different parts of the world with access to universal healthcare were astonished at the concept of paying for surgery, let alone being charged "extra" for showing emotional vulnerability.
A user apprised Midge about screening code 96127 for Brief emotion, which is shorthand for "brief emotional/behavioral assessment."
This specialized mental health code is billable by a primary healthcare provider after the Center for Medicare and Medicaid Services Administration (CMS) approved it in 2015.
Fees associated with code 96127 can be up to $25 per administration and billable up to four times a year.
Some thought the discount from Midge's Brief Emotion was peculiar.

She was encouraged to fight the unexpected charge.
Midge told Indy100 she wasn't aware her health insurance didn't cover her depression screening during her annual physical examination.
"It was basically 10 (or less) questions about mental health," she said of her evaluation.