It's Google's 19th birthday! In 1998, the idea of the world's #1 search engine was born after Larry Page and Sergey Brin met at Stanford University. Today, Google celebrates their co-foundership of the company with a Google Doodle. They are celebrating with the "Google birthday surprise spinner."
According to Google, Page's meeting Brin was a chance encounter. After arriving on campus to pursue his P.h.D in computer science, Page was assigned Brin to be shown around. Google adds, "From there, the two came together with a common goal in mind: to organize the world's information and make it universally accessible and useful, a mantra that would go on to become Google's mission statement. The two hunkered down in a garage - Google's first office - and got to work."
Together, the pair would co-author a research paper titled "The Anatomy of a Large-Scale Hypertextual Web Search Engine," which would prove to be one of the most downloaded scientific documents in the history of the Internet. The research paper would further provide the foundation for Google and was nicknamed "BackRub," a reference to the backlinks the paper was based on.
Wired writes that Page "reasoned that the entire Web was loosely based on the premise of citation... If he could divine a method to count and qualify each backlink on the Web, as Page puts it 'the Web would become a more valuable place.'"
The vision proved valuable. According to Internet Live Stats, "Google now processes over 40,000 search queries every second on average (visualize them here), which translates to over 3.5 billion searches per day and 1.2 trillion searches per year worldwide."
However, some are confused as to why today is Google's "birthday." As it stands, Page and Brin met in 1995—3 years before 1998. In fact, Google registered google.com in 1997, and it may have been officially incorporated in 1998, according to Search Engine Land.
But according to the Telegraph, September 27, 1998, may have been chosen because that's when the first birthday Google Doodle happened to land in 2002.
Learn more about the history of Google here:
---
1. Both Founders Come From Highly Educated Families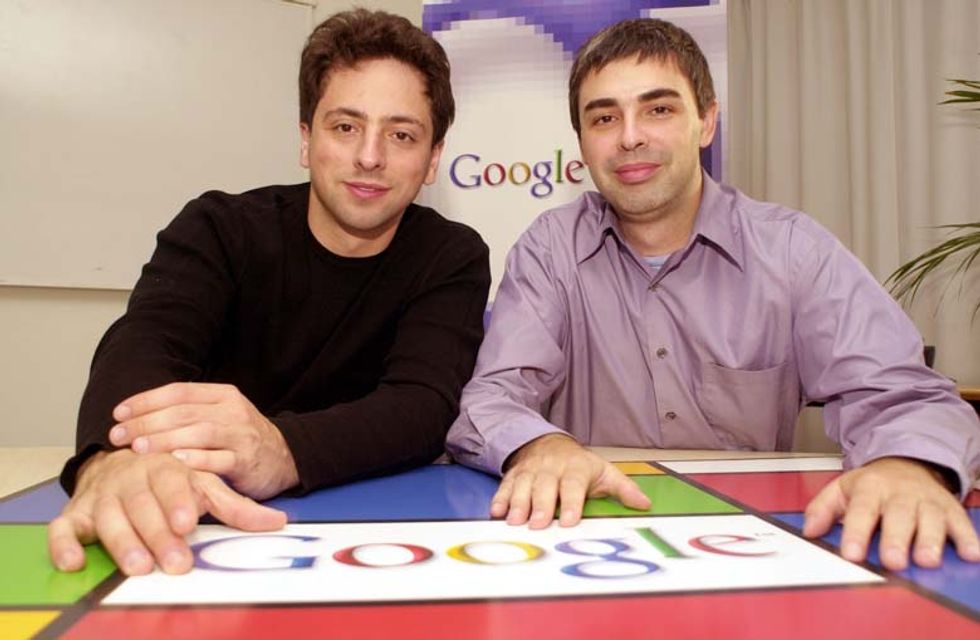 Larry Page (r) and Sergey Brin. (JOKER/Martin Magunia/ullstein bild via Getty Images)
Page was born Lawrence Edward Page on March 26, 1973, in East Lansing, Michigan. His father had a Ph.D. in computer science from the University of Michigan and his mother was an instructor in computer programming at nearby colleges.
Brin was born in Moscow on August 21, 1973, in the Soviet Union. The family left the USSR in 1979. His father is a mathematics professor at the University of Maryland, and his mother is a researcher at NASA's Goddard Space Flight Center.
Since its inception, Google has expanded its interests to become much more than a search engine. Under a corporate restructuring in 2015, Google became a subsidiary of Alphabet Inc. Alphabet Inc's portfolio includes many identifiable companies like Android, Nest, and YouTube.
---
2. Google Was Almost Named Something Else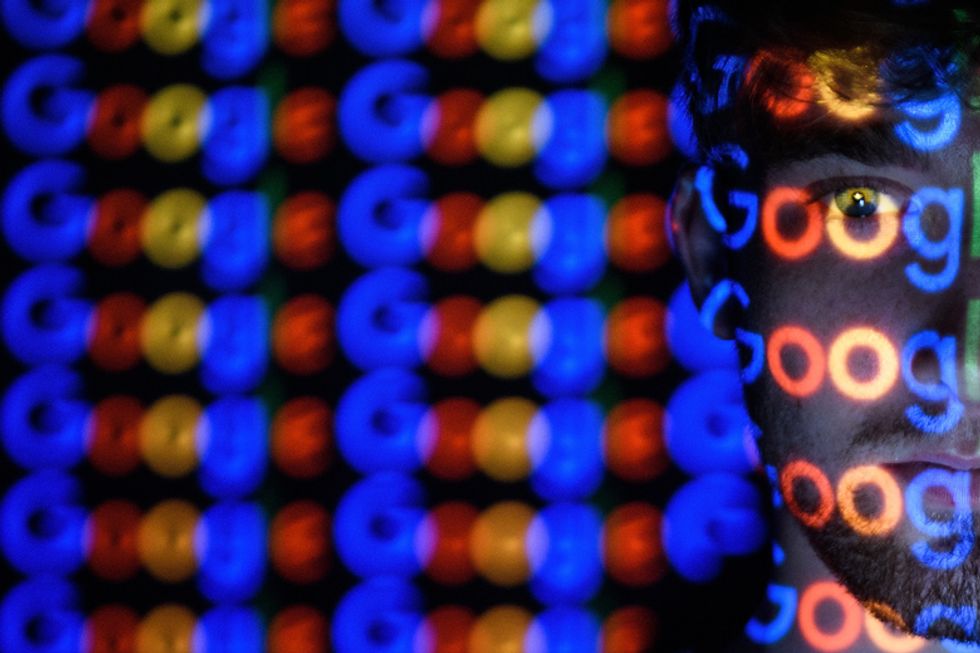 In this photo illustration, The Google logo is projected onto a man on August 09, 2017 in London, England. (Leon Neal/Getty Images)
According to Stanford, the story of the naming of Google goes like this:
Sean and Larry were in their office, using the whiteboard, trying to think up a good name - something that related to the indexing of an immense amount of data. Sean verbally suggested the word "googolplex," and Larry responded verbally with the shortened form, "googol" (both words refer to specific large numbers). Sean was seated at his computer terminal, so he executed a search of the Internet domain name registry database to see if the newly suggested name was still available for registration and use. Sean is not an infallible speller, and he made the mistake of searching for the name spelled as "google.com," which he found to be available. Larry liked the name, and within hours he took the step of registering the name "google.com" for himself and Sergey (the domain name registration record dates from September 15, 1997).
But, as stated above, the original nickname of the search engine was "BackRub." Fortunately, the duo realized the importance of branding.
---
3. 'Google' Is in the Dictionary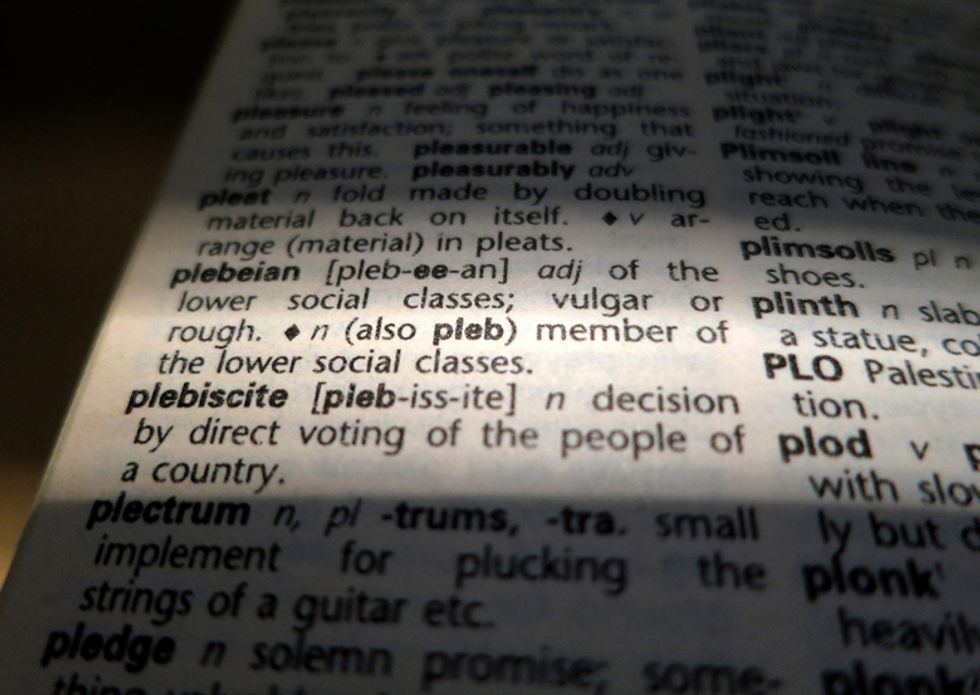 (Hugh Pinney/Getty Images)
The verb "google" was put in the Merriam Webster Collegiate Dictionary and the Oxford English Dictionary in 2006. The definition reads:
to use the Google search engine to obtain information about (someone or something) on the World Wide Web
Since then, it's been featured by various media companies as "the word of the decade."
Happy birthday, Google!
Please SHARE this with your friends and family.