An unprovoked physical assault on The Boys star Karen Fukuhara can only be explained by a continued rise in anti-Asian hate in the United States according to an Instagram post shared by the Japanese American actress.
On Wednesday, March 16 Fukuhara posted a message on her Instagram page detailing the violent incident in which a man struck her in the back of the head for no apparent reason.
She began the post:
"Today I was struck in the head by a man (I'm physically fine) & this sh*t needs to stop."
"Us Asians, women, the elderly need your help."
Fukuhara—also famous for her role in 2016's Suicide Squad—was on her way to grab a coffee from a cafe when the man approached her, coming "out of nowhere." She did not indicate where the incident took place.
She explained in the post she hadn't been doing anything unusual to elicit this response and had not even made eye contact with the man before he swatted at the back of her head knocking her hat off.
She continued:
"By the time I looked back, he was a few feet away from me (he must have kept walking after hitting me)."
"I thought about confronting him first but he started coming towards me and I didn't think it was worth the risk."
The incident concluded with the man eventually walking away "[a]fter a few seconds of staring at each other and him yelling at me" Fukuhara shared.
The pandemic brought with it a slew of racially-motivated attacks against members of the Asian American and Pacific Islander (AAPI) communities with many crediting racist rhetoric spread by former Republican President Donald Trump.
In December 2021, the New York City Police Department reported incidents targeting Asians rose by 361% over the previous year.
Fukuhara shared of her experience:
"This is the first time I've been harmed physically, although racial slurs and hurtful actions have been directed to me in the past."
"I write this, because I've had conversations with multi-racial friends of mine that had no idea these hate crimes happen to everyday, regular people - people that they share meals with."
"I felt it was important to raise awareness."
She considers herself lucky, realizing he could have caused further harm or even had a weapon.
She said the experience has her contemplating taking self-defense classes in case of a future attack, but she questioned "why is this something we as 'victims' have to think about?"
She concluded:
"What satisfaction are these perpetrators getting from hitting women, Asians, the ELDERLY?"
"They need to be held accountable."
"What can we do as a community to prevent these horrible crimes?"
Fukuhara received considerable support in response to her post, from fans and celebrities alike.
Her costars Chace Crawford and Jack Quaid from The Boys posted messages of support on Instagram.
Crawford commented:
"F this person!! Hope you're ok this is awful."

@karenfukuhara/Instagram
Quaid made similar remarks in his comment:
"Karen thank you for sharing your experience."
"I'm so sorry that happened to you."
"Love you. Here if you need anything."

@karenfukuhara/Instagram
Other celebrities showed up for Fukuhara including Olivia Munn, also a member of the AAPI community.
Munn commented:

"I'm so grateful you're safe."

@karenfukuhara/Instagram
Overall, Fukuraha's post was met with messages of love and support.
AAPI community members remarked on their shared feelings of fear and discomfort amid the violence directed at their community.
One Twitter user shared:

"I'm fearful for my life and more than my own, the life of my mother."
"The injustice and racism cannot go unpunished."
"This MUST stop NOW!"
Another expressed—in Japanese—how painful the story was to read: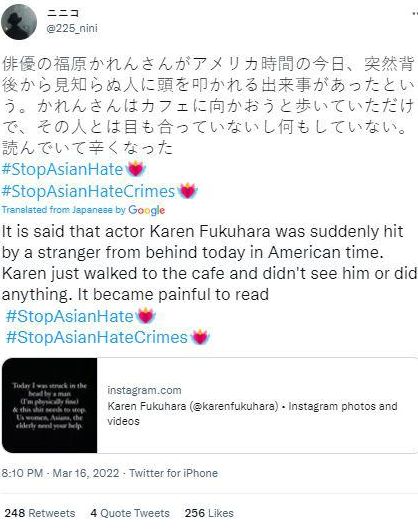 @225_nini/Twitter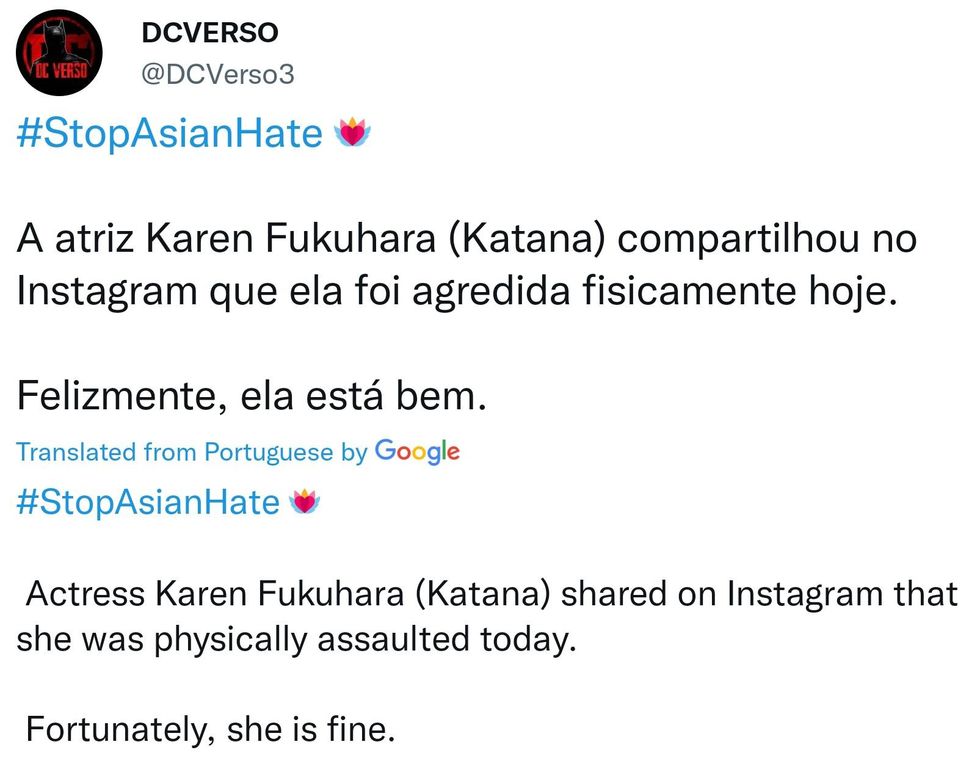 @DCVerso3/Twitter
Thankfully, the star walked away from the encounter unharmed.
But the problem remains that AAPI community members continue to feel unsafe and targeted in the United States, famous or not.