Two years ago, the Petersons of Southwest Ranches, Florida experienced a tragedy when their beloved German Shepherd puppy, Cedar, was stolen off their property.
As time passed, they never gave up hope that Cedar might someday be returned. Their prayers finally paid off when their dog, now no longer a puppy, appeared at a veterinary clinic in Colorado.
---
#EXCLUSIVE: Nearly 2 years later, a German shepherd who went missing from a Southwest Ranches home is found by a po… https://t.co/Nc25iNKkhe

— WSVN 7 News (@WSVN 7 News) 1554349393.0
Chase Peterson, one of the family's sons, was distraught when Cedar disappeared at only four months old:

"She was my dog, and I was her human and she was definitely attached to me, as much as I was to her...I was upset, and I was angry."
Doug, Chase's father, knew his son never gave up hope that Cedar might still be out there:
"He never forgot about her. He wants her back now and never gave up. He'd been praying and whatnot, hoping that the dog would come back."
This is why having a microchip that is registered is so important. So happy for this family and puppy!! https://t.co/MPatgxOBtB

— Dr. Flavia Tompkins (@Dr. Flavia Tompkins) 1554427223.0
After waiting for quite a while, things finally started to come together when a police officer picked a dog up on a street two hours outside of Denver. He took her to the nearby Eastern Colorado Veterinary Services, where Dr. Leesa McCue scanned the pup's microchip and identified her as Cedar:

"They gave me a phone number, and I contacted that phone number, and the receptionist answered and told me where they were and I'm like, 'Oh, Florida. That's quite a ways away, and how long ago?'"
@wsvn Omg that is wonderful, it goes to show you, never give up on a lost pet

— ellen comora (@ellen comora) 1554382594.0
Though Cedar now looks a lot different, the Peterson's can tell it's the same dog with the same gentle spirit. Dr. McCue even noted:

"Cedar is a wonderful, wonderful animal. She's very kind, she greets you, she listens to you."
Chase is glad Cedar is back with her family of both humans and several other dogs:
"I'm very thankful that the officer was a good Samaritan and decided to bring her in. I'm very grateful and thankful for that."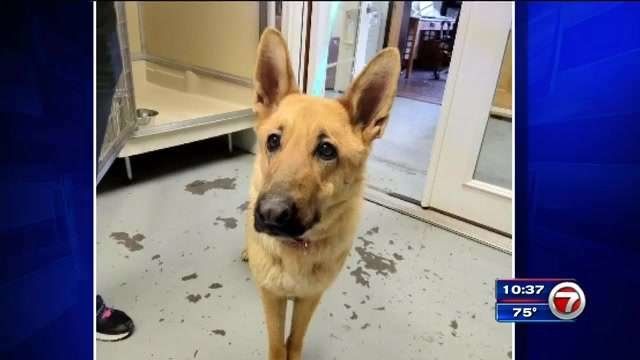 Missing Southwest Ranches dog found in Colorado — nearly 2 years laterwsvn.com
Doug is also glad his son will be reunited with his old puppy:
"I call it the power of prayer and my son never stopped praying the whole time that his dog would come back."
The Petersons are currently collaborating with the Humane Society and the vet's office to try and arrange transport for Cedar back to Florida.
This isn't the first time a dog has been returned to its family from a strangely far-off place:
Missing Dog Found In New York Returned To Floridawww.youtube.com
Owner Reunites With Her Dog After Goldendoodle Was Lost in Rocky Mountainswww.youtube.com
Lost Brooklyn Dog Found In Florida 18 Months Laterwww.youtube.com
The Petersons are also offering $5,000 for any information regarding the people who stole Cedar in the first place. They hope no other family has to go through what they did when Cedar was taken.