Have you ever seen someone do their jobs with such ingenuity and intensity that you can't help but wonder if they're trying to get promoted or get fired?
Do you want to?
One Southwest Airlines employee has the internet in stitches after video of her announcement went viral—so much so that the audio of her speech has gotten heavy use on TikTok as well!
It's possible you may not have seen the video, but have heard audio of her telling passengers to pray about baggage fees.
Here is the original video of Bernie from Southwest Airlines telling people the whole truth and nothing but the truth.
In the clip, the Southwest Airlines employee is making customer service announcements for the flight.
That's pretty standard for air travel.
Passengers need information relayed to them all the time. Even the reason for this announcement was pretty standard—it was just a baggage fee reminder.
What wasn't standard was the way she relayed that info. We don't know if Southwest Airlines has scripts for their employees.
If they do, she definitely went off it—much to the delight of the passengers waiting.
The video picks up the tail end of her speech, given with a casual natual voice:
"... another suitcase, that's the seat in front of you. If you got sumthin that won't fit, we gon' have to check that."
"And guess what, if you done checked two bags over there at the counter guess what you got to do? Give me a credit card, 'cause it's gon' cost you seventy five dollars."
"Anybody don't understand that?"
*brief pause*
"Talk amongst yourselves and explain it cause I ain't finna say it again."
"Any problems?"
"Pray about it. It's gon' work out."
At this point, she jokes with a few people briefly before hopping back in to do her standard Customer Service voice closing:

"Anyhoo, okay, I'm Bernie and as always, thank you for flying with us here at Southwest Airlines"
Bernie from Southwest Airlines is the people's new champion.


@kterrell27/TikTok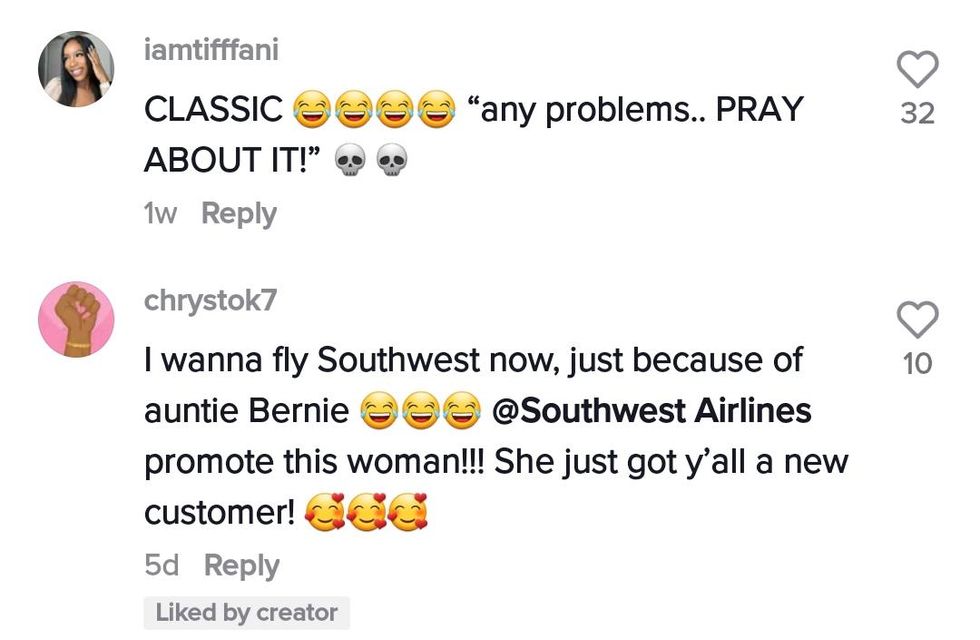 @kterrell27/TikTok

@kterrell27/TikTok
@kterrell27/TikTok

@kterrell27/TikTok

@kterrell27/TikTok

@kterrell27/TikTok

@kterrell27/TikTok

@kterrell27/TikTok

@kterrell27/TikTok
We don't know where you are right now, Bernie, but we know where the people want you to be and that's in charge of pretty much everything.

We'll pray about it.
It's gon' work out.