Donald Trump Jr. was made head of the Trump Organization when his father became President.
Both Don Jr. and brother Eric hold no position in the Trump administration.
---
They hold no security clearances and should not be privy to classified briefings or information of any kind.

That fact doesn't stop Fox News from frequently bringing Don Jr. and Eric on to offer "expert commentary" on information they shouldn't have regarding their father's presidency.
Like when Sean Hannity brought on Jr. to talk about the Trump administration's pandemic response. Jr. holds no position on the pandemic task force.
Aside from Fox News appearances, Don Jr. spends more time on social media than his siblings or brother-in-law Jared Kushner. While sister Ivanka and her husband Jared are official White House advisers and were appointed to multiple initiatives—including the pandemic response team—none comment as often on the action in Washington DC and the activities of Donald Trump than Jr..
However—given the things Jr. does post and their public reception—that's probably a good thing.
Who would want to embarrass themselves in such a public forum so often?
Jr.'s latest attempt at garnering attention backfired as most do. On Wednesday, Jr. posted on Twitter about the economy and the pandemic.
He tweeted:
"After the pandemic passes and we can fire up our economic engine I'm truly looking forward to watching [President Donald Trump] Make America Great Again... Again!!!"
Jr.'s revised campaign slogan failed to garner the reaction he hoped.
One referred to Jr.'s recent Fox News appearance.
Donald Trump Jr. says his father is going to make America great again.. again https://t.co/RHELkZ260m

— Acyn (@Acyn)1587691188.0
@Acyn Did Traitor Tot mention China? Funny he should mention that. https://t.co/RNKOUAH22T

— D Villella ❄️ (@D Villella ❄️)1587694542.0
@Acyn Many people are saying Traitor Tot ate Tide Pods. https://t.co/pJPZEDhWjs

— D Villella ❄️ (@D Villella ❄️)1587694368.0
People questioned Jr.'s claim that his father made America great once.
@DonaldJTrumpJr @realDonaldTrump Hard to make America Great Again...Again, if daddy never made it great in the firs… https://t.co/oIcd742Cyv

— D Villella ❄️ (@D Villella ❄️)1587729698.0
Many of the respondents brought up the number of lives lost to the pandemic and the Trump administration's initial denials.
For weeks, Trump and his followers called the global pandemic a hoax.
Is it before or after he seriously on a national level, amidst of a global pandemic in all seriousness suggested pe… https://t.co/NBldoJjSlT

— Daenerys should've let their ungrateful asses die (@Daenerys should've let their ungrateful asses die)1587726365.0
@DonaldJTrumpJr @realDonaldTrump 47,664 deaths. No show of compassion. Not a drop of empathy. This entire family are sociopaths.

— Marianne Zirkle (@Marianne Zirkle)1587596055.0
@johnpavlovitz @DonaldJTrumpJr @realDonaldTrump https://t.co/AC3bN3MpJD

— 🇨🇦🇨🇦 HUMAN 🇨🇦🇨🇦 (@🇨🇦🇨🇦 HUMAN 🇨🇦🇨🇦)1587644974.0
Others pointed out the current campaign slogan, Keep America Great, was contradicted by Jr.'s new one while there is still doubt that MAGA happened in the first place.
So if he's making America great again...again, then you must be saying that under @realDonaldTrump America ceased t… https://t.co/X79HIgZZdM

— *you're (@*you're)1587726663.0
Apparently this isn't a parody account. He wants his Daddy to #MAGA even though he already made America great, and… https://t.co/Kcb72iWPeM

— 808 Murmurs (@808 Murmurs)1587731351.0
What a great idea @DonaldJTrumpJr, @realDonaldTrump did such a great job the 1st time. Record deficit, gutting of o… https://t.co/7Jj80AjMkD

— Bob Riley (@Bob Riley)1587727840.0
I think he means he hopes his dad fixes the economy, but Obama isn't here to take over for. He can no longer get cr… https://t.co/fjMpP5dROB

— Frank Preston (@Frank Preston)1587727834.0
Since your campaign slogan is now #KAG doesn't that mean he has already made America great. Perhaps you need to get… https://t.co/CHzOQsslym

— Virginia Dreaming (@Virginia Dreaming)1587686579.0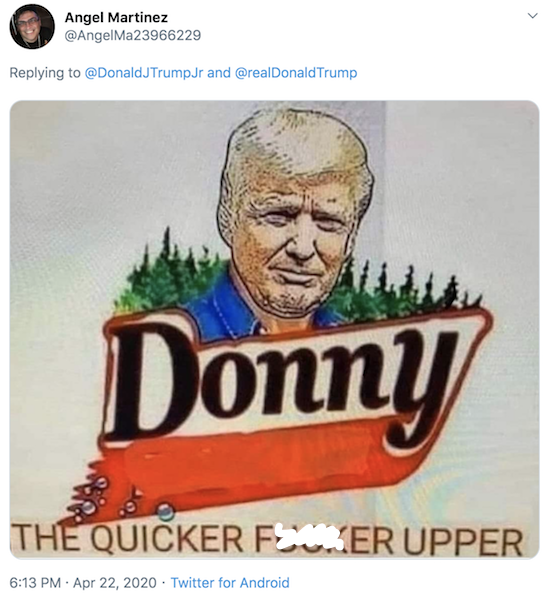 @AngelMa23966229/Twitter
Although one person pointed out there was an aspect of Donald Trump's life that everyone should emulate during the pandemic.
@DonaldJTrumpJr @realDonaldTrump https://t.co/jzHJe2Pqlb

— Almost Kevin 🇺🇸 👍 (@Almost Kevin 🇺🇸 👍)1587593641.0
As of Monday, April 27, cases of the viral pathogen responsible for the global pandemic reached over 993,000. The United States' death toll reached 55,729.
Neither number is great news.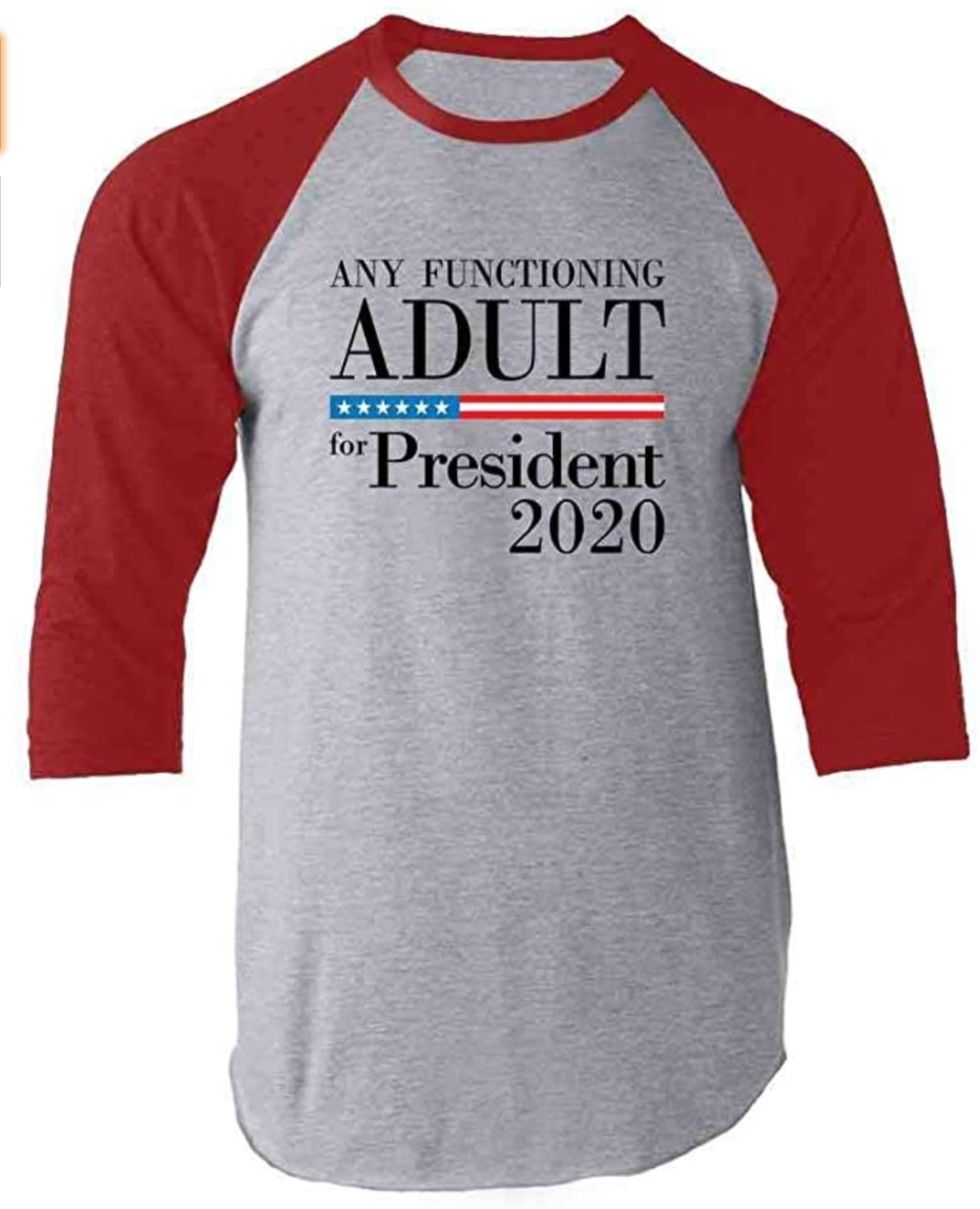 Amazon