You may have seen Anderson Cooper's extremely shirtless and extremely attractive pictures.

Can you say "Zaddy"?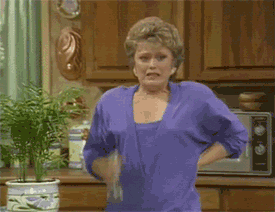 hot golden girls GIFGiphy
But did you know why they were posted to begin with?
Friend and fellow silver fox Andy Cohen posted these pictures of Cooper to "piss him off."
In an Instagram story posted later on in the night, Cohen revealed that Cooper was, in fact, pissed at him.
"Anderson is so pissed at me, you guys. But listen, I'm just sitting here, bored under a blanket. I'm just sitting here under a blanket. There's no one over there. All that's here is Ben's little drum set. Ben is sleeping, and I'm bored."
"So, what else am I supposed to do? Maybe I'll do an Instagram Live later, I don't know. I got Ben and Housewives cuts to watch. That's what's happening here… And maybe I'll post more shirtless pictures of Anderson."
Meanwhile, thirsty folks across the internet are thankful for Cohen's service.
Andy Cohen's serving up some silver fox vibes himself on his Instagram.
The pair of them are thirst traps.
Cooper has yet to publicly comment on how "pissed" with Andy Cohen he might be—but if that's the case, let's hope the friends kiss and make up.
Er...or just make up. .