Chrissy Teigen is many things: a cookbook author, a social media household name and a destroyer of trolls.
A recent internet spat confirms that all three titles remain applicable.
---
Chrissy Teigen is, formally speaking, the New York Times Bestselling Author of a cookbook. Cravings: Recipes for All of the Food You Want to Eat, published by Teigen in 2016, catapulted her into the culinary limelight and secured her a place among the big names of social media.
Her approach to internet fame has been anything but dull. In fact, it's been a kind of Pandora's Box.
She's long proved herself the queen of clap backs, fending off trolls at the drop of a hat. Her biting responses have ensured that she's never appeared a pushover.
But Teigen's strong defense hasn't kept the trolls away AT ALL.
Rather, consistent public responses invited more and more bullies. Or maybe her glorious take-downs have just made us notice her trolls more than all the others.
Whatever the case may be, Teigen was in peak form after a recent critic on Twitter accused her of stealing recipes for that bestselling cookbook.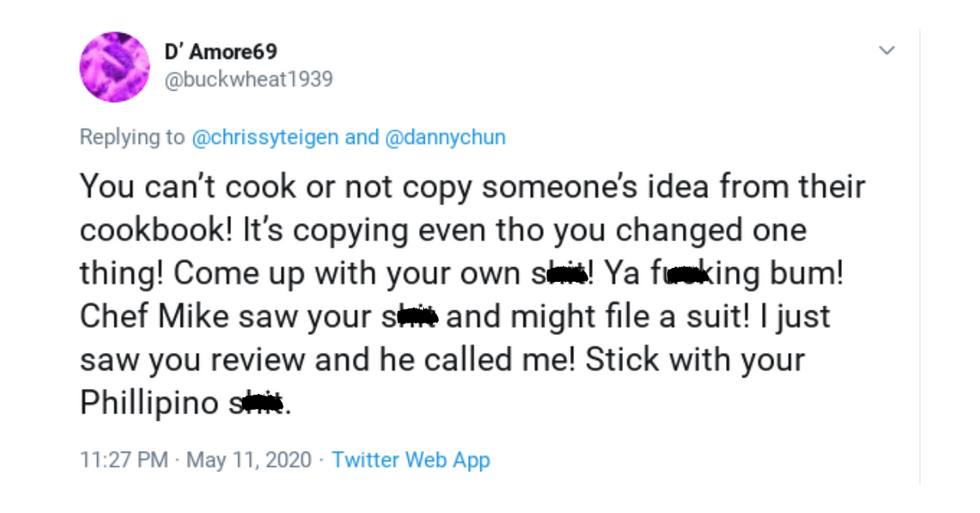 @buckwheat1939/Twitter
Teigen's response was absolutely on brand, featuring her characteristic mix of disregard and cheeky advice.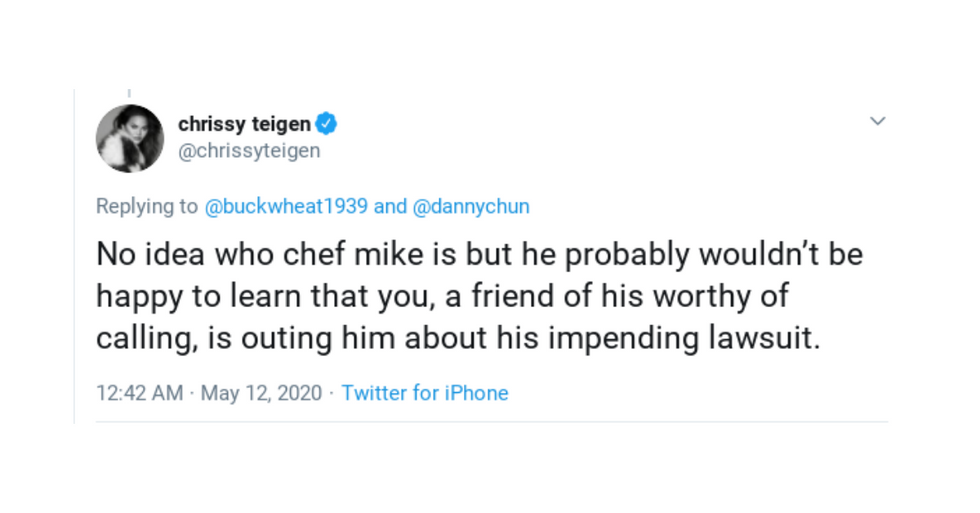 @chrissyteigen/Twitter
But this was not a troll willing to give away the last word.

They launched another jab back, and a brief back-and-forth ensued.
The Twitter community was eager to join Team Teigen on this one.
And one person pointed out that the troll didn't know how to spell Filipino.
Nor did the troll realize Chrissy Teigen's mom is Thai.
But by that point, Chrissy Teigen was no longer involved in the tug of war. Clearly, things had devolved enough for Teigen to opt out of any more engagement with the "friend of Chef Mike" recipe theft accuser.

After all, Teigen's anti-troll expertise includes a key piece of internet wisdom. Say your piece, get the deets and when they have none, get out of there before it gets too messy.
Teigen's second cookbook Cravings: Hungry for More is available here.