Chrissy Teigen was sent "spiraling" after discovering she may have an identical twin somewhere out there only to find out there was more to the story.
In a video full of twists and turns posted to Instagram on Sunday, the professional model and social media star shared with followers the craziness she experienced in the "past, insane 24 hours."
The 37-year-old Cravings author talked about how she has recently been on "a bit of a journey" trying to figure out details regarding her family history.
She decided to use a 23andMe home genetic ancestry kit as suggested by her doctor and therapist.
Teigen explained she used the kit before but went for a "deep dive" this time around.
She got more than she bargained for.
The former Lip Sync Battle co-host explained:
"I paid for some of the upgrades and the first thing that came up after I found out that I was part Neanderthal, was this."
She pointed to the screen backdrop of 23andMe mapping out her genealogy to an area marked: Identical twin.
"I have an identical twin," said Teigen for those who missed the visual.
"That has to be a joke, right?"
Here is the video.

Teigen decided to reach out to this mystery twin through the 23andMe app but got an automated "robot" response.
"Honestly, at this point, I was spiraling," she recalled.
After not hearing back from 23andMe, she reached out to her parents for some answers.
"I'm literally saying, 'Dad, hey, did you see come out of mom's vagina and were there two of me?'"
"He starts laughing, saying 'No, I was there, there are not two of you!' I was like, 'Are you sure you were there?'"
Teigen then called her sister, Tina, and said:
"Hey, what's up...Do I have an identical twin?"
Her sister's response was a gasp, which indicated to Teigen it was an affirmation that she did.
The Deal or No Deal alum continued:

"At this point, I'm making excuses for my whole life."
"I'm like, 'This is why I'm so codependent because my twin was ripped away from me! This is why I always felt something missing and this is why I have addiction issues'"
"I'm like, literally, 'Holy f'k!'"
Her sister then reminded Teigen about the time Teigen took a DNA test under a "secret name, so the world couldn't tell" for an episode from a PBS documentary called Finding Your Roots.
However, the show–which entailed celebrities finding out about their ancestry–never finished filming and it never aired.
Teigen wound up being paired with herself–courtesy of the previous DNA information under her undisclosed alias for Finding Your Roots.

So, no. Teigen does not have an identical twin.

Thanks to Tina mentioning the long-forgotten DNA test, it all came flooding back.
"My identical twin was myself," said Teigen, adding:
"I was matching myself."
Her husband, acclaimed singer/songwriter John Legend–with whom she shares three children–commented on the post paying his respects.

@chrissyteigen/Instagram
Even the 23andMe Instagram account responded with a comment expressing a sigh of relief.

@chrissyteigen/Instagram
Those who were invested in her journey shared their thoughts.
@chrissyteigen/Instagram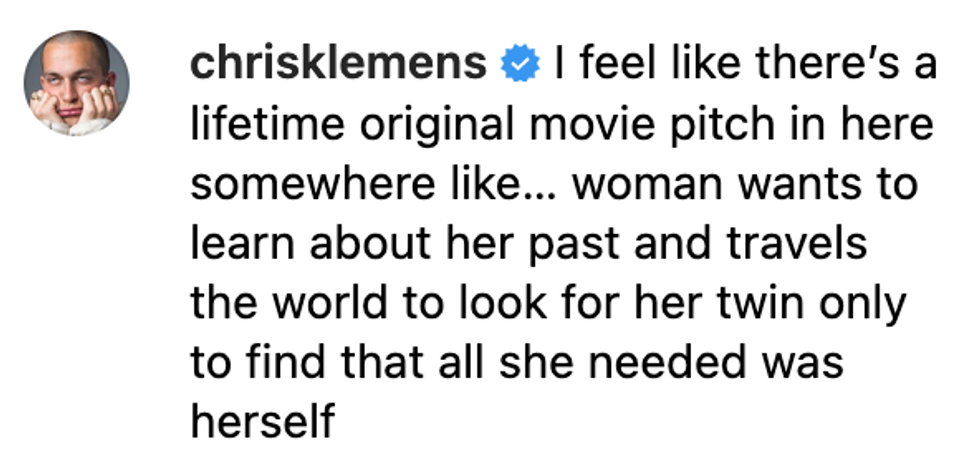 @chrissyteigen/Instagram
@chrissyteigen/Instagram
@chrissyteigen/Instagram

@chrissyteigen/Instagram
@chrissyteigen/Instagram
@chrissyteigen/Instagram
@chrissyteigen/Instagram
@chrissyteigen/Instagram
The clip ended with her making light of the false alarm with a drawing of a tombstone marked with the following engraving:
"Sister Teigen–Sister, Aunt & Friend. June 4, 2023, 2:04 PM–June 4, 2023, 3:05 PM."
R.I.P. Sister Teigen.