Cookbook author, TV host and model Chrissy Teigen has NEVER taken internet trolls lying down.
A tongue-in-cheek "thirst trap" video of hers kicked off the latest installment of her social media clap back adventures.
---
Let us begin with a couple definitions:
"Thirst Trap" - "A sexy photograph or flirty message posted on social media for the intent of causing others to publicly profess their attraction. This is done not to actually respond or satisfy any of this attraction, but to feed the posters ego or need for attention." (Source: Urban Dictionary)
"Chrissy Teigen" - A 34-year-old author and model who is relatively active on both Twitter and Instagram. She often posts about her husband John Legend and their children. Other posts typically include attempts to bring modest, relateable, positive content to followers.
On brand, Teigen recently took to Twitter and made a sarcastic, down to earth thirst trap post.
It didn't take long for the internet trolls to locate the content, charge up their negative energy, and make their move.
Teigen had no problem whatsoever handling the abuse. She took a composed route, opting not to take the "eye for an eye" approach.
She simply shrugged it off, expressed some gratitude for the good life she has, and allowed her followers to do the dirty work.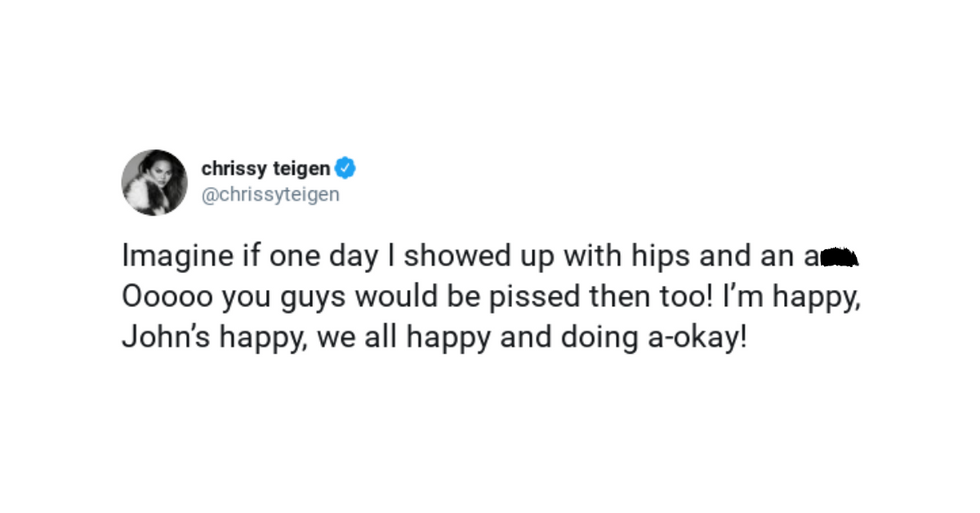 @chrissyteigen

@chrissyteigen
Wholesome Teigen content duly noted, now for the more aggressive defense mounted by her supporters.
Teigen is clearly not harping on the abuse incited by the post. Since her mixed reviewed thirst trap, she's been leaning into life under stay at home orders as much as possible.
While she's not turning the other cheek to internet trolls, Teigen, like many, appears to be making the most of all the extra time at home by refining her skills in the kitchen, as her Twitter feed makes clear.