Cardi B changed the Instagram settings for her and fellow rapper Offset's daughter, Kulture, private when the three-year-old's IG page became targeted by trolls.
Known for her chart-topping hit, "WAP," the 29-year-old rapper had started the toddler's social media account in September 2020. It featured adorable photos of Kulture.
Kulture's page quickly gained 600,000 followers and has since increased to nearly 2.3 million followers, many of whom "like" and leave comments on the photos.
The page's description confirmed Cardi B ran her daughter's still-active account, which reads:

"Hey buddies🎀 Kulture official page🌸I like everything pink💝 Spoiled💟 This page is managed by my mommy @iamcardib."
Unfortunately amongst the positive comments were numerous hateful messages, screenshots of which were eventually shared by Halle's Blog Back Up Page on Instagram.
Some of the nasty messages were from a troll whose handle, @ihatecardib_b*tcha**, clearly indicated what they thought about the American rapper.
The account left comments like, "Big head squid," "Obese," and one that read, "You thought you was something."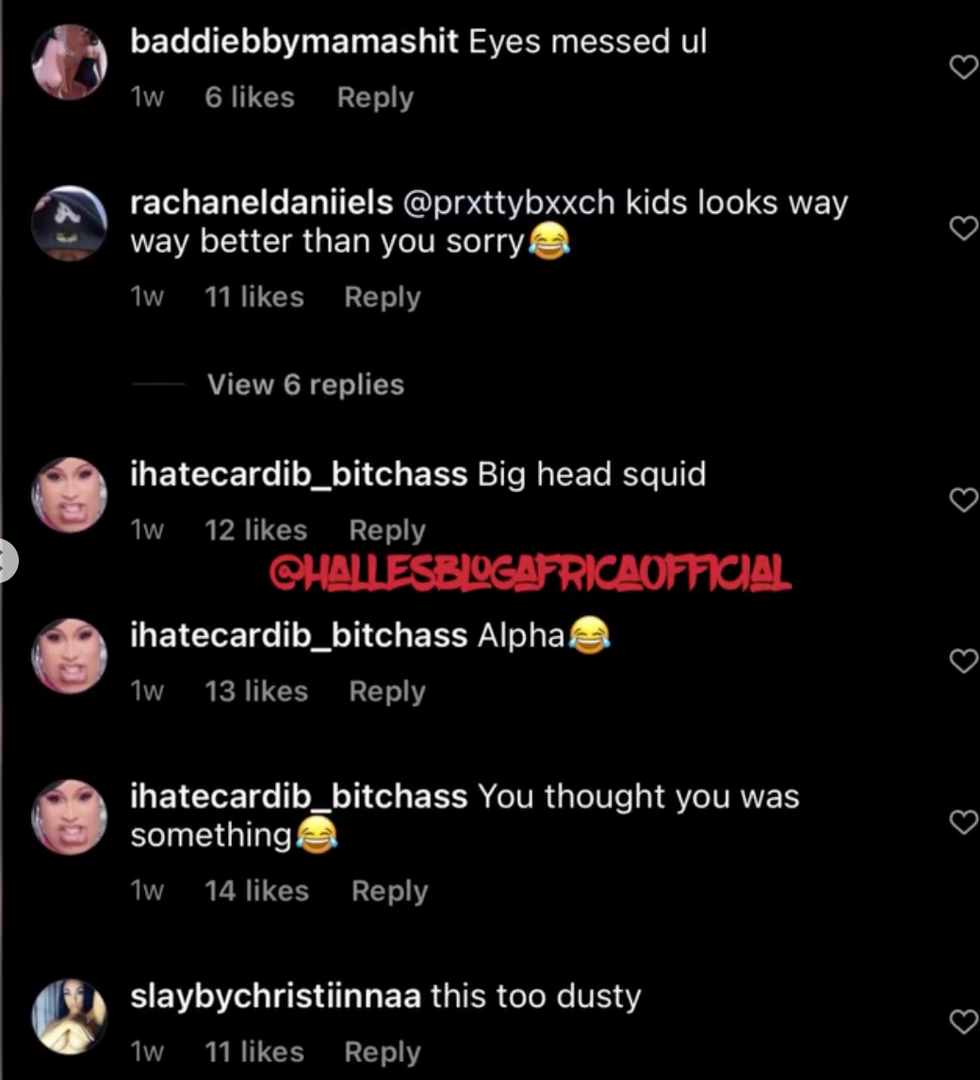 @hallesblogafricaoffical/Instagram
Another troll going by the name @nn99essa wrote "Such a mistake child" and the racist comment "nappy nappy nappy headed kid."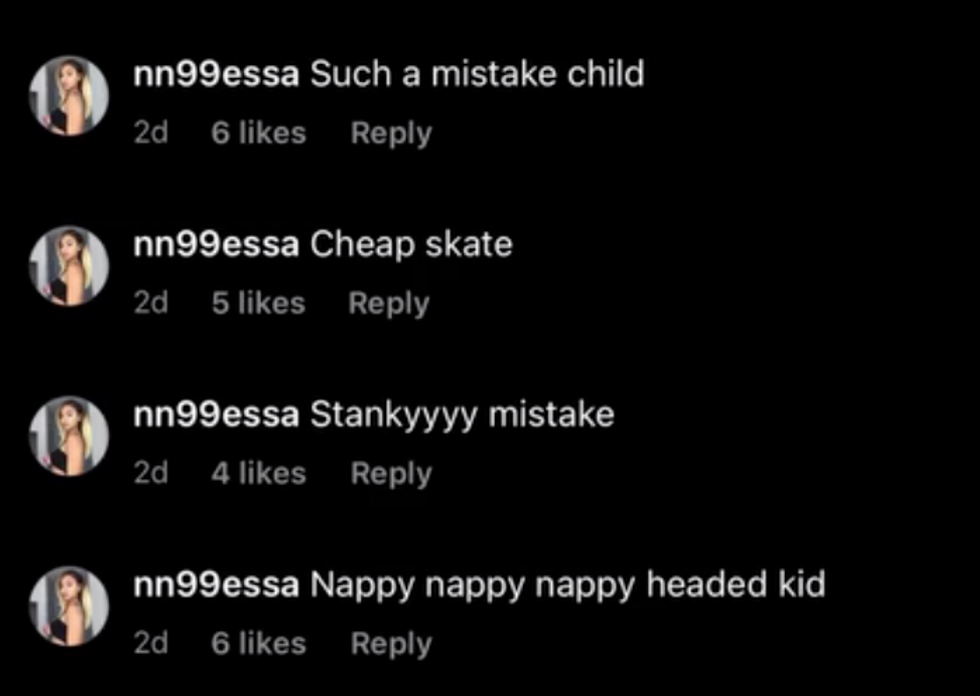 @hallesblogafricaoffical/Instagram
Fans were stunned anyone would go after and attack a child.

@hallesblogafricaoffical/Instagram

@hallesblogafricaoffical/Instagram

@hallesblogafricaoffical/Instagram
Thanks to a fan who alerted Cardi B to the abuse, mama bear took action and set her daughter's page to private before addressing the abhorrent messages.

Cardi B admitted she had not been checking Kulture's Instagram page for abusive activity but said she planned to take action.
"I'm going to lock her page," she wrote, before sending a strongly worded response for people who attack other people's children.

"I don't know wtf is going on but I hope y'all moms die for giving birth to you hoe a** weirdos."
People had mixed reactions to Cardi B's response.
Although many of her fans sympathized with the rapper, there were many others who voiced concerns about children under a certain age being allowed to have social media pages.
Cardi B shares Kulture with Offset, with whom she secretly married in September 2017–a month prior to their public proposal.
Although she filed for divorce in September 2020, it was revealed they got back together a month later.
On September 4, 2021, Cardi B gave birth to their second child, a son, whom they largely kept out of the spotlight and withheld his name from the public for privacy.
Probably a wise decision.