We've all had bad work days and maybe lost our tempers.
Not all of us then quit our jobs and receive over $100k in donations, but that is what happened to a bus driver in Ohio recently.
Jackie Miller—who drove school buses for 15 years—quit her job after a video surfaced of her confronting students on her bus about spraying perfume and then launching into an expletive-filled rant.
The rant, which went on for most of the two minutes of recording, included some choice expressions like:
"My foot's gonna be so far up your a** it's going to dangle from your nose."
You can see Miller sound off here:
WARNING: NSFW language
Miller has asthma which is triggered by perfume and other air pollution.
The rant was set off by another student saying someone sprayed perfume on the bus. In an interview after the fact, Miller says it happened before and it was all she could do to pull the bus over and get her inhaler out.

After the video went viral, sympathy poured in for Miller, as well as some people capitalizing on the choice phrasing she used in her rant. Someone made a t-shirt that became part of a wider fundraiser on GoFundMe for Miller's abrupt retirement.
The fundraiser now sits at over $108k.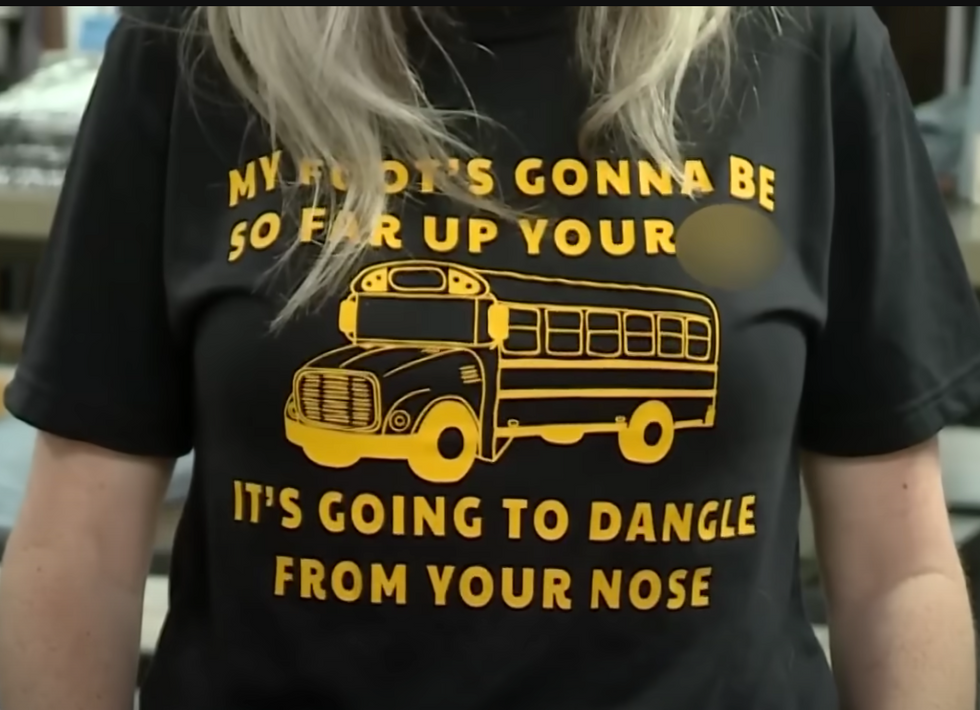 @WKYCChannel3/YouTube
Reactions to the viral video on TikTok were probably not what the kid who posted it originally thought they would be.
Most people were "Team Bus Driver."


@cira747/TikTok
@69reagan69/TikTok

@user1761317425848/TikTok
Some people focused on a particular moment in the recording.
Miller rounded back on a kid after he continued being disrespectful.

@trelleville/TikTok

@krenewmommy/TikTok
Many comments were from other bus drivers, empathizing with Miller's rant and affirming her reaction.


@lorrainewheatleym/TikTok
@daniellemiller72/TikTok

@a_lele40/TikTok
@mamamia4949/TikTok
@michellekerr19/TikTok
If this is what kids are like, no wonder there's a bus driver—and teacher—shortage.