As the weeks of self-isolation and closed work places stretch on, people have to get creative with their at-home entertainment.
A sportscaster brought his work talents home when he narrated his dogs' meal time.
---
With basically all major sports games postponed, sports journalists have had next to nothing to do lately.

Like many in his profession, BBC Sports broadcaster Andrew Cotter has been unable to cover the usual golf, rugby, and other various sporting events for the network. Luckily for Cotter, his two labradors helped him bring a taste of work back home.
Cotter created his own major sporting event to narrate.
Saying that boredom got the best of him, Cotter posted a video on Twitter featuring his dogs in a food-eating contest.
It was honestly the most exciting competition that we've been able to see in weeks.
I was bored. https://t.co/bVoC0hyNzC

— Andrew Cotter (@Andrew Cotter) 1585317937.0
Cotter started off by introducing the two adorable contenders.
"Well, how fitting that it should come down to these two. Olive in her familiar black, five-times the champion, Mabel the rising star, winner last year. You can see how excited they are but also feel the tension."
Mabel faced some difficulties with her bowl, causing her to lose precious time.

"But a problem with Mabel's bowl! That might cost her now having to play catch up."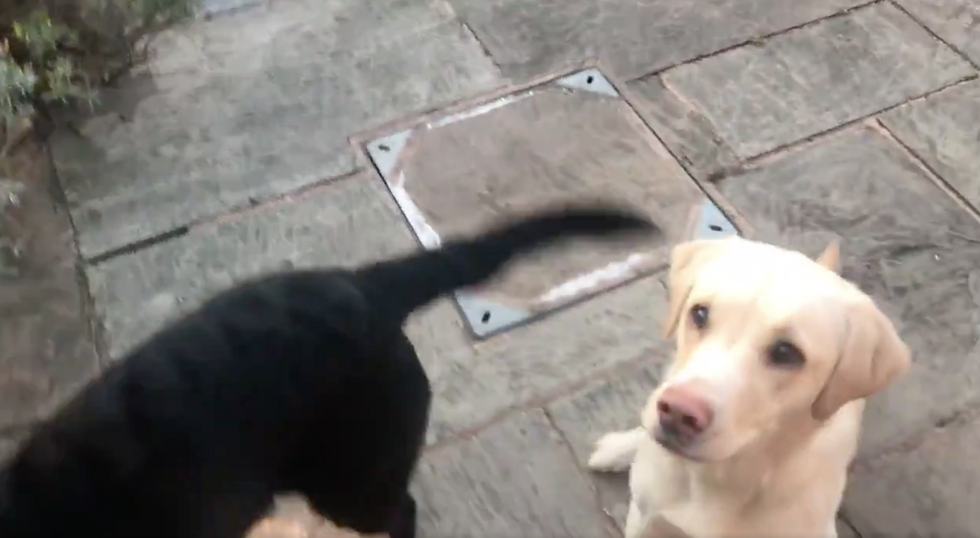 @MrAndrewCotter/Twitter
Cotter brought attention to their differing tactics.
"Both settling quickly into a rhythm. You can see the contrast in styles: Mabel, heavy tail use, happy to be alive. Everything's amazing..."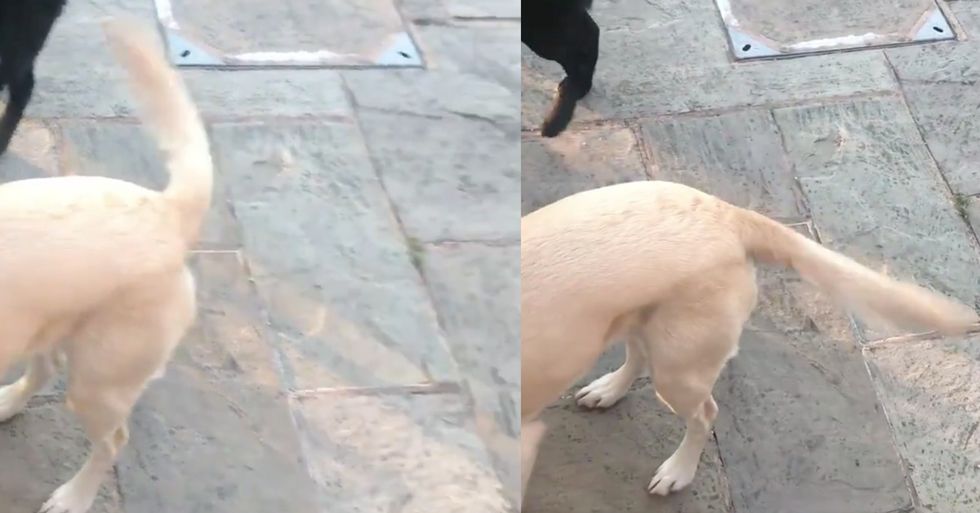 @MrAndrewCotter/Twitter
"Olive, more steady, wasting little energy. Very much more of the old Labrador school. Eating's a serious business, don't bullocks around wagging your tail..."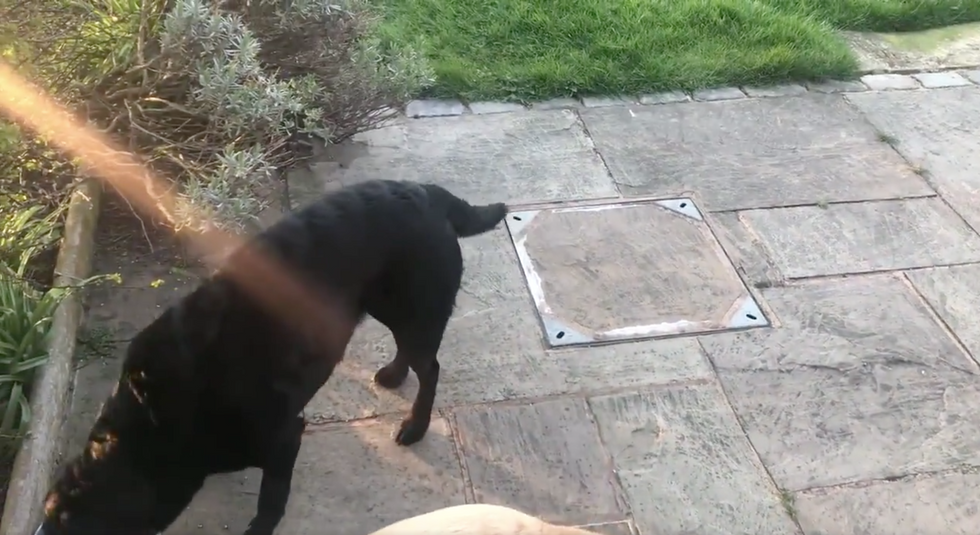 @MrAndrewCotter/Twitter
Olive was clearly taking the lead, and Cotter revealed that Mabel was being bogged down by medicine...
"Mabel seems just a little sluggish here, perhaps more was taken out of her by the worm medicine that she was given last night than we thought."
Olive ended up winning with a major lead, officially earning back her title.
"Olive taking everything, nothing left but the bowl to lick now."
Despite the loss, Mabel continued to wag her tail for her competitor.
"Mabel doesn't seem too upset. A lot of class there from the youngster. Generous in what will surely be defeat because Olive has won now."
The good natured rivals even shared bowls at the end.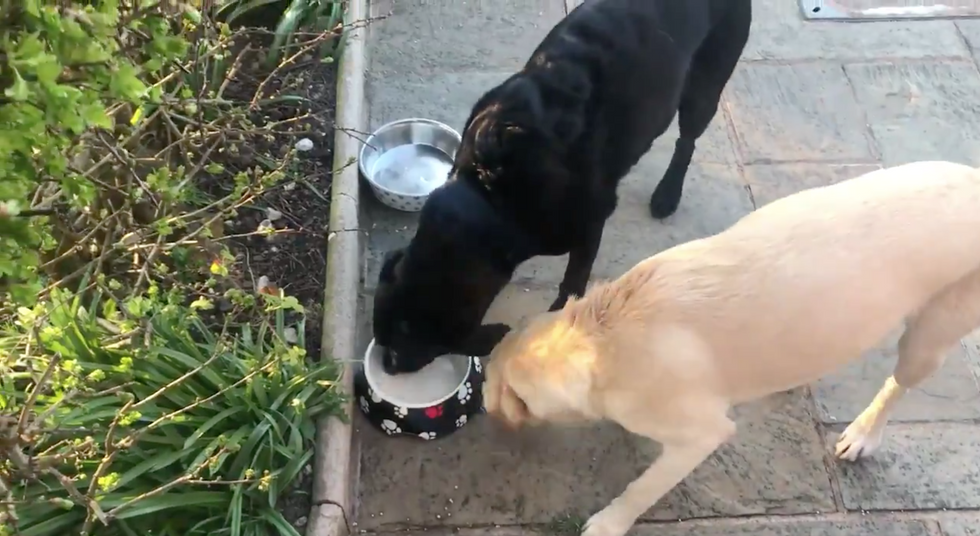 @MrAndrewCotter/Twitter
The video spread like fire around Twitter. Finally, some much needed excitement to liven up everyone's quarantines.
@MrAndrewCotter riveting stuff

— WeRateDogs® (@WeRateDogs®) 1585345716.0
@MrAndrewCotter https://t.co/cUeXVOT9cX

— 🇺🇸𝐺𝑖𝑛 & Out of 𝑇𝑜𝑛𝑖𝑐 🍸👌(𝑮𝒊𝒏𝒏𝒊𝒆) (@🇺🇸𝐺𝑖𝑛 & Out of 𝑇𝑜𝑛𝑖𝑐 🍸👌(𝑮𝒊𝒏𝒏𝒊𝒆)) 1585339357.0
@MrAndrewCotter OUTSTANDING! Reminiscent of watching the old Gran Prix racing shows on The Wild World Of Sports. 👍🏻👍🏻

— Red-Pilled Saul Alinsky (@Red-Pilled Saul Alinsky) 1585345456.0
@MrAndrewCotter This content is exactly what we all needed. Well done

— Dudley the Corgi (@Dudley the Corgi) 1585321353.0
Many also appreciated Cotter's talent as an announcer.

@MrAndrewCotter @ms_arsenal Gifted, could make reading a milk carton interesting

— Davy Russell (@Davy Russell) 1585325058.0
@MrAndrewCotter I'd say you could make 2 asthmatic snails racing sound engaging. Bravo!

— owt2nowt (@owt2nowt) 1585326409.0
Still, disgruntled viewers felt like Mabel wasn't given a fair shot.

@MrAndrewCotter Mabel was robbed - that late bowl placement cost her the title!

— self-isolated bee 🐝 (@self-isolated bee 🐝) 1585397767.0
@daraobriain Lot of people saying she should have had a restart, but they changed that rule in 1997 I think.

— Andrew Cotter (@Andrew Cotter) 1585332013.0
@ListenToEzra @MrAndrewCotter AND worm medicine!

— Crazy Mary🆘 (@Crazy Mary🆘) 1585442646.0
With the match between the two pups going viral, we can only hope to see a rematch some day soon.