There was an abundance of memorable moments at today's inauguration of Democratic President Joe Biden and Vice President Kamala Harris--chief among them the conclusion of what for many was the long national nightmare of the Trump Administration.
That aside, America's first female, Black and South Asian Vice President taking office was probably the biggest milestone of the day. But in a close second place was a most unexpected—and hilarious—surprise.
It wasn't a speech, or a musical number, but rather Vermont independent Senator Bernie Sanders simply sitting—all by himself, bundled up, looking a bit like everyone's vaguely annoyed grandpa.
And instantly, a million memes were born.
It was a hilarious and refreshing departure from most of the rest of the inauguration crowd, who were impeccably dressed—often right down to the coordinated masks on their faces.
Not Bernie though. The former presidential candidate rocked a sensibly warm coat, a pair of knitted woolen mittens and, to complete the "your grandpa running errands" look, a manila folder under his arm that spawned a million "Bernie en route to the post office" jokes.
Sanders's mittens, in particular. delighted people on Twitter. Aside from their folksy, grandpa-y vibe, they were reportedly hand knitted for Sanders by a teacher named Jen Ellis in the Senator's home state of Vermont.
As BuzzFeed News' Ruby Cramer reported:
"... She gave them to him 2+ years ago and was surprised when he began wearing them on the campaign trail. They are made from repurposed wool sweaters and lined with fleece made from recycled plastic bottles."
Folksy, sensible and environmentally responsible?
You can't get much more Bernie Sanders than that.

But it was when Sanders took his seat and the ceremony began that the hilarity really ensued. Photographed in his socially distanced seat looking... well, cold and ready to leave, if we're being honest, the photo had everyone laughing.
And, as always happens when something memorable tickles Twitter's funny bone, the memes of the 2021 Inauguration were born.
And Sanders began sprouting up all over the place.
Uncle Bernie even hit the powwow trail.
Social Distance Powwow/Facebook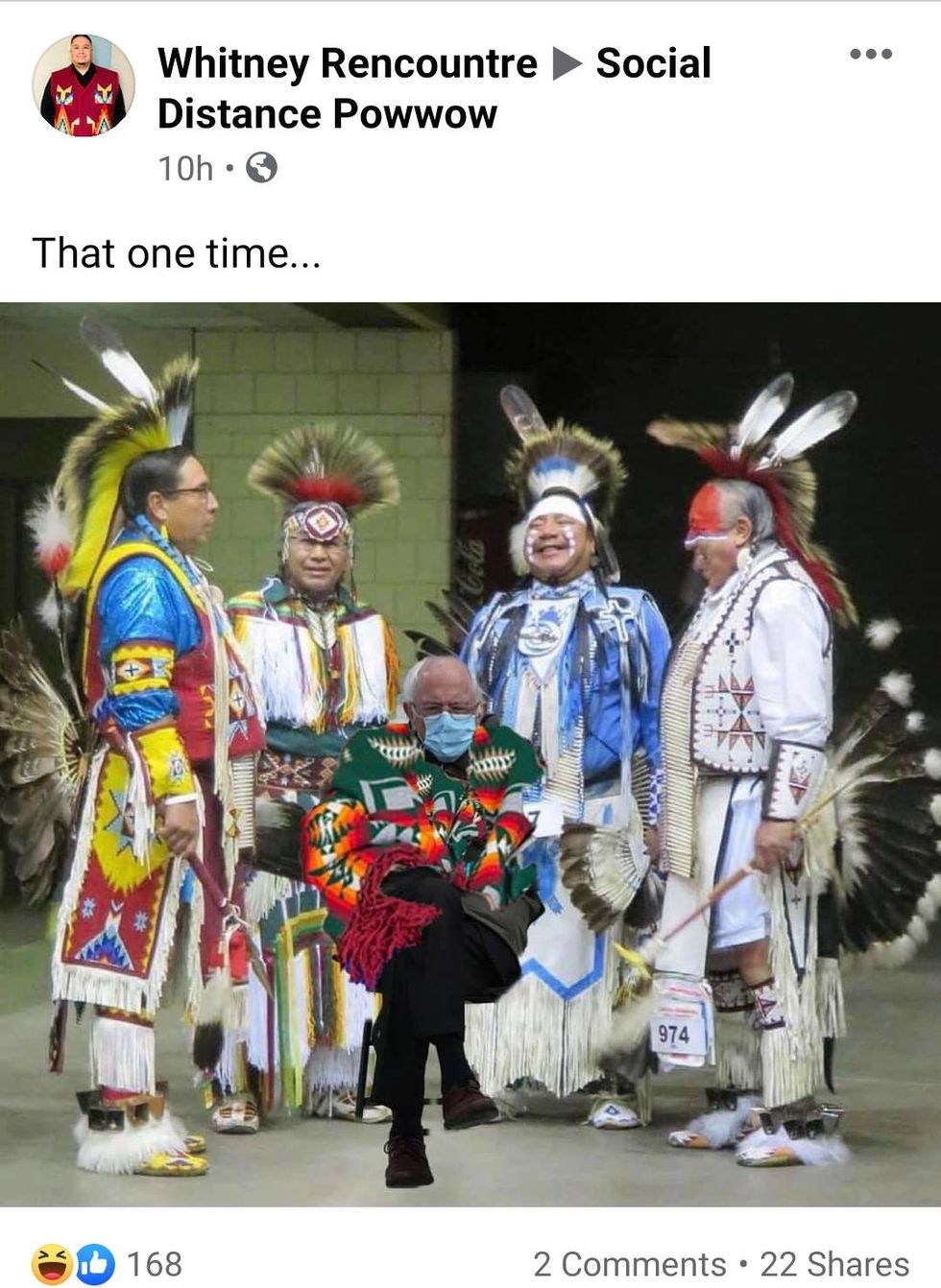 Social Distance Powwow/Facebook
A presidential inauguration where one of the stand out moments is Bernie Sanders looking hilariously cranky is such wholesome energy.

Maybe we should all write him a thank-you letter.