Ashley Judd almost lost her leg after shattering it in four places after a bad fall in the Congolese rainforest.
She expressed her gratitude in an Instagram post with a series of pictures showing her "Congolese brothers and sisters" comforting her as they transported her to safety to South Africa.
The Double Jeopardy actress said her Bonobos research expedition turned catastrophic when she tripped over a fallen tree in the darkness.

"Without my Congolese brothers and sisters, my internal bleeding would have likely killed me, and I would have lost my leg," she wrote.
"I wake up weeping in gratitude, deeply moved by each person who contributed something life giving and spirit salving during my grueling 55 hour odyssey."
She introduced her Congolese heroes—one who stayed by her side as she writhed in immense pain for five hours and another who "methodically" reset her shattered tibia twice in preparation for the arduous journey ahead.

"Here are some of their stories. Dieumerci stretched out his leg and put it under my grossly misshapen left leg to try to keep it still. It was broken in four places and had nerve damage."
"Dieumerci ('Thanks be to God') remained seated, without fidgeting or flinching, for 5 hours on the rain forest floor. He was with me in my primal pain. He was my witness."
There would be more excruciating pain to come.
She continued:
"Papa Jean: it took 5 hours, but eventually he found me, wretched and wild on the ground, and calmly assessed my broken leg. He told me what he had to do. I bit a stick. I held onto Maud."
"And Papa Jean, with certainty began to manipulate and adjust my broken bones back into something like a position I could be transported in, while I screamed and writhed."
"How he did that so methodically while I was like an animal is beyond me. He saved me. & he had to do this twice!"

Judd was then carefully moved into a makeshift hammock by six of her heroes and was carried for three hours. But the harrowing journey was not over.

The next challenge was in maintaining a comfortable and safe position while being transported on a motorbike.

"Didier and Maradona: Didier drove the motorbike. I sat facing backwards, his back my backrest. When I would begin to slump, to pass out, he would call to me to re-set my position to lean on him."
"Maradona rode on the very back of the motorbike, i faced him. He held my broken leg under the heel and I held the shattered top part together with my two hands."
They rode through the rough terrain for six hours.
The post concluded with her mentioning the two women she called her sisters who held her in comfort.

Fans of Judd were moved by the kindness of her heroes and wished for her speedy recovery.

@ashley_judd/Instagram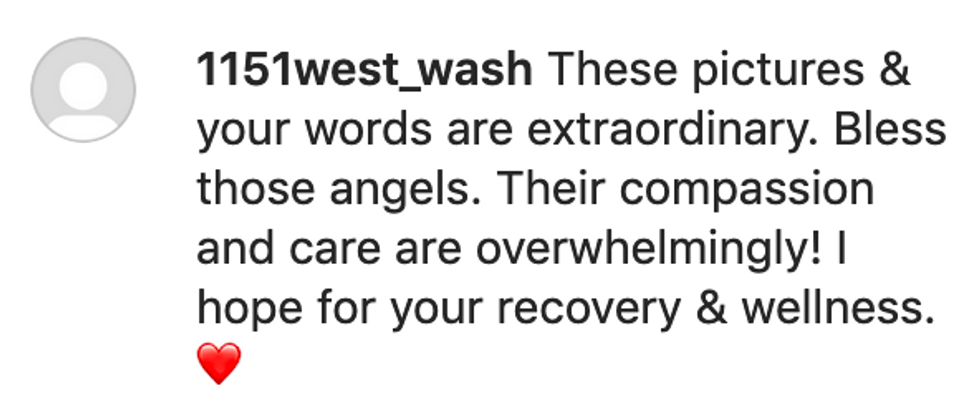 @ashley_judd/Instagram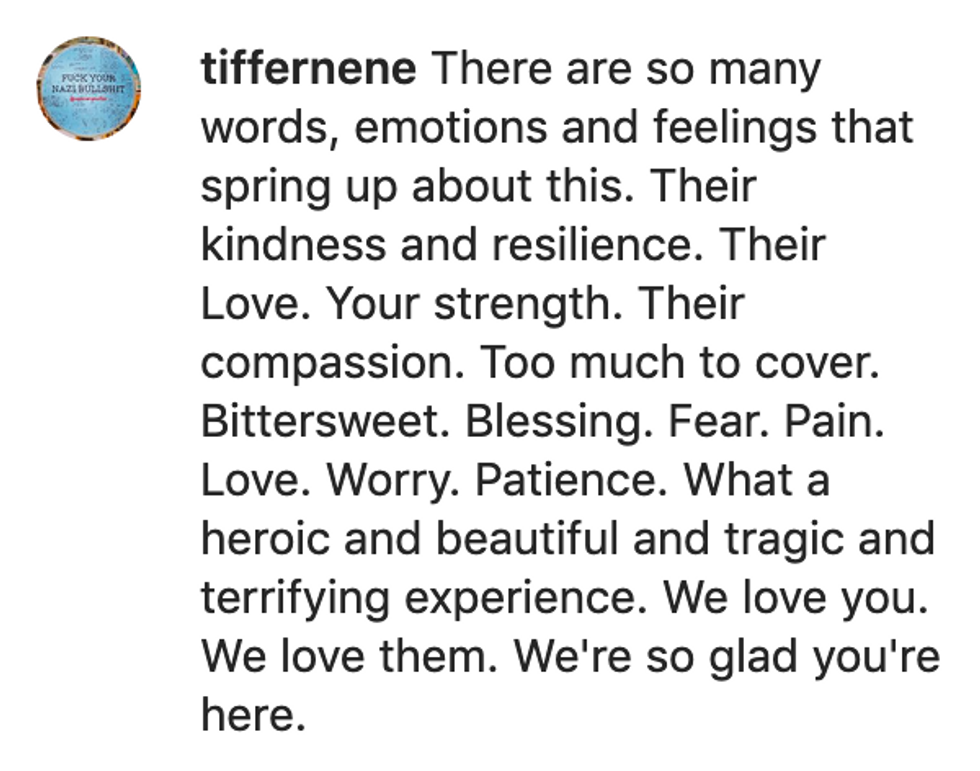 @ashley_judd/Instagram

@ashley_judd/Instagram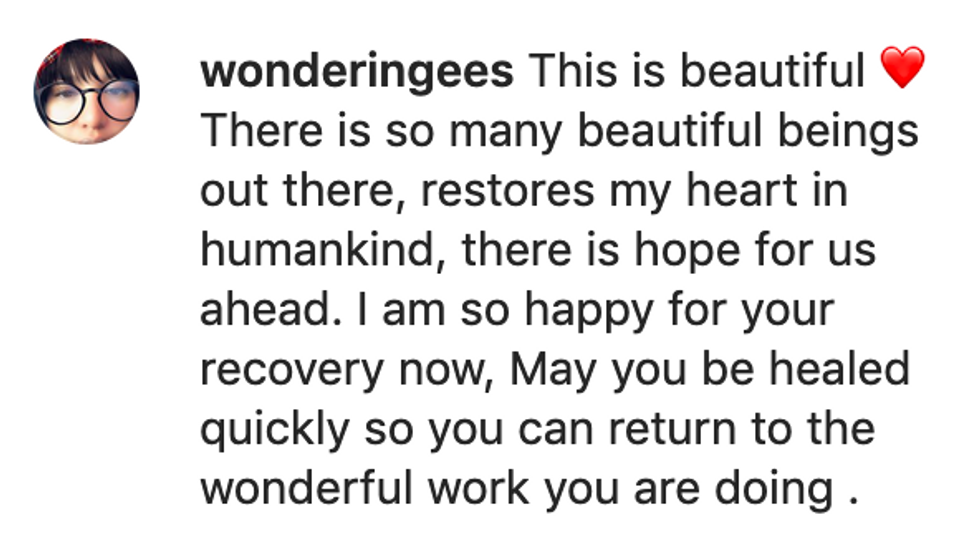 @ashley_judd/Instagram

@ashley_judd/Instagram

@ashley_judd/Instagram

@ashley_judd/Instagram

@ashley_judd/Instagram

@ashley_judd/Instagram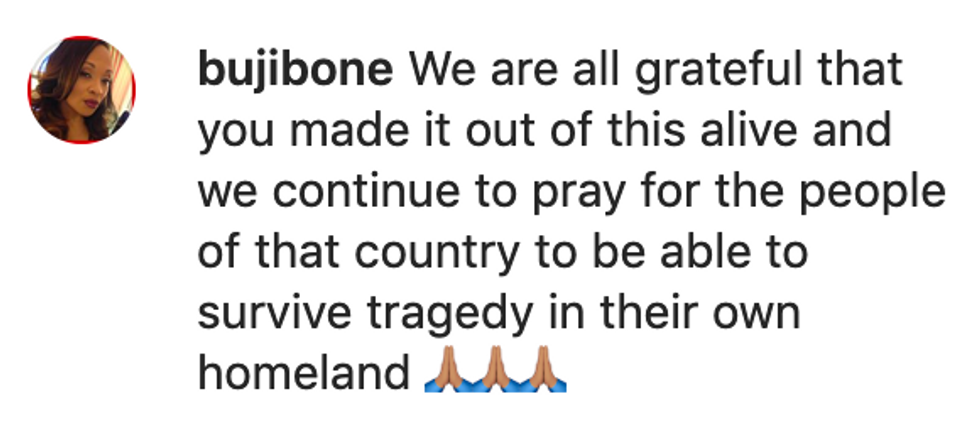 @ashley_judd/Instagram
From her hospital bed, the recovering 52-year-old actress told The New York Times' Nicholas Kristo in an Instagram Live session she was taken to the capital of Kinshasa, where she was flown to South Africa and underwent surgery at a hospital.
She recognized her privilege in being able to be transported to safety. The Congolese in extreme poverty do not have access to health care.
Judd said she is "in an ICU trauma unit in beautiful South Africa, which has taken me in from the Congo: a country I deeply love, which is not, unfortunately, equipped to deal with massive catastrophic injuries like I have had."
"And the difference between a Congolese person and me is disaster insurance that allowed me 55 hours after my accident to get to an operating table in South Africa."
"I'm in a lot of love. I'm in a lot of compassion and I'm in a lot of gratitude," she said during her Instagram Live and thanked everyone for their prayers and support.