Funny or Die has brought back Between Two Ferns with Zach Galifianakis, and this time, the actor had a hilarious and awkward bit with Jerry Seinfeld and Cardi B.
---
The scene starts with Galifianakis bemoaning having Seinfeld there. "I had President Hillary Clinton on last time," he said. "Now I have this guy, and it's like, who cares?" referring to Seinfeld. "Find me a legitimate guest!"
🌿 The ferns are back! 🌿 https://t.co/CiJAU9Luwz

— HuffPost (@HuffPost) 1529006040.0
Galifianakis said that Seinfeld has been a "great launching pad for whites," after noting the career success of Julia Louis Dreyfus, who played Elaine.
The host asked Seinfeld what was next in "lazy, car-based, non-comedy," poking fun at Seinfeld's appearance in Comedians in Cars Getting Coffee.
Galifianakis also jabbed at Bee Movie, in which Seinfeld starred. "Shouldn't it have been called D minus movie?" he asked.
"It's called Bee Movie," Seinfeld quipped. "It's about a bee, and it was the number one movie when it came out. So I had that feeling... which you had in the first Hangover."
Seinfeld fired back, asking if Galifianakis destroyed "what would have been a comedy classic" by making Hangover sequels, which Seinfeld called "cash grabs."
His response? "My aunt Deborah needed a baboon heart transplant, that's why I did Hangover 2. My Uncle Dicky his yacht club burned down, that's why I did Hangover 3."
After nearly two years, Between Two Ferns is back with a new episode featuring Jerry Seinfeld and Cardi B https://t.co/TLl8loC7Bf

— New York Magazine (@New York Magazine) 1529000898.0
All of a sudden, Wayne Knight, who played Seinfeld's nemesis "Newman," appeared, and the two greeted each other as friends, which disappointed Galifianakis. He was expecting a "Hello, Newman."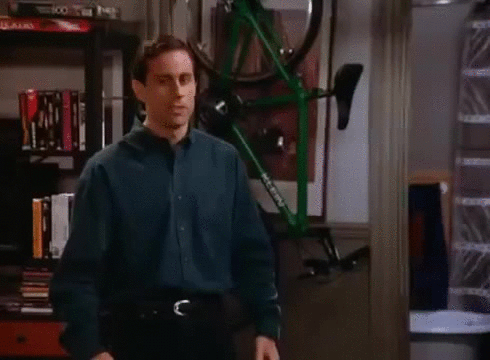 Seinfeld said that dragging Knight onto the set was "exploitative."
The climax came when "better guest" Cardi B entered onto the set, met Seinfeld, and then took his seat. Seinfeld was then told to sit on a milk carton.
Galifianakis then gushes over the singer's rising stardom, asking her, "isn't your career just nuts?" He then handed her a pregnancy gift, which Cardi B pushed into Seinfeld's face. "See, I got a gift," she teased.
"You're special," Galifianakis told Cardi B. "But the most important thing is that you're relevant."
The series returns https://t.co/UugHvd0KCW

— Pitchfork (@Pitchfork) 1528991122.0
Sitting on his milk crate, Seinfeld noticed that he wasn't "between the ferns anymore...I don't even fit the description of the show."

Galifianakis then thanked Cardi B for "coming by and saving the show."
@HuffPost UNBELIEVABLE-how does Jerry do it!! I want to see the out takes

— Michael D Mueller (@Michael D Mueller) 1529006706.0
After Cardi B snubbed a hug from Seinfeld, the veteran comic said, "that is the opposite of what happened with Ke$ha."

Galifianakis then played the Seinfeld theme music and ended the show.
@HuffPost I loooooooove this show. 😂🤣

— Fiendish Paragon (@Fiendish Paragon) 1529006154.0
You can watch the full scene here.