According to a report from The Hill, Republican Congressman Ted Yoho called Rep. Alexandria Ocasio-Cortez a "f**king b*tch" on the steps just outside the Capitol.
Yoho, a GOP Representative from Florida, uttered the insult after he verbally accosted Ocasio-Cortez and her views on crime and police funding—which he doesn't deny.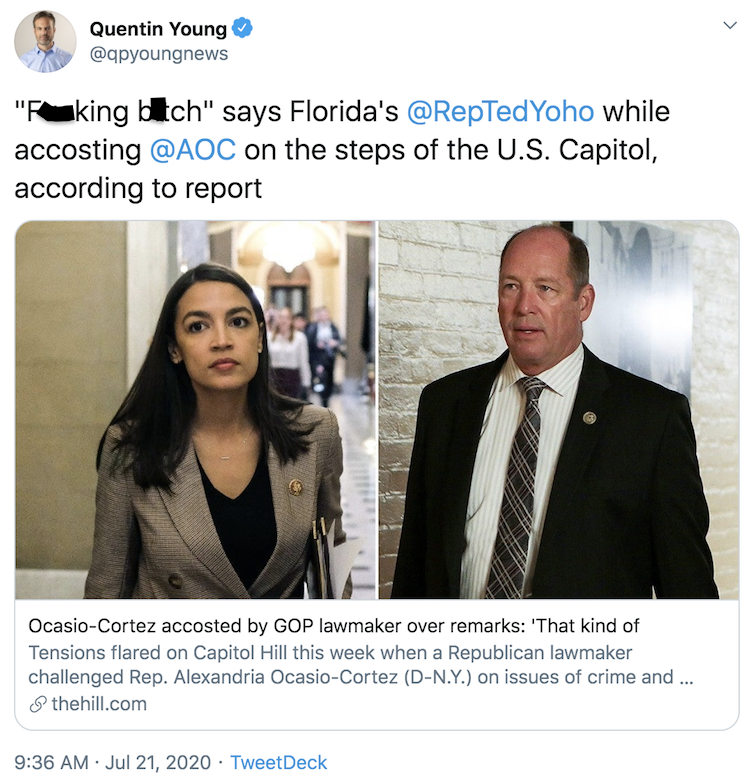 @qpyoungnews/Twitter
The confrontation—which a nearby reporter also witnessed—began when Yoho called Ocasio-Cortez "disgusting" for remarks she made regarding a recent crime uptick in New York City. During a July 9 virtual town hall event, about two weeks prior to Yoho's verbal attack, Ocasio-Cortez explained her assessment that economic hardships stemming from the virus were the driving force behind the spike in crime.

After Yoho plainly told Ocasio-Cortez she was "out of [her] freaking mind" for making those comments, she called him "rude" and kept walking. As Yoho walked in the other direction, fellow Republican lawmaker Roger Williams of Texas beside him, he said the words "f**king b*tch."
Ocasio-Cortez gave her take on the situation on Twitter.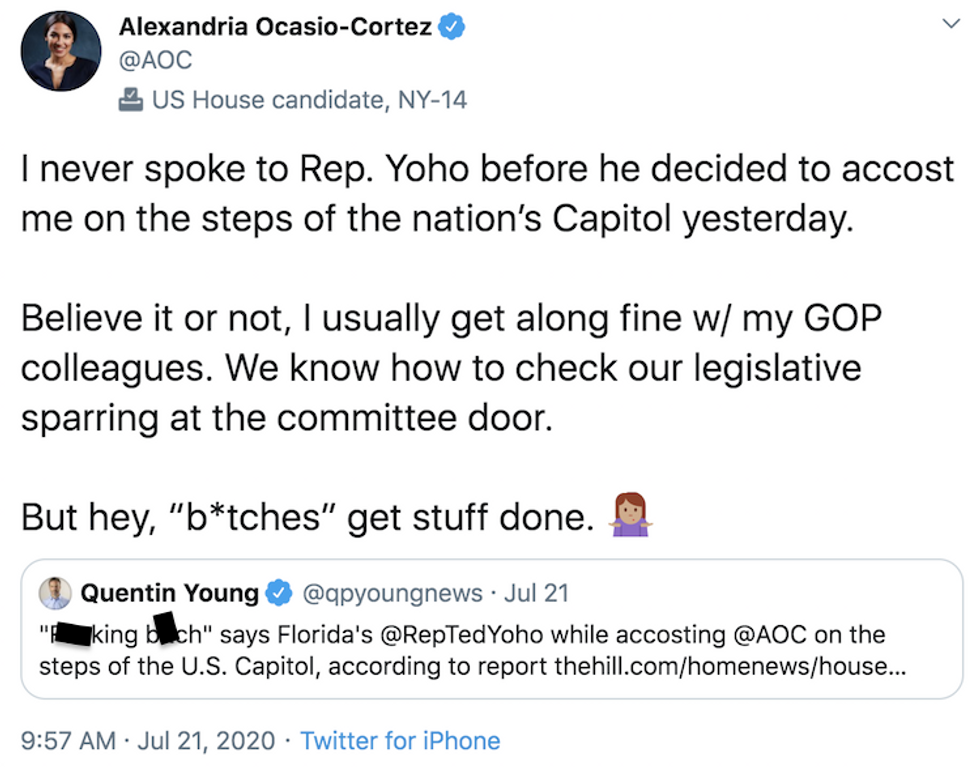 @AOC/Twitter
Ocasio-Cortez, who represents parts of the Bronx and Queens in New York City, has been on the receiving end of a near-constant barrage of criticism from conservative lawmakers and media since she first took office in 2018.

But as she told a reporter following the incident, Yoho's attack felt different.
"That kind of confrontation hasn't ever happened to me — ever. I've never had that kind of abrupt, disgusting kind of disrespect levied at me."
"In all these intense news cycles, I have never, ever been treated that way by another member before. I'm frankly quite taken aback."
Yoho gave no comment when The Hill asked about the incident.
His office did, however, respond to an email from BuzzFeed News.
A spokesman flatly denied he called the Democratic Congresswoman a b*tch:
"He did not call Rep. Ocasio-Cortez what has been reported in the Hill or any name for that matter."
"It sounds better for the Hill newspaper and gets more media attention to say he called her a name - which he did not do."
BuzzFeed News reached out to Bob Cusack, The Hill's editor-in-chief, who gave full confidence in the accuracy of the report.
Representative Williams, who stood by throughout the exchange, did not give a direct response when asked about it by reporters.
He went with a "cannot confirm or deny" stance:
"I was actually thinking, as I was walking down the stairs, I was thinking about some issues I've got in my district that need to get done."
"I don't know what their topic was. There's always a topic, isn't there?"

Ocasio-Cortez responded to Williams' silence.
Ocasio-Cortez went on to respond to her conservative Republican critics—like Yoho.

"I say, 'Listen, I'm not talking about violent crime, I'm not talking about shootings. But when it comes to petty theft, a lot of these are crimes of poverty, and people are desperate.
"So the right wing cuts up this clip, per usual, in a very misleading way. ... They basically [want] to make it seem as though I'm saying people are shooting each other because they're hungry."
And of course on social media, she got the last word.
Many lawmakers came out to show support for Ocasio-Cortez.
Even some of Ocasio-Cortez' typical critics came out to defend her.
Yoho issued a non-apology on Wednesday claiming he hadn't said "f'king b*tch" to his colleagues but that if his saying those words "were construed that way" he apologized for "their misunderstanding."

You can see Yoho's "apology" here.

Ocasio-Cortez was unimpressed and called Yoho out.
Others were left nonplussed as well.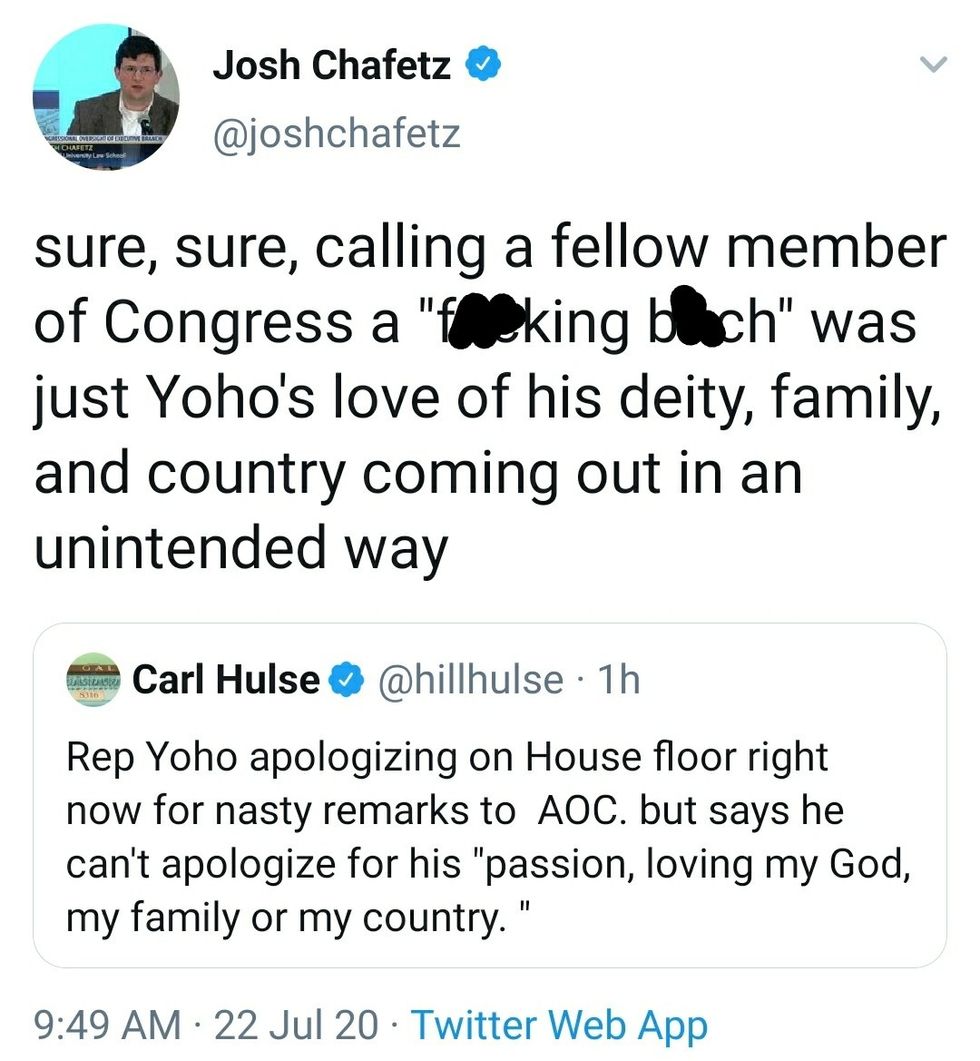 @joshchafetz/Twitter
House Majority Leader Steny Hoyer, a Democrat from Maryland, called on Congress to censure Yoho.

The story is ongoing.