Since the pandemic, job layoffs and mass firings have become an all-too-common occurrence. It's now rare for someone to have not experienced this themselves or to know someone close to them who has.
Its frequency does not remove its sting or gravity, however.
Jen Lucas, or @sohltrain on TikTok, was recently filming a TikTok that was meant to be a peek into her life during her work day, when she accidentally caught on camera the moment she opened and read the email in which she was laid off.
Predominantly a BookToker and fancy dress aficionado, Lucas typically films videos that contain books, her reading habits, beautiful gowns, Taylor Swift references, and of course, Eevee the Corgi and Koda the Siberian Husky.

But given a recent trend on TikTok, Lucas has been making many videos in a Wes Anderson style, which involves capturing the beauty of a day through mundane, everyday activities, reminiscent of films like The Grand Budapest Hotel and Moonrise Kingdom.
Lucas had already filmed videos about her reading habits and even housesitting for her parents, so the next logical video to film was a quick look into her work life.
Though obviously still reminiscent of Wes Anderson's influence, and even quirkily funny in nature, the undertone of the video is much heavier.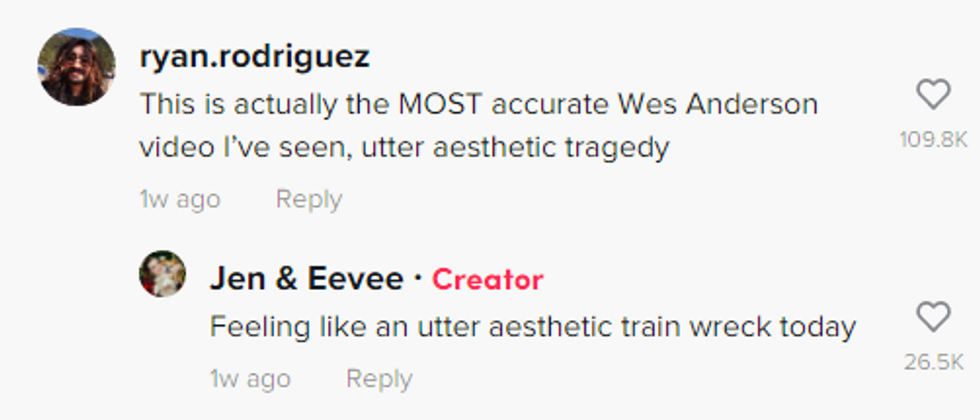 @sohltrain/TikTok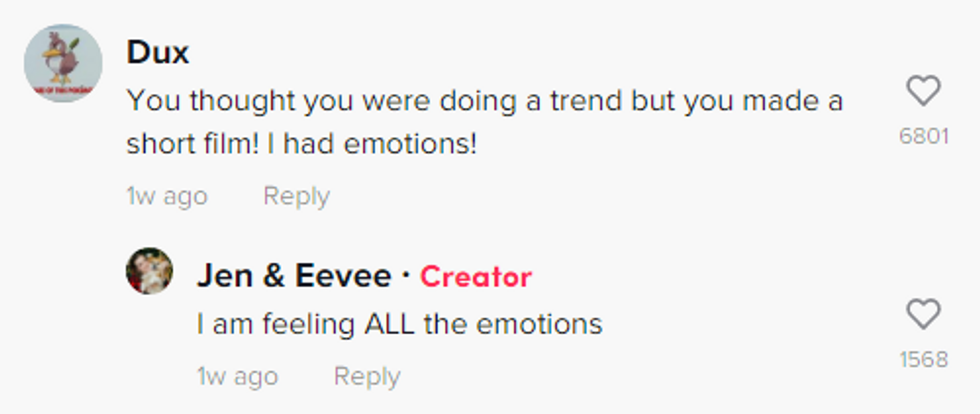 @sohltrain/TikTok
The short video opened with Lucas banging her head on the wall slowly, likely a sensation all of us have felt during a time when we didn't feel the pull to log in for our workday, especially in a work-from-home environment like hers.

Like Anderson, each of Lucas' mini-films features a title cover in a muted peach color, this one reading:
"Getting Laid Off from My Job. What the F**k?"
In the everyday style, Lucas then captured brief clips of herself rising out of bed, making coffee, and brushing her teeth before sitting down at her workstation for the day.
A close-up shot of Lucas holding her corgi coffee mug suggested the mundanity of logging in and scrolling through emails.
But then Lucas' hand covered her mouth as she read the email in which she was laid off.
The video was then closed with a "mental health walk" and a promise to go in search of "better things."
You can watch the video here:
The BookToker's video quickly garnered serious attention with 1.1 million likes, over 3300 comments, and 6.7 million views.
Fellow TikTokers were quick to console Lucas, including their heartfelt thoughts and advice, as well as their own stories of being laid off or fired since the pandemic.
Many reassured her that there really were "better things" waiting for her on the other side, stating that being fired or laid off was the best thing that ever happened to them.
The very next day, an internet troll attempted to pin the blame on Lucas for her filming capabilities, to which Lucas replied:
"There are 16 hours outside of a 9 to 5 that you can use however you want."
"Also, you might want to try some compassion. Being kind is definitely a better way to live."
Despite that troll's negative energy, Lucas was overwhelmed that day with kindness.
"I was so embarrassed to tell people that I got laid off yesterday, and the experience has been the complete opposite."
"The amount of people who have reached out and just sent me the kindest, most encouraging words, I am honestly speechless."
"I don't think I can express what that has meant to me, and I recognize that that is a very unique experience, and people going through this probably aren't experiencing that."
"If you were impacted by the layoffs yesterday or just at all this year, I hope you don't feel alone. I hope you don't feel embarrassed. I hope you know this does not define you."
"To everyone who sent me kind words and commented on my post and DM'ed (messaged) me and offered me jobs and offered to help me find jobs, I mean, from the bottom of my heart, thank you."
While Lucas cited that her followers were giving her strength, many TikTokers commented that she had helped them as well.

@sohltrain/TikTok

@sohltrain/TikTok

@sohltrain/TikTok

@sohltrain/TikTok

@sohltrain/TikTok

@sohltrain/TikTok

@sohltrain/TikTok

@sohltrain/TikTok

@sohltrain/TikTok

@sohltrain/TikTok
It's overwhelming the number of people who have been impacted in recent years by layoffs and firings in their workplaces.

While it's just a trend on TikTok, there's probably never been a better time for something like a Wes Anderson imitation trend to catch on.
It's a good reminder that there are beautiful—albeit regular and otherwise mundane—moments in all of our days, and it's more important than ever for us to find things to be grateful for that are not defined by the work we do or how much money we make.
Kudos to Lucas for reminding us of that.