Arizona State Senator Wendy Rogers, a Republican who has made a name for herself as one of former President Donald Trump's more passionate apologists, sparked outrage after she erroneously claimed that a recent mass shooting in Buffalo, New York was staged by the Federal Bureau of Investigation (FBI).
Rogers claimed that the shooting is an indication that "Fed boy summer has started in Buffalo" in a post on the messaging app Telegram.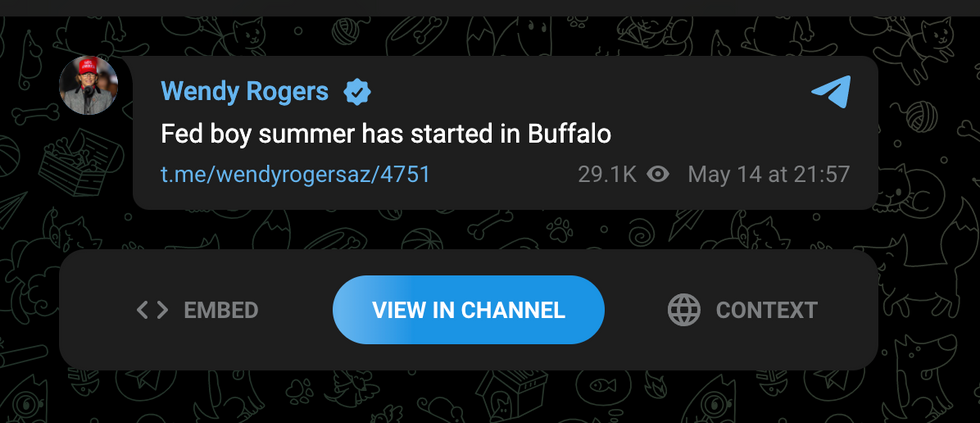 Wendy Rogers/Telegram
There is no evidence that the FBI staged the shooting.
The actual perpetrator is a White 18-year-old man who is reported to have written a 180-page manifesto released prior to the attack that revealed he subscribed to the "Great Replacement" conspiracy theory, which claims that White European populations and their descendants are being demographically and culturally replaced with non-European peoples.
The shooter's manifesto dedicates significant time to criticizing mass immigration. He had a racist slur written on his weapon and shouted some during the shooting, according to survivors. The shooter, who livestreamed the attack on Twitch, is shown in a viral video clip apologizing to a White man in the supermarket before sparing his life and continuing to shoot others.
Rogers subscribes to the "Great Replacement" conspiracy herself.
Last year, she was criticized for declaring that "Americans who love this country are being replaced by people who do not love this country."
Given Rogers' history of espousing White nationalist rhetoric, her latest remarks have received heavy criticism.
Rogers is known for making bizarre and unfounded claims.

Earlier this year, she was ridiculed after she urged former President Trump to create a new search engine "we can TRUST."
While Trump has not been in the business of creating search engines, he has attempted to launch a social media platform of his own. The platform, Truth Social, promises "open, free, and honest global conversation without discriminating against political ideology." It is part of the new Trump Media Technology Group (TMTG).
Trump was widely mocked after news outlets reported that Truth Social's terms of service include a clause stating that users may not "disparage, tarnish, or otherwise harm, in our opinion, us and/or the Site." The platform was hacked within hours of going live.
Rogers' tweet prompted many to remind her of Trump's many failed business ventures, suggesting that creating a search engine would only provide Trump with another opportunity to grift his supporters.