What with legalized same-sex marriage not even yet five years old in the United States and LGBTQ rights still constantly under threat, it can be hard to remember sometimes that queer people have been, well, doing the hard work of being queer people since forever.
---
So every now and then, it's nice to get a visit from our queer forefathers to remind us where we come from. We got one such reminder this week when a Reddit post uncovered a vintage photo of two handsome male lifeguards—with an inscription that has everyone speculating that these gents two were much, much more than mere coworkers.
The photo showed up in the lgbt subReddit on Sunday and the cryptically romantic message on the back instantly caught the attention of Redditors.
The inscription, dated March 26, 1949, reads:
"To Buzz
I'll always remember the times we spent together.
All my love, your Tommy"
Sounds like Buzz and Tommy might've been doing a lot more than lifeguarding drills together, if ya know what I mean.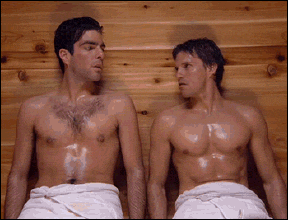 bae boyfriend GIFGiphy
Of course, they could've just been really, really, really good friends. Or really dedicated lifeguards.
Maybe there's a bond between lifeguards that's similar to, say, military training, like in Top Gun. Though Top Gun is often called the gayest movie ever made so this analogy doesn't really hold up, does it...

Anyway, the emotion in Tommy's inscription is pretty palpable. And "All my love, your Tommy" is about the most romantic sign off you can pick for a photo.
It's pretty hard not to swoon for these two guys... or even tear up at what seems like a goodbye—and a fairly sad one, at that.
Especially given the times.
Though World War II and the post-war era changed mores around gay and lesbian life, the 1940s and 50s were still a very dangerous time for LGBTQ people, leading most to carry out relationships in secret. It's pretty easy to read between the lines of Tommy's inscription and find the longing of a "forbidden" fling that... well, kind of makes your heart alternate between singing and aching, doesn't it?
That's certainly how people seemed to feel on Reddit.
Many were overjoyed by this romantic glimpse into the gay past.
This just gave me the best gay feels. --ellenoremoon
This makes my small dark heart fill with sunshine and feel happy! 😱💜😀 --Inamorata
So beautiful. Would absolutely watch a movie of this love story. 😍--VanillaDippedDonut

iM cRYING SO FUC*ING HARD THEY ARE SO CUTE --ashhyashhy

Look how close their hands are. They totally want to be holding hands. 💓💓💓 --jsmoo68
While others seemed to recognize a certain sadness between the two.

This makes me sad, to me it reads as a goodbye note. --dans1984
Yep. I wonder if they had to get married. Or if they were lifeguards and the summer was over and they had to go back to their lives of lies. --Phoenie81
And of course, there were a few chuckles at the expense of historians' tendency to erase people's queerness.
Historions [sic]: "So yeah, they were just really good friends" --Hiatusapocalypse
Historians: what good friends! Such a loving roomate! --HappyyBoii
Historians be like 'these were best friends' --CharlieN1221
But perhaps the most important reactions came from those who were reminded that, despite how difficult things still are for LGBTQ people, we've come a long, long way since Buzz and Tommy's day.
I mean the fact it says "Your Tommy" really suggests that they were lovers so imma believe that. Cute. I'm so lucky to live in a time and place where two men can walk down the street holding hands and not be arrested. Sure, they'd be slagged off but not arrested. --respectalgebra
An important thing for us all to remember, and all the more reason to continue the fight for equality.
The book Love and Resistance: Out of the Closet into the Stonewall Era is available here.