Donald Trump doesn't believe in global warming, but the original application to build a seawall for the Trump International Golf Links Doonbeg in Ireland cited climate change as the reason.
---
Trump will now get his wall, but it won't be along the Mexican border as he promised during his presidential campaign.
Irish authorities granted permission for the construction of a seawall along his golf course due to high waves and incessant rain eroding three holes on the landward side of his Doonbeg coastal resort in County Clare.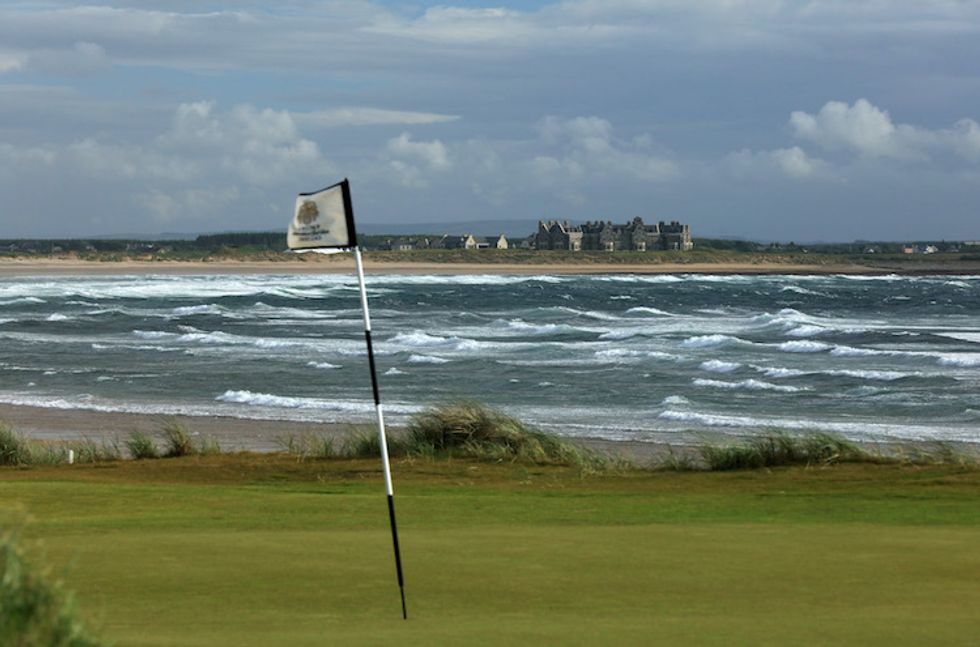 MSNBC producer Kyle Griffin reminded Twitter that rising tides eroding the golf course owned by the Trump organization was the reason for the necessity of the wall.
On Thursday, Griffin tweeted:
Reminder that Trump's Irish golf course just got permission to build seawall. The original application for the wall cited global warming and rising seas as a reason for needing the wall.
However, the updated application for the Irish wall makes no mention of global warming as a reason for the barriers.
The local council approved for the construction of two sea barriers measuring 2,000 feet long and 840 feet long, and opponents will have a period of four weeks to reverse the decision.
People had some thoughts in response to Griffin's tweet.
According to the New York Times, the approval was already met with opposition and elicited concerns over the longevity of the resort.
Environmentalists fear the sea barriers would damage the beach and the surrounding vulnerable dunes. Locals also claimed that the sea walls would divert the storm surges towards their personal properties.
Eamon Ryan, the leader of the Irish Green Party, is considering filing an appeal. "The best advice we had was that it would be better to move the golf holes farther inland," he said, "where there's room for them, rather than disrupt the beach."
Other locals were hopeful that Trump would provide the resort town with an economic boost. Rita McInerney, a local businesswoman, is excited about the employment opportunities that would come with improving the resort facilities and grounds.
We've been campaigning for 25 years to bring investment to our community. There is a not a lot of opportunity for employment here. They already employ 250 people there in the summer, and there'll be more if they feel they can expand it. We'll continue to work with the owners, whoever they are.
Meanwhile, over in the highlands, Trump's golf course near Aberdeen, Scotland, is getting some pushback from locals. CNBC said, "In November, ecologists said they expected sand dunes there to lose conservation protection status because of president's 1.3 billion dollar development."
There are storms brewing, but these disturbances are not due to climate change.
Please SHARE this with your friends and family.