People have lots of different methods for figuring out their gift budgets.
Some people are last-minute buyers who spend what they have in the moment. Others plan and save for a long time beforehand.
And then there's TikTok user @iisaac.ramirezz and his controversial method.
A recently-released video explains that his current fiancé is only going to be getting flowers and chocolate this year, even though he had initially budgeted almost $400 for her gift a year ago.
According to the video, the starting gift budget of $360 was whittled away a dollar at a time by her yelling. He claims that every time she yelled at him, he took a dollar from her gift budget and added it to an envelope marked "Treat Yourself King."
The user claims that after a year, her budget was only $40 and he had put away $320 - which means she yelled at him 320 of the last 360-365 days.
The video in question:
People immediately had concerns about the health (or lack thereof) in this relationship. Having your partner yell at you almost daily is a serious problem in their eyes.
They called it out as abusive.

@iisaac.ramirezz/TikTok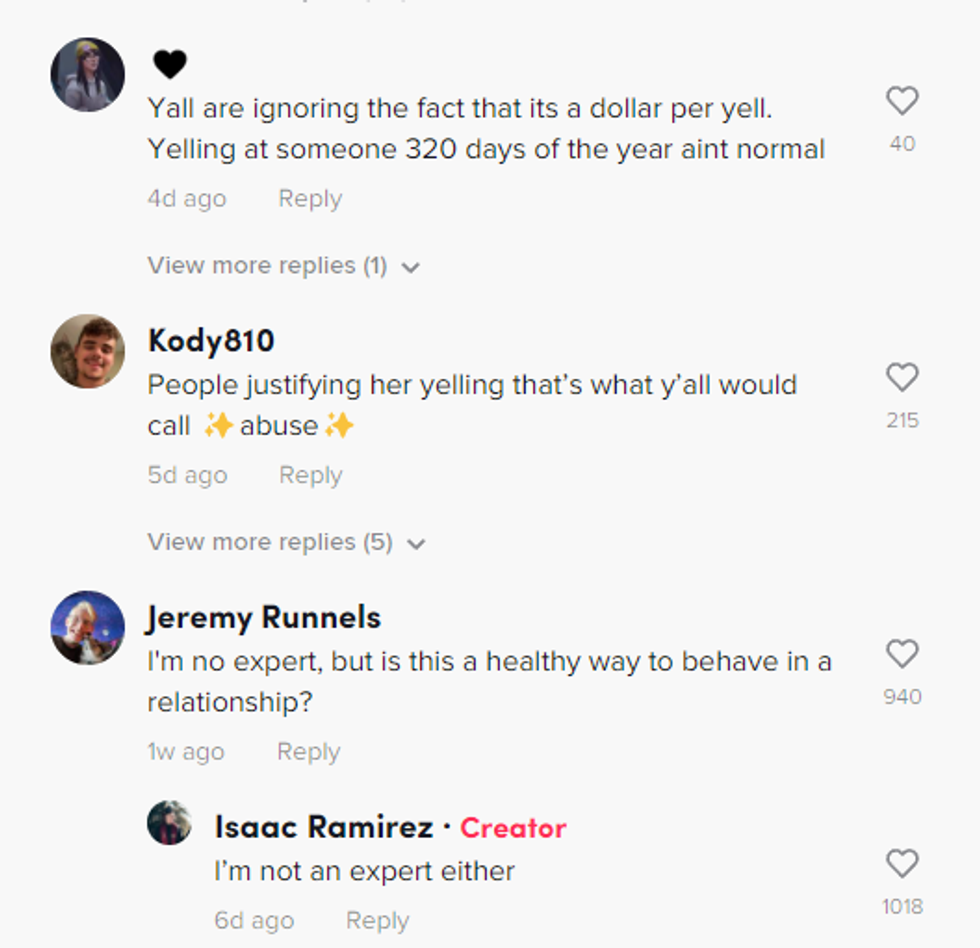 @iisaac.ramirezz/TikTok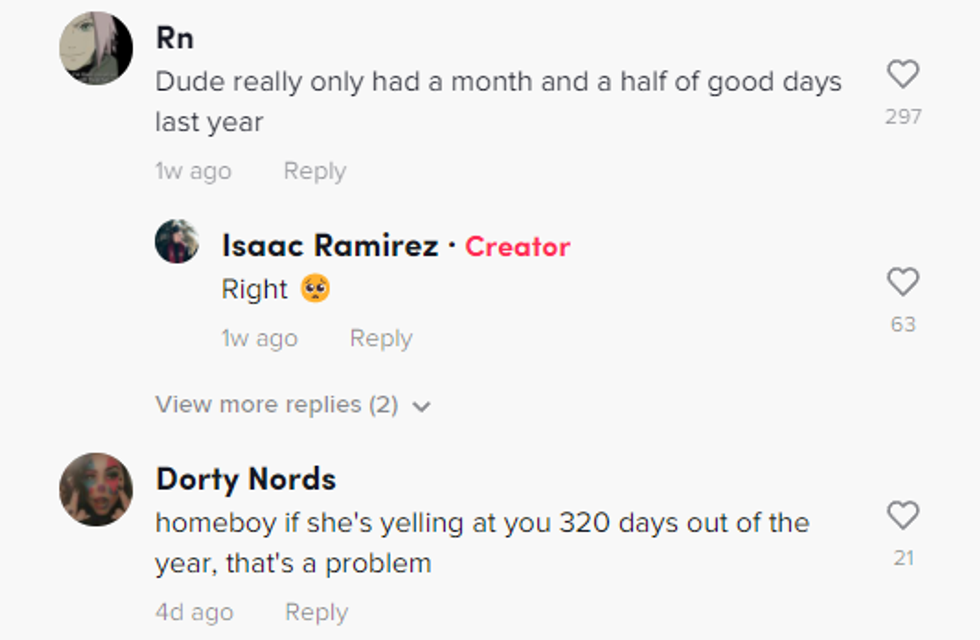 @iisaac.ramirezz/TikTok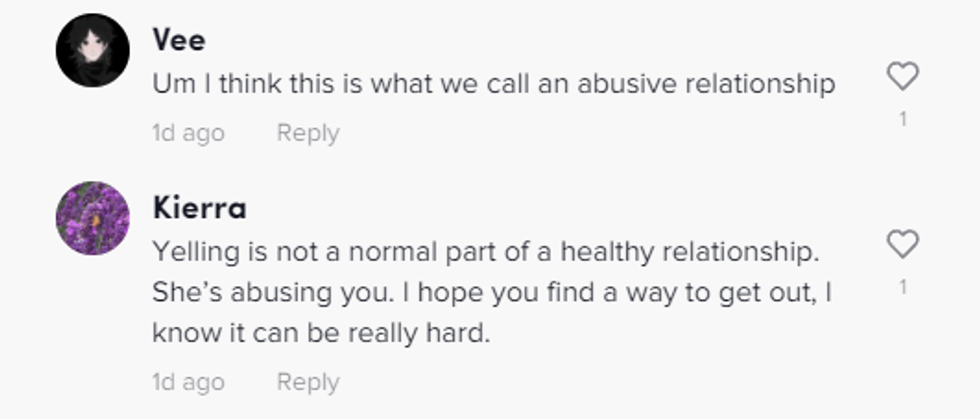 @iisaac.ramirezz/TikTok
Others saw something different.
A quick dive through the account shows this user's TikTok relies heavily on "controversial" videos like the one we're talking about, often with misogynist undertones.
Here are some of the other text overlays you'll see:
"Just finessed my sister by selling her a PS5 for $800"
"My fiancé paying for dinner because I 'forgot' my wallet."
"Women aint s***" (over a video of his fiancé)
"Tell me your sister is dumb without telling me she's dumb"
"I broke up with my fiancé on Splash Mountain at Disneyland"
Users more familiar with "content creator" accounts didn't buy the story as it was told - particularly since the story changes multiple times through several videos. In some videos the woman is his fiancé. In others she is an ex, someone who hired him for a photoshoot, a "random stranger" he met while traveling, etc.
It's possible they're truly together and truly toxic. If they are, this TikTok user is wearing it as a badge of honor in the comments.

@iisaac.ramirezz/TikTok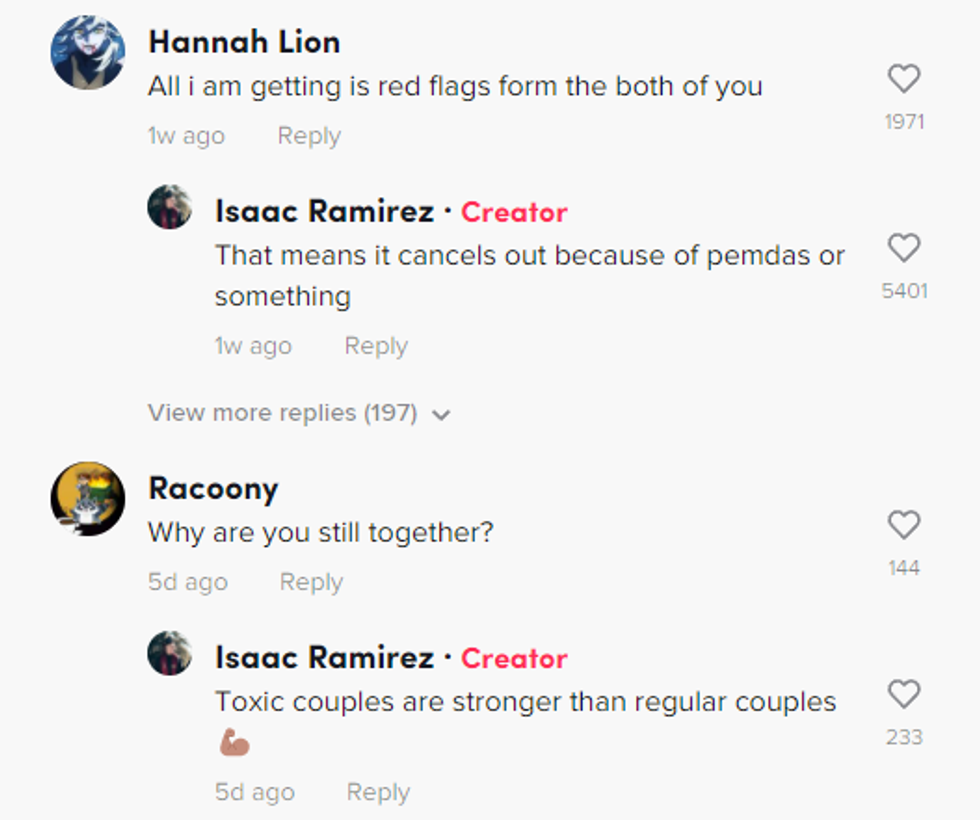 @iisaac.ramirezz/TikTok
People who reviewed his content didn't see an abused partner. They saw a content creator who tells whatever story might get interaction - even if it makes your partner look bad or stresses them out. He casts her as a cheater and fake-dumps her in a few videos, for example.
They had a different take on his Valentine's Day budget video.

@iisaac.ramirezz/TikTok

@iisaac.ramirezz/TikTok

@iisaac.ramirezz/TikTok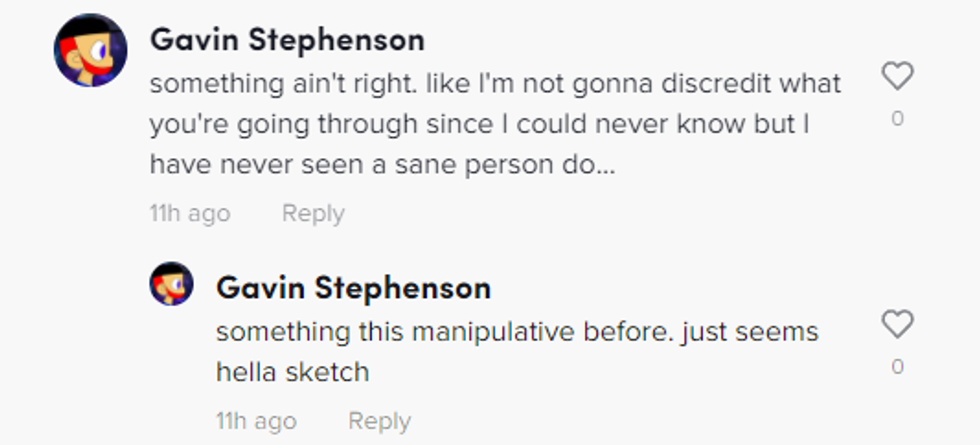 @iisaac.ramirezz/TikTok

@iisaac.ramirezz/TikTok

@iisaac.ramirezz/TikTok
Several people suggested that, assuming the relationship is real, she should get money added when she does nice things. He posted a follow-up video responding to that suggestion.
In it, he added fifty cents to the fund when she did all his laundry. (He claimed she still yelled, so she didn't get a whole dollar.)
The comments again turned into a debate about whether this is a case of a verbally abusive fiancé, a petty and antagonistic content creator, both, or neither.
What do you see when you look at these videos?
Would you stay with someone who yelled this much? Or someone who crated this kind of content or had these sorts of ideas?
Do you think the videos glorify toxicity for likes?
Sound off in the comments.