Actor Treat Williams was killed in a freak motorcycle accident on Monday. He was 71 years old.
His agent Barry McPherson told People:
"He was killed this afternoon. He was making a left or a right [and] a car cut him off."
"I'm just devastated. He was the nicest guy. He was so talented."
"He was an actor's actor. Filmmakers loved him. He's been the heart of Hollywood since the late 1970s."
"He was really proud of his performance this year. He's been so happy with the work that I got him. He's had a balanced career."
People hearing of the tragic news expressed their shock and sadness on social media.
Many Hollywood stars paid tribute to the late Everwood actor, as well.
Elizabeth Perkins wrote on Instagram:
"This is surreal and terribly sad."
"The loveliest human being, we shared a connected love for the great state of Vermont. He was the absolute sweetest. ❤️"
Sharon Stone shared the post to her Instagram stories, writing:
"Sad news"
"Rest in peace brother"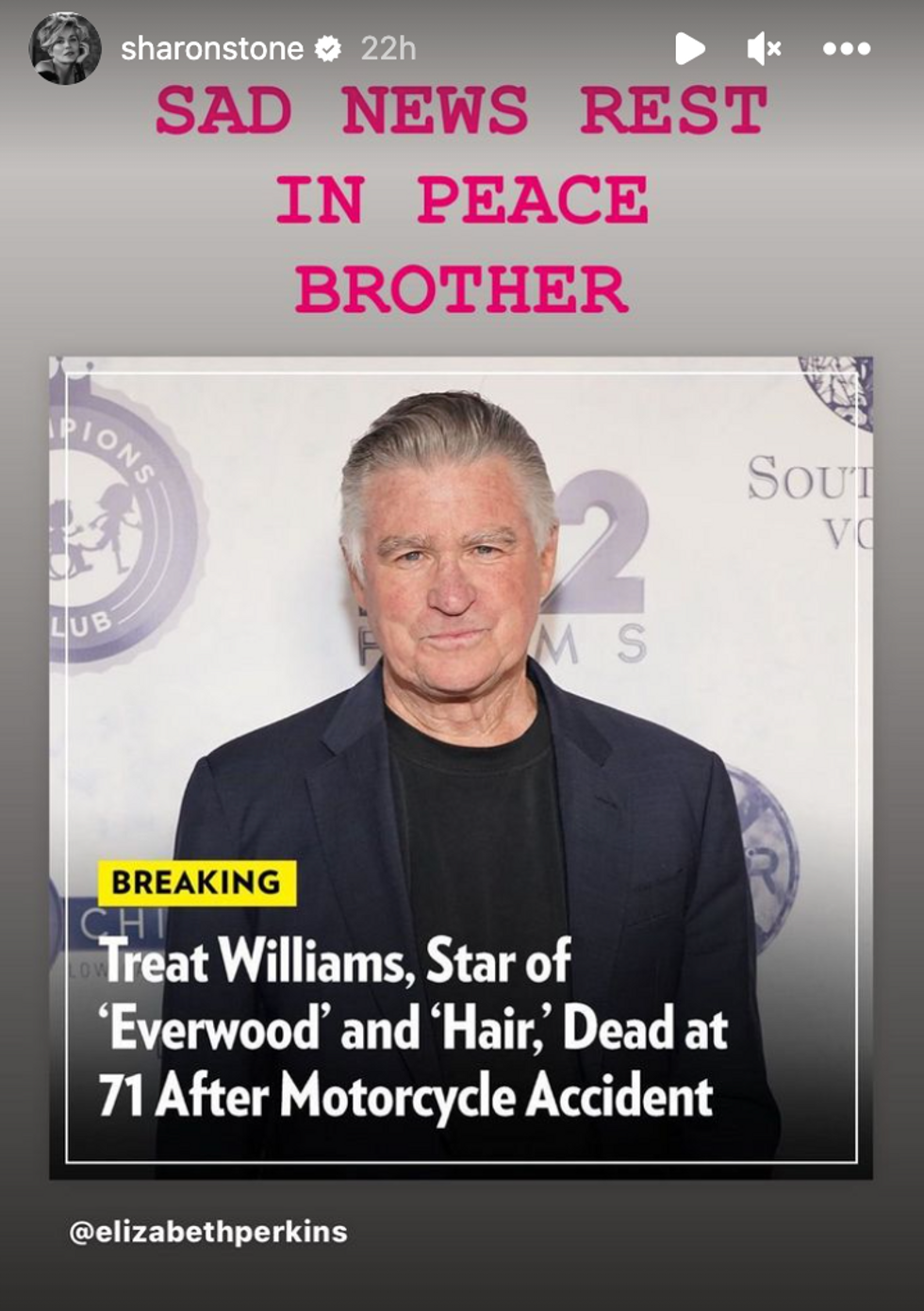 @sharonstone/Instagram
John Travolta also honored Williams via his Instagram stories, sharing he and Williams got their "start together in NYC" appearing in the Broadway shows Grease and Over Here.
He added:
"I'm so sorry Treat."
"My thoughts are with you and your family."
"You will be missed."
"Love, John."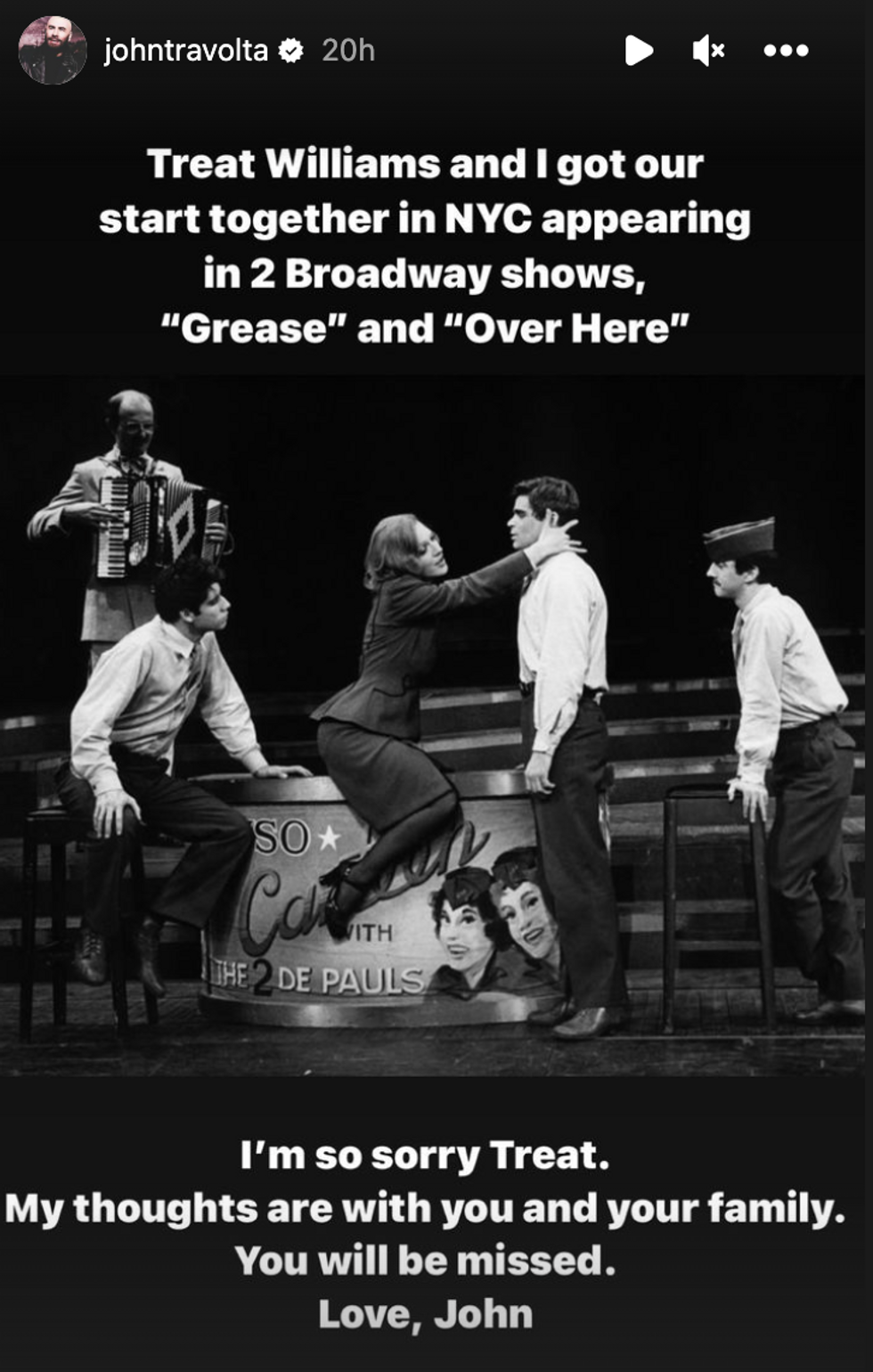 @johntravolta/Instagram
Williams' on-screen son in White Collar Matt Bomer shared:
"This is a tough one, and I don't like doing this on social media, but I want to share what an absolute treasure Treat Williams was- both as an actor and a person."
"I was so honored that he agreed to play my father on White Collar, and he jumped in and made every day on set a joy. He taught me in the most beautiful way- through patient example."
"He's one of the few actors I've worked with who always checked in on me - even years after we worked together."
"Treat- you were an amazing actor and an even better person and I will miss you. I count myself so blessed to have known you."
"My heart goes out to your wife and children. Rest in Peace my friend."
Another of Williams' TV sons Jonathan Bennett starred alongside the late actor in Hallmark's The Christmas House.
He shared a touching moment when Williams wanted to make sure the movie reflected a father's love and support for his gay son and his son's husband.
"I have never met someone like Treat, being around him is like lightning in a bottle."
"Something he did that I'll never forget for the rest of my life is the hug he made sure to give Brad my TV husband as he got out of the car in our first scene."
"That will always stick with me. He wanted to make sure as a TV father he was on camera giving his gay son's husband a huge hug and kiss when we showed up for Christmas."
"He thought it was important for other fathers watching to see the love and support between a dad and his son's husband, it was so important to him."
Stars also honored Williams and expressed their sadness on Twitter.
Tributes came from Mark Hamill...
...Dolly Parton...
...David Alan Grier...
...Kim Cattrall...
...Billy Baldwin...
...Wendell Pierce...
...and Marilu Henner.
Williams' acting career began in the 1970s, taking off in 1979 when he starred in the film of the musical Hair and Steven Spielberg's 1941.

He is known to many by his performance as Dr. Andy Brown on the WB series Everwood. Most recently he was in Netflix's 2022 Christmas release The Noel Diaries.
Williams is survived by his wife Pam Van Sant and their two children.
An incredibly tragic loss—our sincerest condolences.