A potential passenger of the OceanGate submersible that met its tragic fate is speaking out about his son's persistent concerns that kept him from making the voyage.
Las Vegas financier Jay Bloom shared text exchanges between himself and OceanGate CEO Stockton Rush as he was considering taking the trip to see the wreckage of the Titanic.
Bloom shared his son Sean's worries with Rush, but the CEO didn't seem concerned at all.
Jay told People:
"He basically told me he knew I'm a helicopter pilot, and he said, 'This is safer than flying a helicopter. It's safer than scuba diving.' And at lunch he said, 'It's safer than crossing the street.'"
"He was a good guy, great heart, really believed in what he was doing and saying. But he didn't want to hear anything that conflicted with his world view, and he would just dismiss it."
He continued:
"He absolutely believed what he was saying."
"But I didn't want to get into the safety concerns anymore, because he was so vested in his position. And anybody who questioned it just had a differing opinion."
Rush persisted and even offered a deep discount for the journey, from $250k down to $150k per person.
"As late as the end of May, or in mid-May, he was texting me that they had spots open a week or two out. And he offered me a $100,000 off each of our tickets."
"I mean, again, it's very, very exciting. Very sexy, diving to the Titanic. A great bucket list item."
"But you want to do it so that you have future experiences. And just the safety — we couldn't get past the safety concerns."
The texts Jay shared on Facebook highlighted the concerns brought to his attention by Sean.
Rush first texted about available space on the mission.
Jay Bloom/Facebook
Jay then addressed the concerns brought to his attention by his son, noting Sean was "concerned about the danger."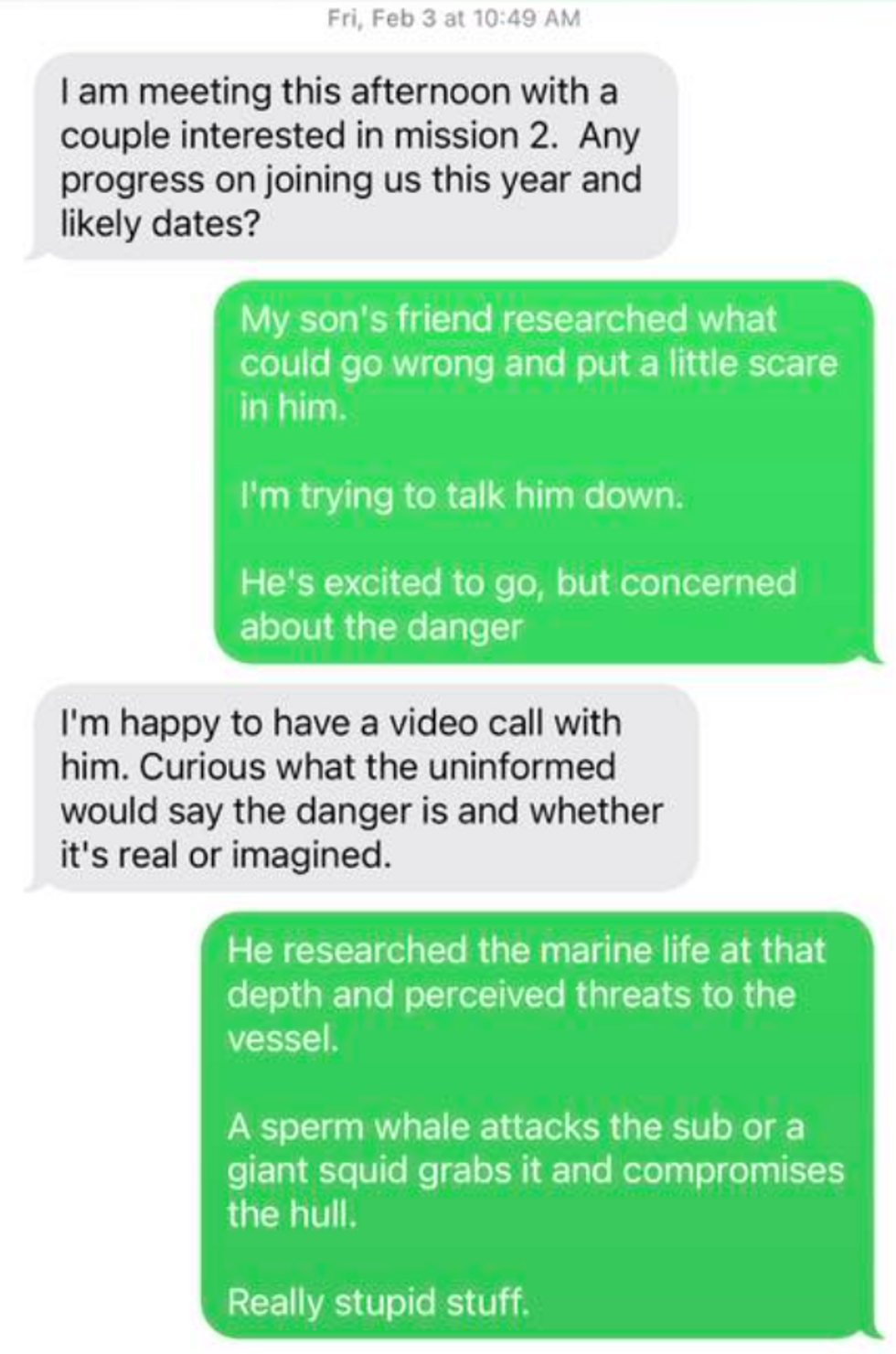 Jay Bloom/Facebook
But Rush assured him, "While there's obviously risk, it's way safer than flying in a helicopter or even scuba diving."
Jay Bloom/Facebook
The last exchange Jay posted was Rush's final effort to get Jay and Sean on board the Titan's final journey.
Jay Bloom/Facebook
Sean told People he had a feeling the trip was a "bad idea."
"I made the informed decision not to do this."
"I told [my father] it was a bad idea, and he listened to me and we both agreed not to go. It's crazy that people who did go were in a similar situation as me and my dad."
"The equipment they were using to go down there, these were massive submarines that were able to handle the pressure."
"And the submarine Stockton was using just did not look at all ready. I just saw a bunch of red flags at the project. It didn't seem like a safe operation."
"And now all this is coming out about how it wasn't."
While viewers of Jay's post acknowledged the horrible nature of the event that transpired, they also shared their relief that he listened to his son's concerns.
Jay Bloom/Facebook
Jay Bloom/Facebook

Jay Bloom/Facebook
Jay Bloom/Facebook
Jay Bloom/Facebook
Jay Bloom/Facebook
Jay Bloom/Facebook

Jay Bloom/Facebook

Jay Bloom/Facebook
Jay, too, acknowledged his relief and gratitude for his son's instincts, but he couldn't help but think of the father-son pair that took his place on the Titan, Shahzada Dawood and his 19-year-old son Suleman
"I can't escape it. Every time I turn on a television or open my computer, there's a story. They show the pictures of the people..."
"And I see this picture of this Pakistani businessman and his son."
"But for the grace of God, that would be our picture."