Earlier this week, British television personality Piers Morgan provoked widespread backlash when he repeatedly dismissed Meghan Markle's claims the royal family exhibited racist attitudes and behaviors toward her and brushed off her suicidal depression.
For two days, Morgan accused Markle of lying, claimed she publicly embarrassed the Queen of England, argued with guests on Good Morning Britain, and even stormed off set at one point.
The unfolding saga came to a close Tuesday evening when Morgan decided to quit the show altogether--and held firm to his disbelief of Markle's claims.

Now days later, the saga continues, this time because Sharon Osbourne picked up the baton. Like Morgan, she went on to endure her own swell of backlash.
Osbourne's dicey PR week all began when she tweeted her support for Piers Morgan and his comments about Markle.
People who saw Osbourne's tweet showered her with criticism.
Morgan, however, was more of a fan of Osbourne's tweet.
The heat on Osbourne only turned up when things left the internet realm and got real during an appearance on The Talk, the daytime round table discussion show Osbourne co-hosts.

Osbourne drew attention to her controversy when she lamented at the backlash she'd been receiving since she posted the tweet supporting Morgan's misogyny, racism and bullying.
Casting herself as the victim, she said:
"I feel even like I'm about to be put in the electric chair because I have a friend who many people think is a racist, so that makes me a racist."
"How can I be racist about anybody or anything in my life?"
"Educate me. Tell me when you have heard him say racist things!"
In response, fellow host Sheryl Underwood, who is Black, took a moment to deliver an on-air schooling, explaining to Osbourne why everyone was so upset.
"It is not the exact words of racism, it's the implication and the reaction to it—to not want to address that because [Meghan Markle] is a Black woman and to try and dismiss it or make it seem less than what it is, that's what makes it racist."
Osbourne repeatedly interrupted Underwood's comments and demanded she not cry:

"Don't try and cry, because if anyone should be crying, it should be me."
Once that clip kicked around the internet, even more people came out to criticize not only Osbourne's stance on the issue, but her tone anx behavior as well.

Eventually, the public sentiment pushed Osbourne to issue the following apology, which she tweeted.
@MrsSOsbourne/Twitter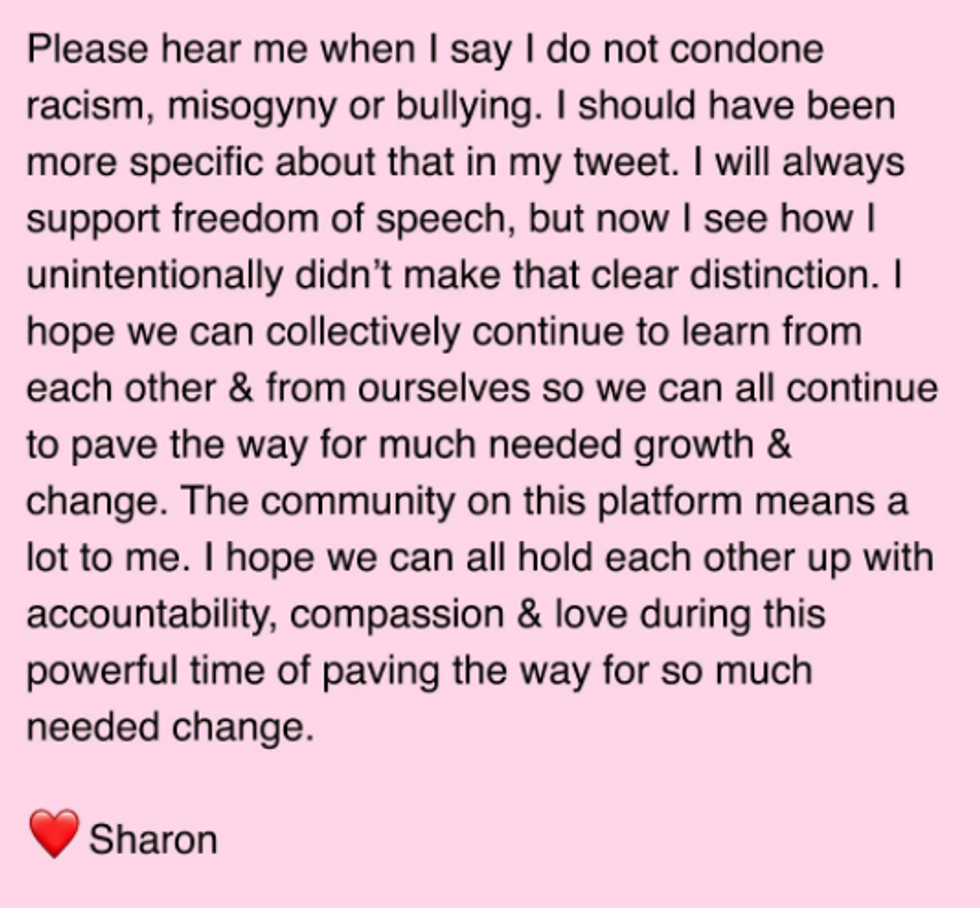 @MrsSOsbourne/Twitter
For many, Osbourne's message was not adequate to grant her the automatic absolution she seems to want.
Only next week's installments of The Talk will show if Osbourne takes her apology any further.