The Grinch may have had devious plans for the denizens of Whoville during the winter, but he wound up stealing our hearts when he saved Christmas.
Though he has remained a classically beloved Dr. Seuss character, he can still appear intimidating to a child. Especially when he appears in the flesh and sneaks up on them.

In what appeared to be a rather cruel prank, a young girl got to meet the green cave-dweller for an outdoor photo op for Christmas.
And spoiler alert: she was not happy about it.
A series of photos showing the progression of the Grinch sneaking up on the subject was shared on Twitter.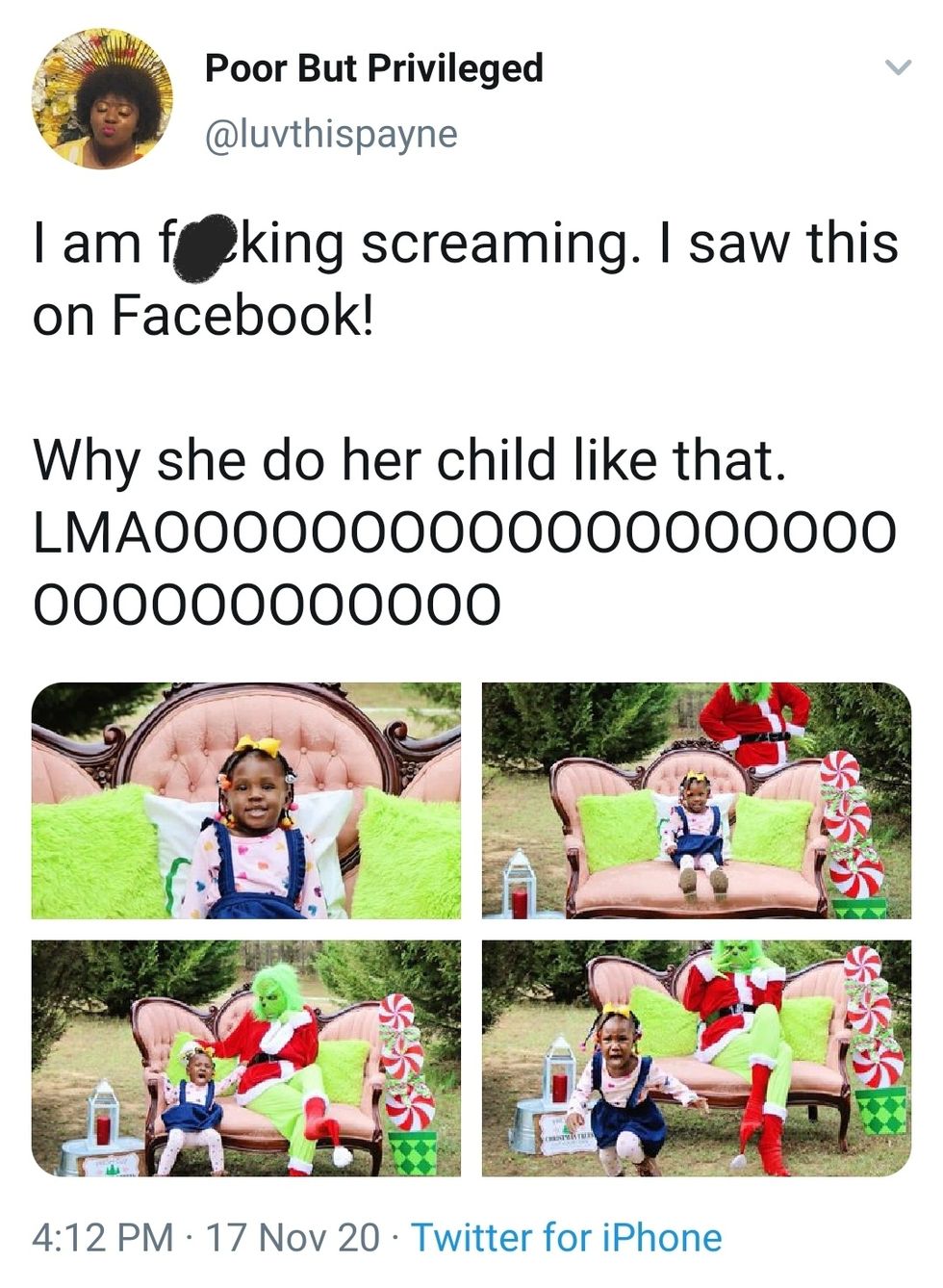 @luvthispayne/Twitter
The first photo in the upper-left quadrant showed the toddler looking adorable as heck in her overalls.

But off in the distance, the formidable creature was spotted looming in the distance.
The Grinch—clad in a Santa suit and playfully putting his furry green hands on his hips—was in full view behind the unsuspecting girl in the second shot. But her smile was not as evident this time. Did she feel a malevolent presence nearby?
Her innocent smile gave way to a look of sheer terror when the Grinch finally revealed himself to her in the third shot and sat next to her.
The poor girl went in for her closeup in the final shot, dashing away from the mutant Santa.
Social media users felt guilty for laughing at her moment.
This Twitter user thought it was the perfect metaphor for the year that was and hopefully never will be.
Others pointed out she was headed in the right direction based on her evident athleticism.
The little girl was undeniably going places—straight into our hearts.

Listen here, Grinch. We still love you, but you're still a mean one.