The Las Vegas Raiders' Carl Nassib just became the first active NFL player to come out as gay.
The defensive lineman made the historic announcement with an Instagram post.
Sharing the news in the heart of Pride Month, Nassib stressed he felt it was important to make himself visible to the public.
He said:
"What's up, people. I'm Carl Nassib. I'm at my house in West Chester, Pennsylvania."
"I just wanted to take a quick moment to say that I'm gay. I've been meaning to do this for a while now, but I finally feel comfortable getting it off my chest. I really have the best life, the best family, friends and job a guy can ask for."
Nassib explicitly stated his motivation for coming out.

"I just think that representation and visibility are so important."
"I actually hope that one day videos like this and the whole coming out process are not necessary, but until then I will do my best and do my part to cultivate a culture that's accepting and that's compassionate."
Nassib closed the video by announcing his pledge to donate $100,000 to The Trevor Project, a national non-profit organization dedicated to "[ending] suicide among gay, lesbian, bisexual, transgender, queer & questioning young people."
Nassib, a 28-year old veteran who's gearing up for his sixth season in the NFL, has undoubtedly paved the way for countless fellow LGBTQ athletes as well as young fans everywhere.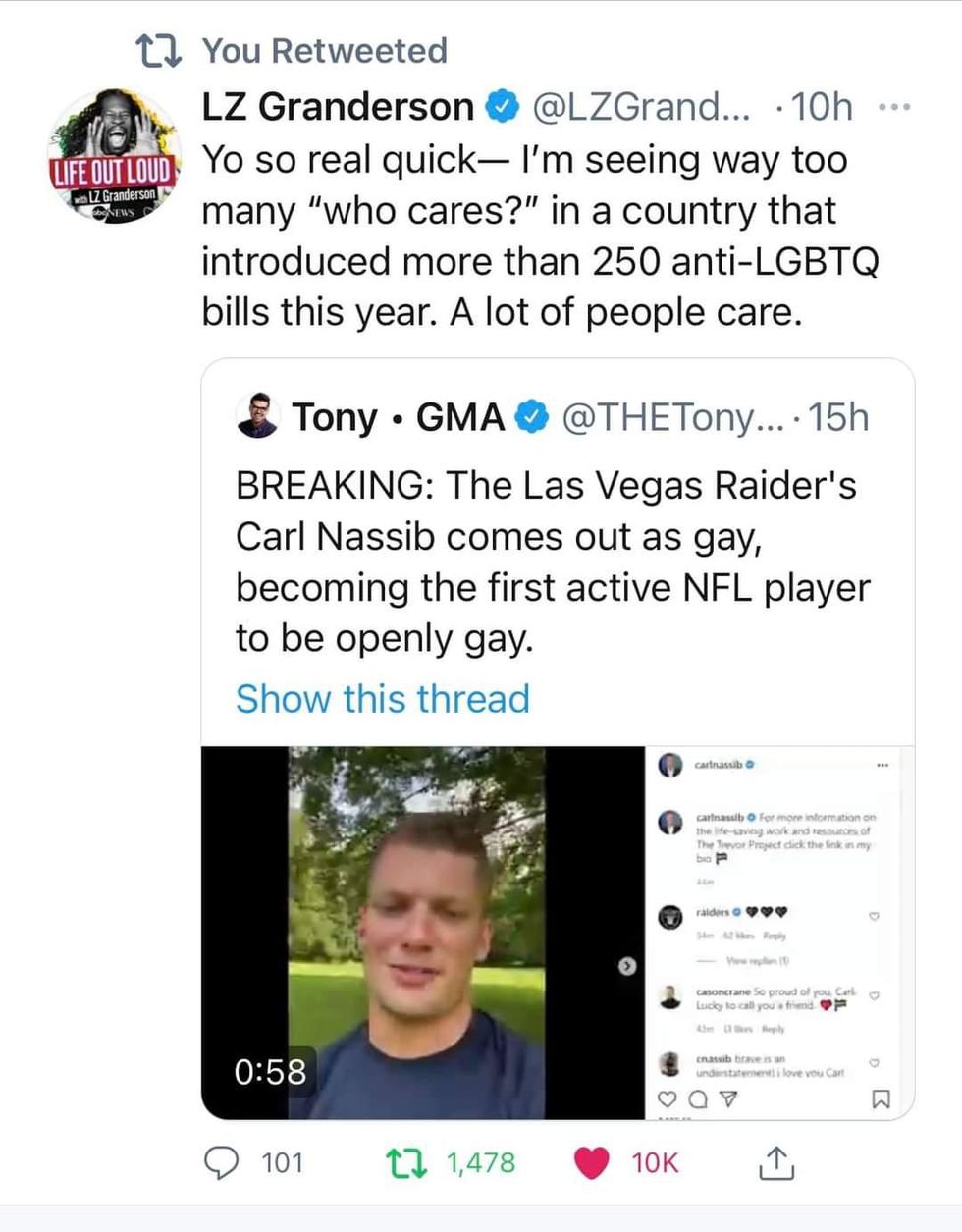 @LZGranderson/Twitter
In an additional message included in his post, Nassib shared he could've never felt so courageous without all those who came before him.
He said:
"I stand on the shoulders of giants, incredible people who paved the way for me to have this opportunity."
"I do not know all the history behind our courageous LBGTQ community, but I'm eager to learn and to help continue the fight for equality and acceptance."
People on Instagram showered Nassib with love and support.

spicedbrown/Instagram

paulkemper_/Instagram
The Las Vegas Raiders, the NFL, rival teams, his alma maters and NFL stars congratulated Nassib on Twitter where the NFL and Nassib's team shared his announcement.

Perhaps Nassib's announcement will be the first of more to come, making the NFL a more and more inclusive and representative space.