Thanksgiving has come and gone once more, and now your fridge is stocked and crammed to the brim with turkey day leftovers. Just about everyone agrees that Thanksgiving leftovers are the best thing ever. In fact, according to a CNN survey, a whopping 79 percent of Americans said eating Thanksgiving leftovers is more important than eating their regular Thanksgiving meal. Chefs from around the country shared with Uproxx how they use their leftovers to create something new and delicious!
---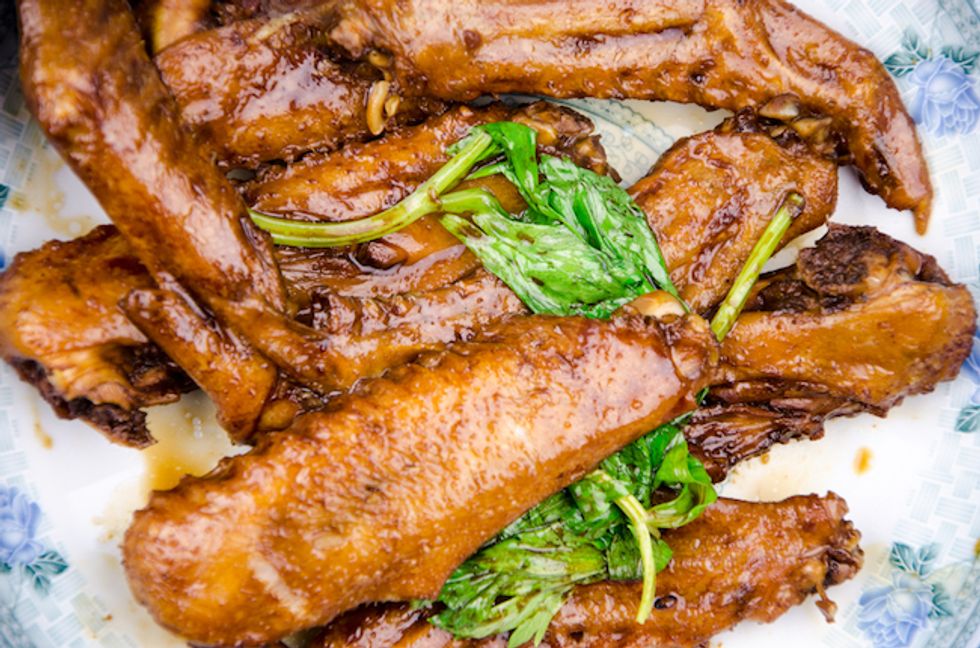 I like to toss my leftover wings with butter, cornstarch, flour, and vodka before double-frying them to make Thai Red Curry Turkey Wings. After frying, I toss the wings with toasted red curry paste and fresh southeast Asian herbs like Thai basil, mint, and cilantro to brighten everything up.

Another great trick is to make Turkey Steamed Buns by searing off pieces of the turkey leg until crispy and then stuffing the meat into steamed rice buns with sliced cucumber, hoisin, and Sriracha.

To put an Italian spin on things, I also like to smoke and shred my leftover turkey to make Smoked Turkey Orecchiette Pasta with cream, sweet corn, toasted garlic breadcrumbs, and grated parmesan.
Chef Michael Neflas - BOA Steakhouse (Santa Monica, CA)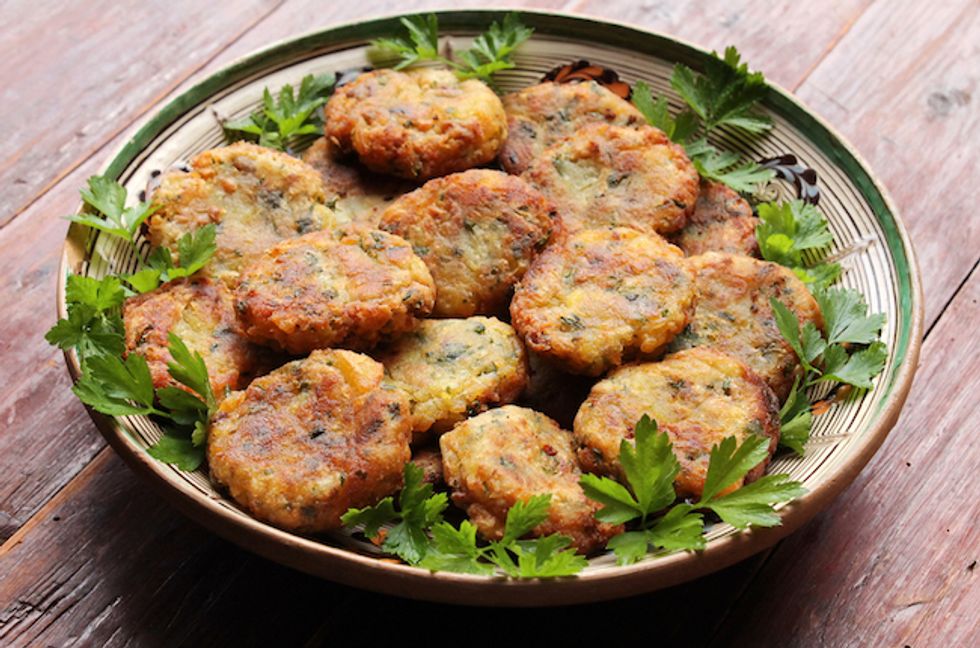 For the turkey legs, I suggest making a Turkey Leg Chile Verde. First, you take the leftover turkey leg meat and simmer it in a tomatillo-based salsa. Then serve it with tortillas, rice, and beans.

Additionally, I usually chill my leftover mashed potatoes, stuff them with cheese, and then form the mixture into a patty shape. Then I freeze them and coat the patties with a standard breading of flour, egg, and bread crumbs before freezing them again. Afterwards, you can pan-fry the patties and serve them as a Potato Pancake Sandwich.

Every year, our family makes a corn casserole that's always perfect as the base of a Corn Chowder. Just simmer the corn casserole with your leftover turkey gravy and some heavy cream before thinning the broth with a little water. Enjoy with crispy bacon, jalapenos, and cheddar cheese as garnish.

As for my yams, I mash them for breakfast the next morning to make Sweet Potato Pancakes.

Lastly, for the cornbread, I break the loaf up into smaller pieces and let them dry out. Then, using a standard bread pudding recipe, I soak the cornbread bites overnight. The next day, I bake the mixture and garnish with my leftover cranberry and orange relish from the night before to make a Cranberry Cornbread Pudding.
Chef Jose "Junior" Melendez - BOA Steakhouse (West Hollywood, CA)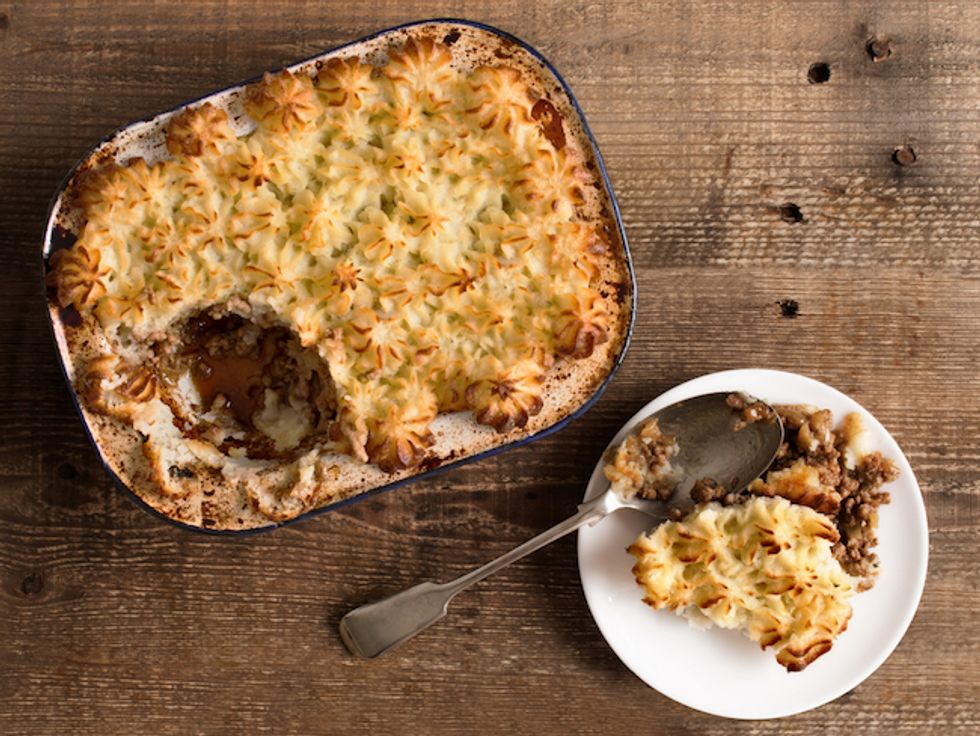 One fun thing is making a Turkey Shepherd's Pie with the leftover mashed potatoes and turkey meat with gravy. First, you heat up the turkey with the gravy (you can also add leftover mushrooms or Brussel sprouts if you like) and put that mixture in a casserole dish. Then place the mashed potatoes on top, sprinkle everything with parmesan cheese and chopped parsley, and bake until golden.
Head Teppan Chef Michael Monzon - ROKU (West Hollywood, CA)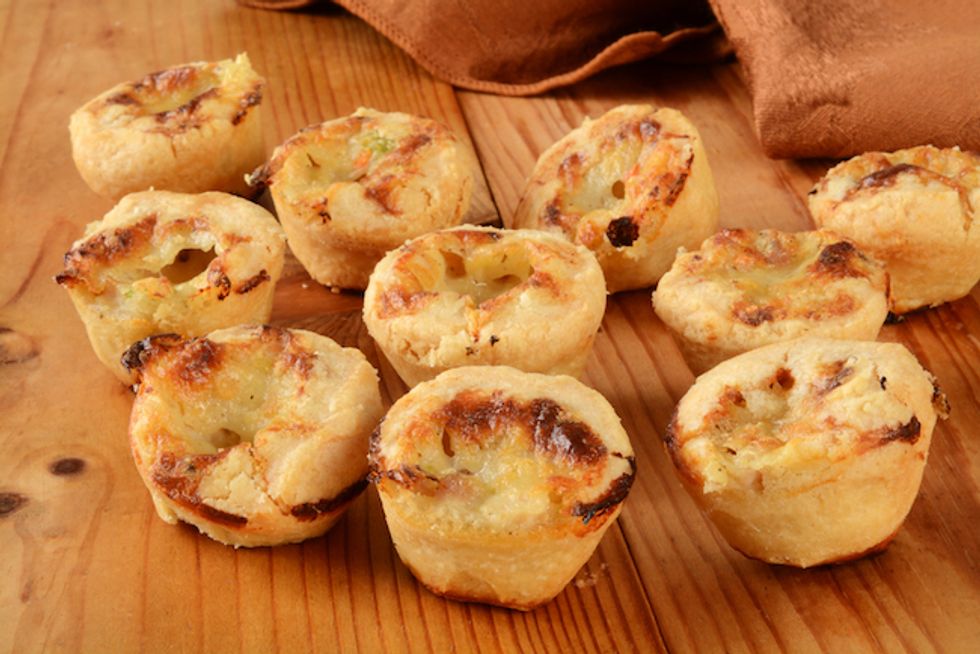 I like to put all of my Thanksgiving leftovers in a giant bowl and mix them together. I'm talking everything—vegetables, turkey, potatoes, gravy, and a little cranberry sauce. Afterwards, line a few ramekins with ready-made pie crust, brush some butter on the inside, and then fill them up with the leftover mixture. Layer some pie crust over the top of each cup, seal the mini-pies, and bake! Basically, you're making Thanksgiving Pot Pies. You can also wrap them up in wax paper and foil and put them in the freezer to save and enjoy the day after Thanksgiving through Christmas. It's one of my favorite memories as a kid!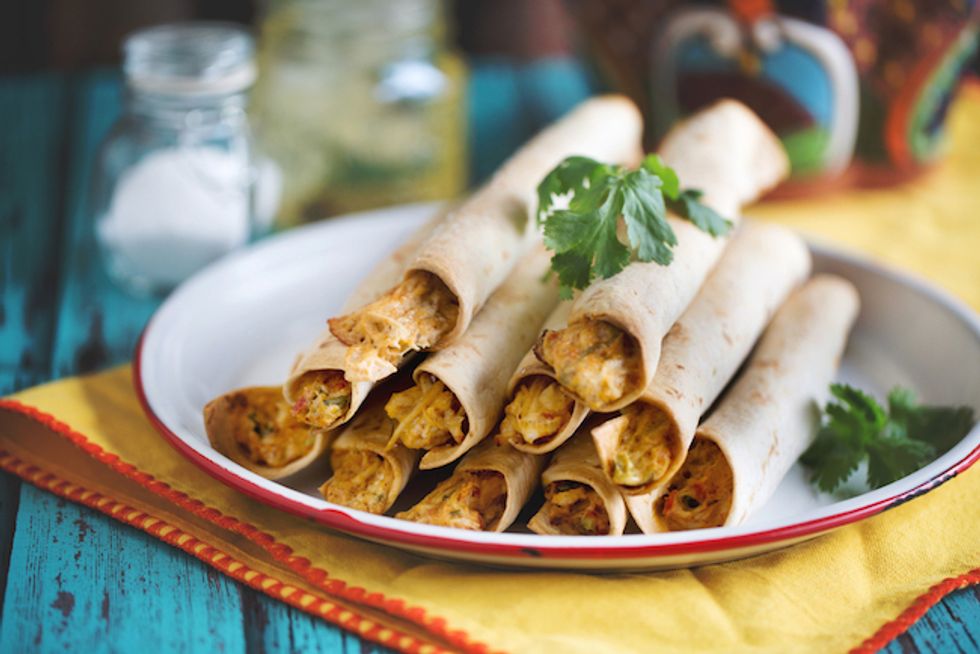 At Plan Check, we like to add cultural twists to classic American comfort food, and you can apply the same philosophy to your Thanksgiving leftovers. My background is in Latin cuisine, so I like to repurpose my leftovers into Sweet Potato Taquitos, Turkey & Gravy Enchiladas, and Mashed Potato & Green Bean Tacos.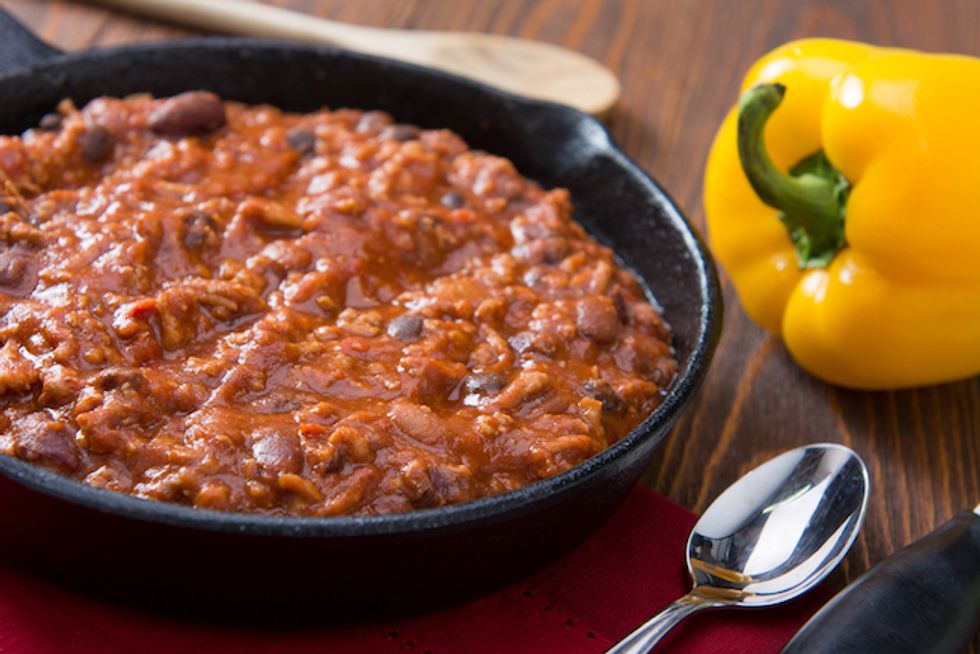 Chili is a staple here in Texas. I like to dice up leftover turkey and use that as the protein for my chili. To take it a step further, I turn the chili into a Turkey Chili Frito Pie and top it with sour cream, cheddar cheese, and chives.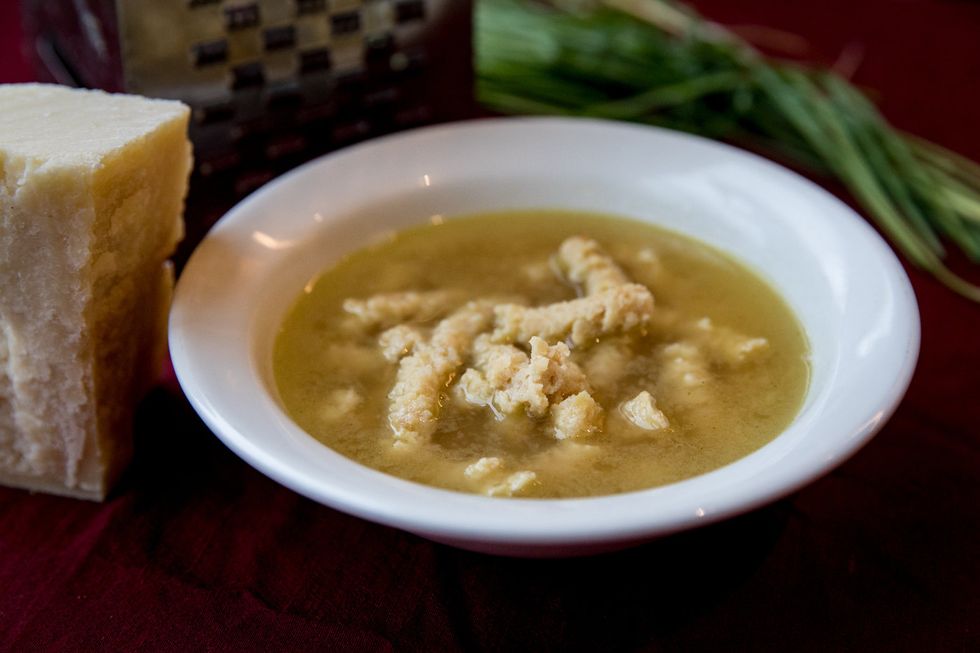 Bottura shared with NPR an improvised variation of his grandmother's Passatelli in Turkey Broth:
For Passatelli:
10 ounces dried breadcrumbs
¾ cup plus 2 tablespoons freshly grated Parmigiano-Reggiano cheese
3 eggs
¼ teaspoon salt
½ teaspoon ground pepper (either black or white is fine)
Grated nutmeg to taste**
"To make the breadcrumbs, you can run stale bread through a food processor. Make sure the breadcrumbs are dry — you'll want them to be almost powdery when ground up. If your crumbs aren't dry, toast them in the oven at 250 degrees Fahrenheit for about 20 minutes (but don't let them burn).
"In a medium bowl, mix together the breadcrumbs, Parmigiano and nutmeg. Mix in the salt, pepper and eggs. Bottura's advice: Start by adding one egg at a time so that you don't end up with dough that's too watery. Bottura started by adding 1 whole egg plus one yolk (because he loves the taste), then added another egg after finding the dough was still too dry. You don't want dough to be too mushy or too dry — just wet enough that it holds together.
"Gather the dough into a ball, cover with plastic wrap and set it aside for 20 minutes. When it's done resting, push the dough through a ricer and drop the noodles into the turkey broth (once it is ready) (note: If you don't have a ricer, you can roll the dough by hand instead but may need to use more eggs to create a more malleable dough)."
For turkey broth:
Turkey bones
Onions
Carrots
Parsley
Celery
Parmigiano-Reggiano rind
"Lay the turkey bones out on a baking sheet or pan with an edge. Add the onions, chopped roughly, skin and all, green carrot tops, parsley. (The vegetables enhance the flavor of the bones.) Roast in the oven at 350 degrees Fahrenheit for about 45 minutes, checking the bones every 10 minutes or so to make sure they don't burn, as that will alter the flavor of the broth. After about 20 minutes, use tongs to turn over the bones to ensure even roasting.
"When roasted, put the bones in a pot and cover them with cold water. Add fresh onions (no peels this time), more carrots and celery (not the vegetables you just roasted). Bottura added the Parmigiano-Reggiano rind he found in the NPR fridge for added flavor.
"Let the broth simmer on medium-low heat for at least 40 minutes (an hour or more is ideal). Once it tastes right (nice and meaty), drop the passatelli into the broth and raise the heat to high. When the passatelli surfaces (about 1 minute), it's ready (over-boiling will result in mushy pasta).
"Serve passatelli in broth, topped with Parmesan cheese."
For other great Thanksgiving leftover makeover recipes, check out these suggestions from Pampered Chef and Business Insider.
Please SHARE this with your friends and family.
h/t: Uproxx, NPR, Business Insider, Pampered Chef