Like many states across the U.S., Ohio has responded to the surging virus by enacting concrete measures to communicate important information to all residents and help Ohioans stay safe.
Every week, the Ohio leadership publishes an updated travel advisory map.
The map highlights all U.S. states with relatively high positivity rates and advises Ohioans to avoid travel to those places--and to quarantine for 14 days upon returning to Ohio if they have indeed visited those states.
But everyone became utterly confused when Ohio put itself on the list of places to avoid.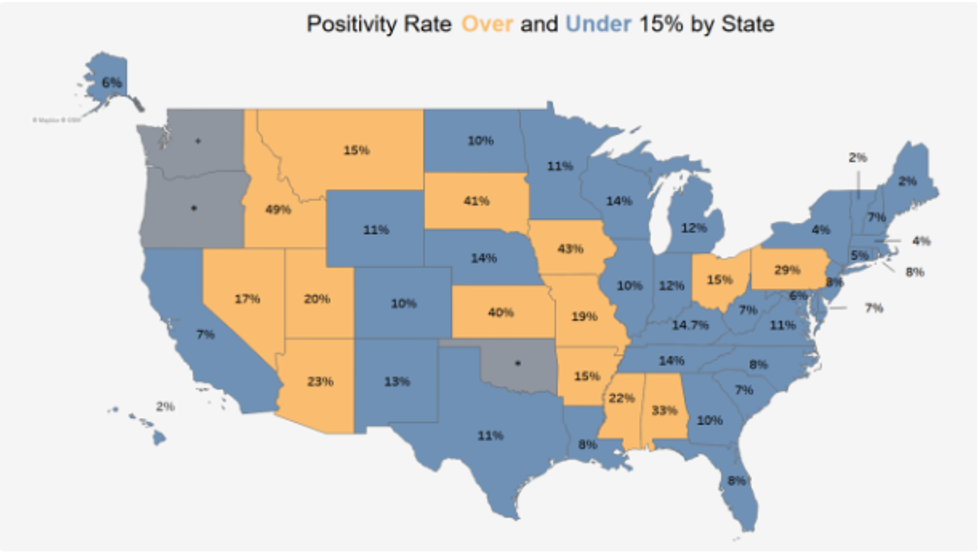 Ohio Department of Health via News 5 Cleveland
One can't help but imagine the inner monologue if someone hunted for logic in such confusing guidance.
Was it time to move to one of those blue states? How do I quarantine at home inside the place that's so dangerous it's the reason I have to quarantine at home? Is there an exception if my entire life is here?
News 5 Cleveland, who first reported the bizarre observation, took a moment to clarify things, though not before taking a hot second to call out the bureaucratic slip-up:

"Obviously, outside of The Matrix or a Christopher Nolan movie, this is physically impossible. To be clear, you are free to move about the state, but the ODH recommends staying home except for necessary trips."
Upon further exploration, News 5 Cleveland did identify the source of the issue. Ohio automatically adds to the map any state that clears a 15% positivity rate.
Of course, Ohio did not expect all of its nearly 12 million residents to up and leave the state. They did, however, advise against all unnecessary trips outside of the home.
But the optics were just too wacky for Twitter not to have a field day.
While the announcement's primary effect head-scratching total confusion and a barrage internet jokes, the Ohio Health Department certainly did grab quite a lot of attention.