New cell phone footage captured a New Jersey Transit train passenger screaming racist and homophobic slurs at a conductor, before he physically attacked him.
Kore James, who filmed the video and later spoke to Daily Voice, explained how the incident began.
"The conductor that was punching holes in tickets was coming around checking everyone's ticket."
"The gentleman didn't have a mask on and the conductor asked him kindly to please put a mask on."
At that point, James shared that Thomas Vitulano "immediately started a verbal argument with [the conductor]."
His video captured that exchange.
James continued:

"They started going back and forth, back and forth, and eventually it became physical. That's when I cut the video and ran down and put the man in a restraint to get him off of the conductor."
When things became physical, James stepped in. He brought Vitulano to the ground and remained on top of him until the police arrived.

The conductor was brought to nearby Valley Hospital in Ridgewood, NJ and treated for non-serious injuries.
As for Vitulano, who had screamed, "I'm not gonna catch a charge over your bi*** a**" during his rant, he was indeed arrested and charged with two counts of aggravated assault on a conductor, as well as interfering with transportation and disorderly conduct.
Senior Public Information Officer Emma Wright condemned Vitulano's actions.
"This type of behavior will not be tolerated under any circumstances on the NJ Transit system, and this individual should be banned from riding the system."
"We want the public to know that incidents of this nature, including all allegations of our employees being assaulted, are taken very seriously."
"Individuals who contemplate doing harm to our employees will be apprehended and aggressively prosecuted to the fullest extent of the law."

People who saw the clip were outraged as well.


kaydenpat/Youtube

Russell/Youtube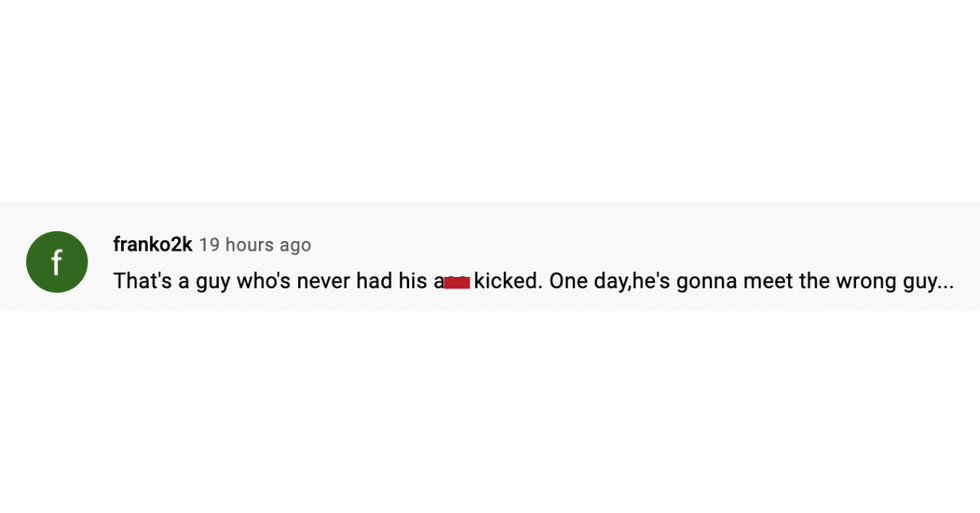 franko2k/Youtube
We're glad the conductor left the incident relatively unharmed, and hope he doesn't encounter anything like this on the job again.