A woman who thought she was expecting her first child was devastated to discover that her longed for 'baby' was actually cancer.
Former Belfast hairdresser, Megan, and her businessman husband Jake Murray's joy at the prospect of being parents turned to despair, when doctors found no trace of a child – instead discovering a tumor in her womb.
Belfast-born hairdresser Megan, 23, who endured eight weeks of chemotherapy, which has now shrunk the growth, said:
"To go from thinking we were having a baby to finding out it was cancer, requiring immediate treatment, was devastating."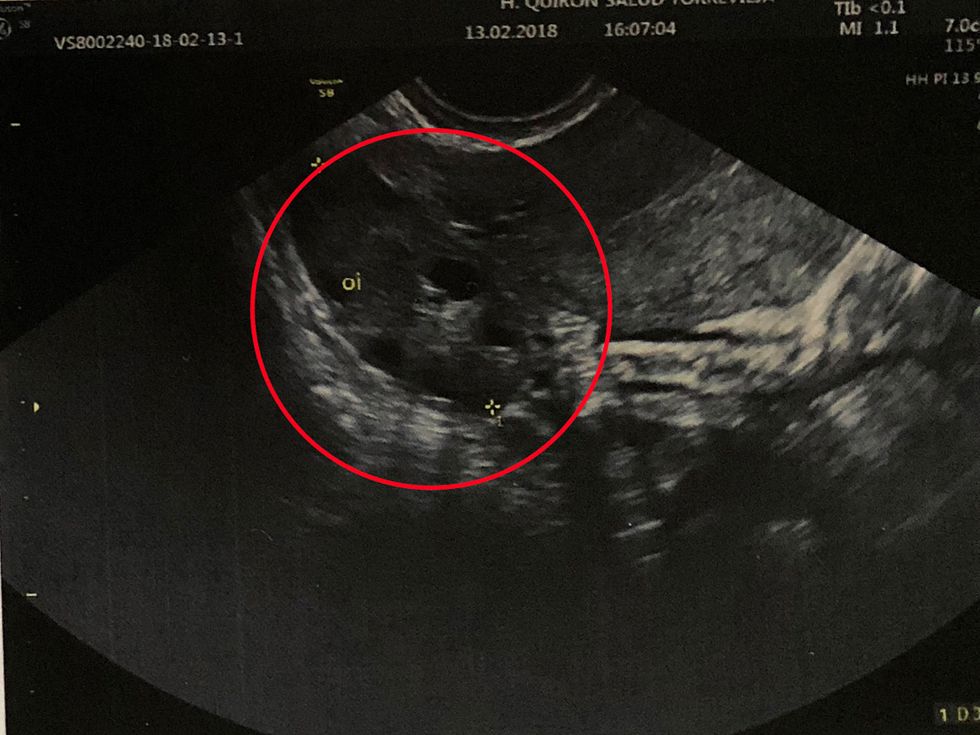 Scan 2 showing Megan's tumor circled (Collect/PA Real Life)
Megan, who moved from Belfast, Northern Ireland, to Orihuela Costa, near Alicante, Spain, with Jake, 23, who runs his in-laws' real estate business, was told she had experienced a molar pregnancy, after heavy bleeding at 10-and-a-half-weeks.
The rare condition, where the fertilization of the egg by the sperm goes wrong and leads to the growth of abnormal cells, which can be cancerous, meant she had to have the tumor removed.
But, to her horror, it grew back and Megan needed grueling treatment to remove it, before being given the all-clear earlier this month.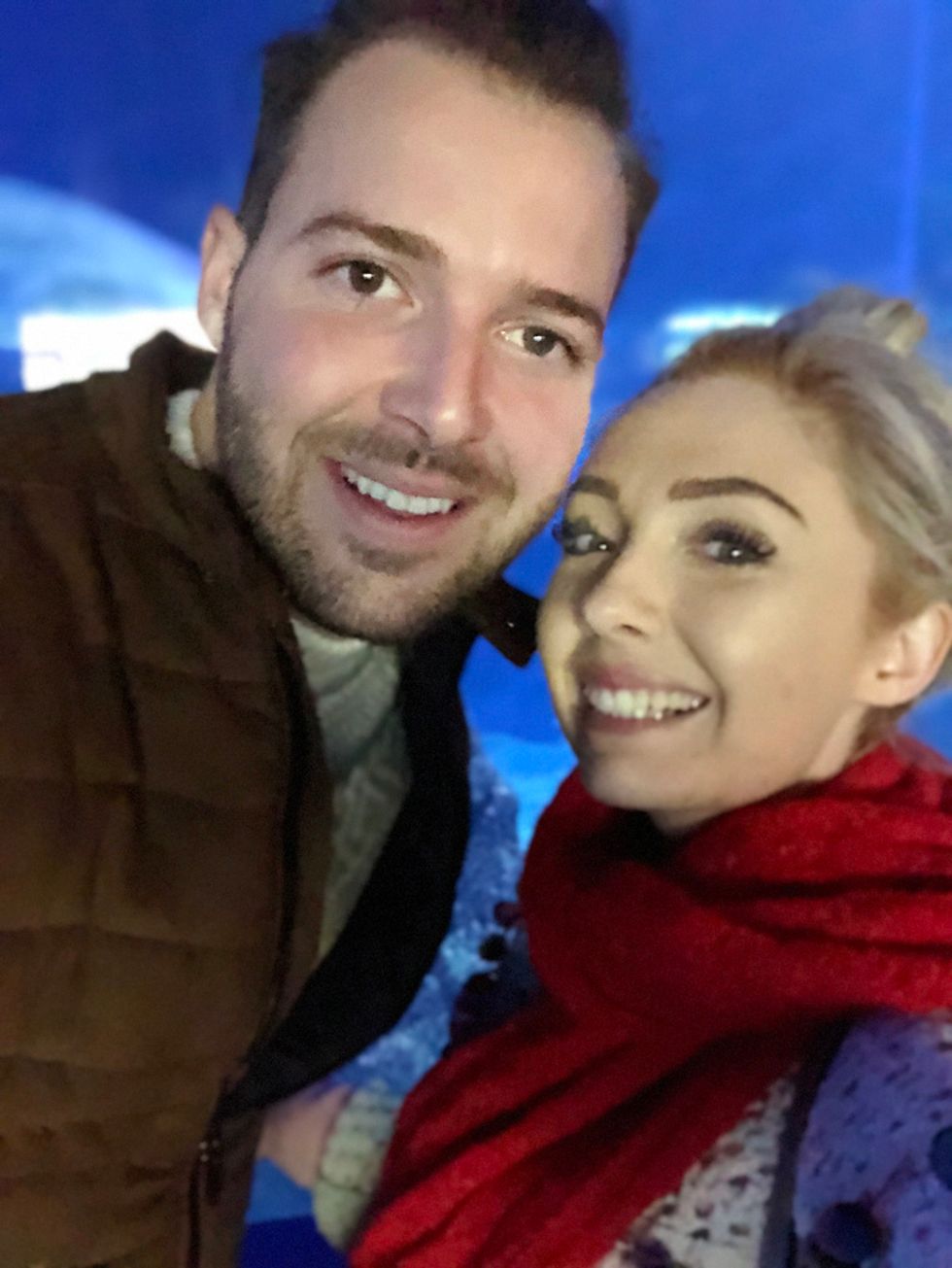 Megan and husband Jake (Collect/PA Real Life)
"Losing our baby was devastating, but now we are looking forward to trying again and starting a family," she said.
When Megan first saw the two blue lines on her pregnancy test, just before Christmas last year, she was overjoyed.
She said:
"My period was five days late when I was back in Belfast visiting family and I had a feeling I might be pregnant."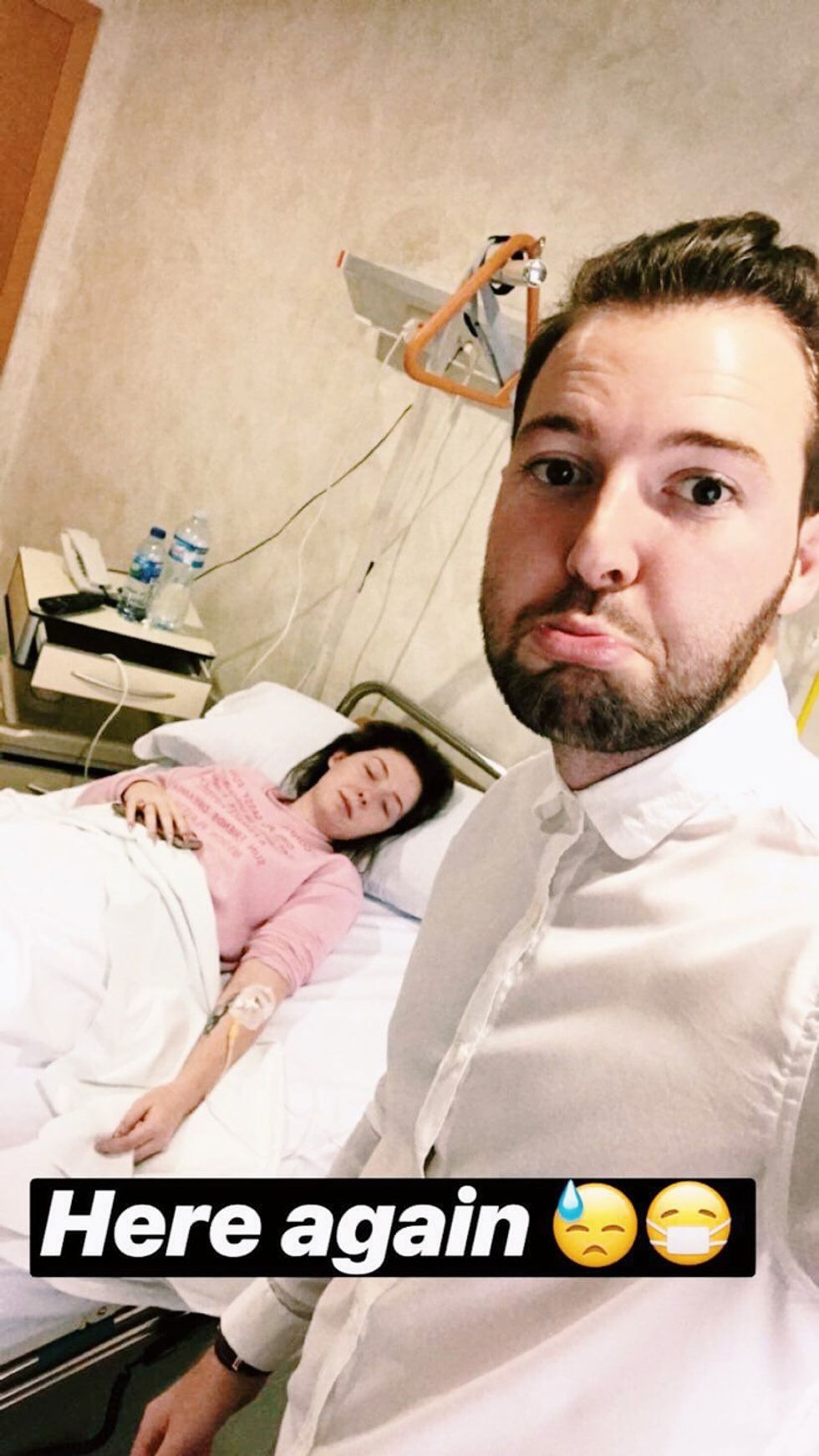 Megan and husband Jake back in hospital (Collect/PA Real Life)
Megan continued:
"We'd been trying for three months, so when I did the test back in Spain with Jake, it was the best feeling in the world."
"He cried his eyes out and I was in total shock. We were so happy to be having a baby."
Hampered with problems from the start, Megan was struck down with extreme nausea and her 'baby bump' was so swollen that, when the midwife she saw her at eight weeks pregnant, she commented on her being large for her stage.
Then, at 10-and-a-half-weeks, she experienced vaginal bleeding so severe that Jake – who Megan met on a night out in Spain, aged 15, and married on March 26 2017, in Spain's Benidorm hills – rushed her to their nearest hospital casualty department, where she was given a trans-vaginal ultrasound scan.
"The moment they turned the scan screen away from me, I knew something was seriously wrong," Megan said.
"The nurse sent for the doctor and he came in and told me my baby wasn't there anymore. I was totally devastated and had no idea what had happened. All I knew was that we'd lost our baby."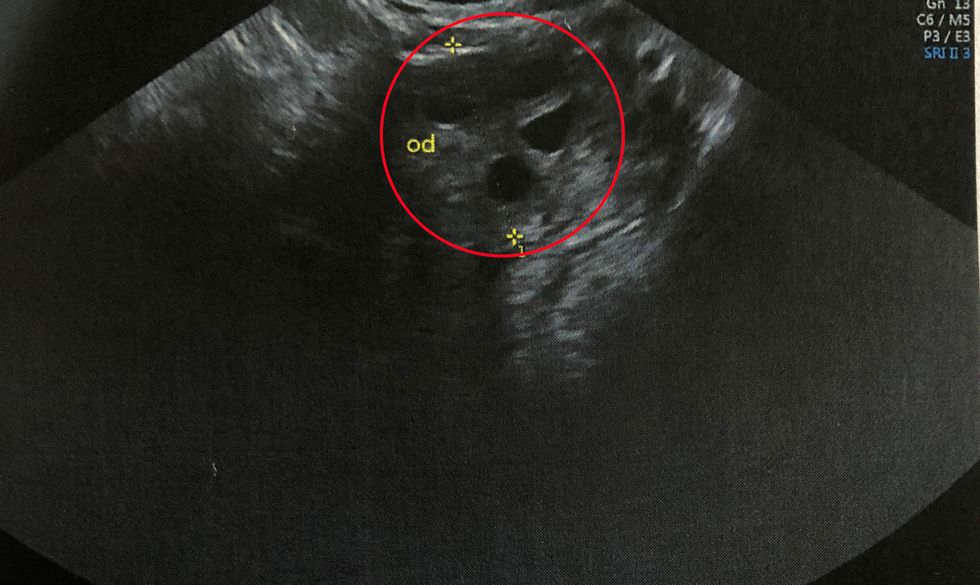 Scan showing Megan's cancerous tumor, circled (Collect/PA Real Life)
Fluent Spanish-speaker, Megan, was told she had in fact had a molar pregnancy and would need to return to the hospital the next day, to have a procedure to remove the 'baby'.
Given a dilation and curettage (D&C) – where the cervix is dilated and the contents of the uterus removed – in a bid to get rid of the tumor, afterwards Megan was left feeling numb.
"Scared, I rang my mum afterwards, crying my eyes out, saying it could be cancer," she reflected. "I could not believe that what I had thought was a baby was actually a tumor, growing inside me."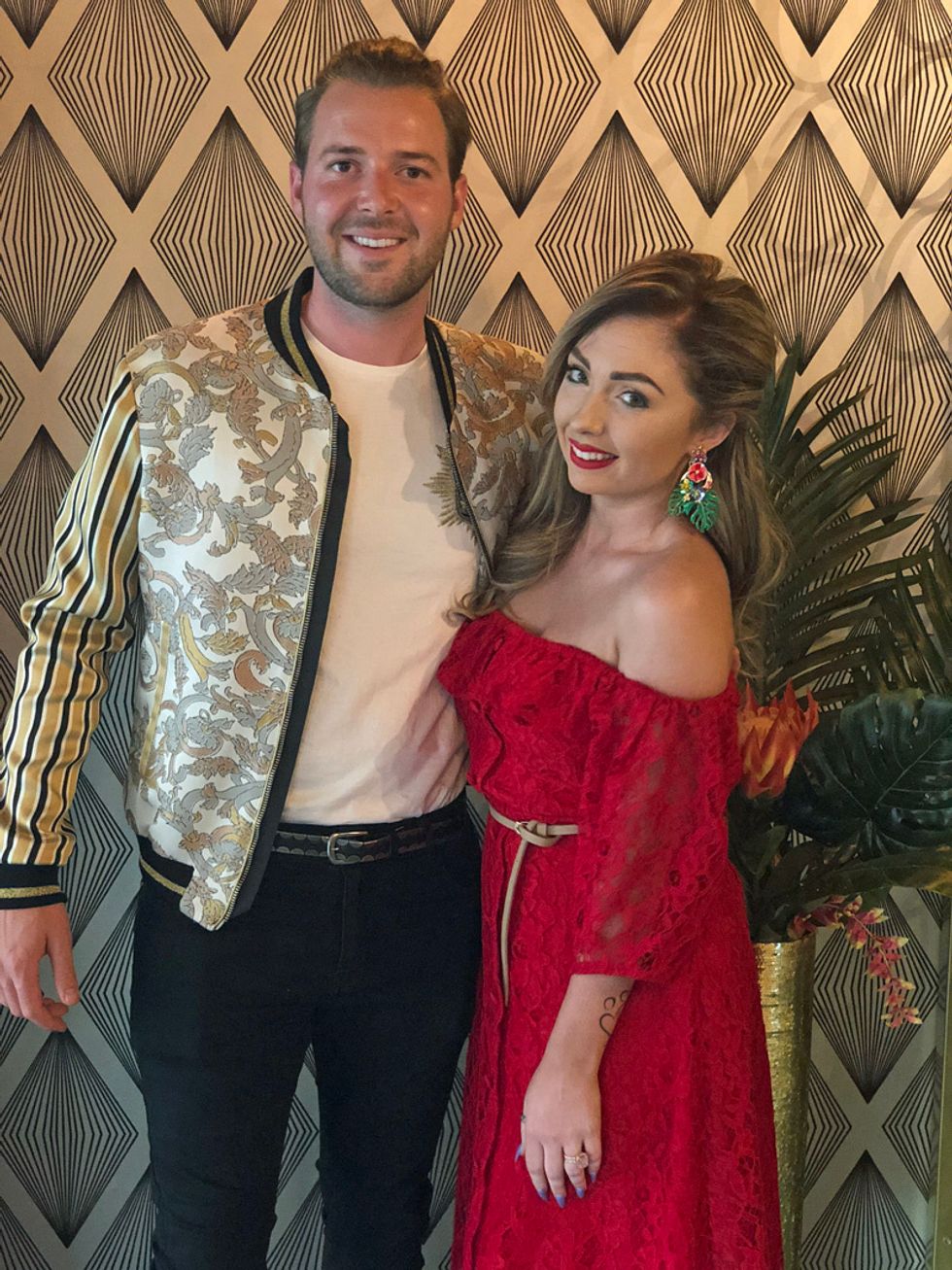 Megan and husband Jake in April 2018 (Collect/PA Real Life)
Because of the risk of the molar pregnancy tissue continuing to grow, Megan's hormone levels were monitored post surgery, to ensure they stayed low.
"Doctors said that, if the levels of pregnancy hormones started increasing or didn't drop to normal, then it could be a sign that I needed treatment, like chemotherapy," she said.
"At a check-up, they said my levels had risen, so I had an ultrasound scan at Hospital Quirón Torrevieja, in Alicante, a private hospital, to be seen quicker and a growth was spotted."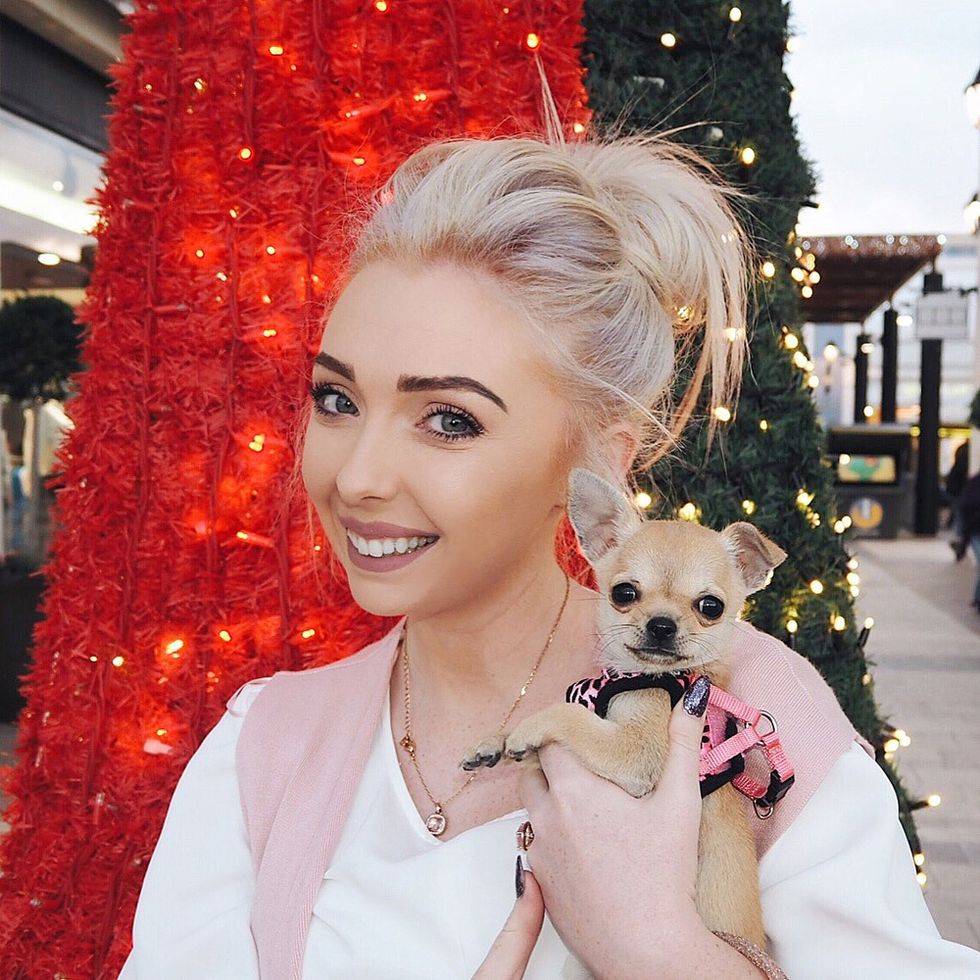 Megan and her dog Gucci November 2017 (Collect/PA Real Life)
Megan continued:
"Hearing the news, I just broke down. I was petrified about what was inside me. Doctors believed it was cancerous and wanted to start me on chemotherapy right away."
"Looking at the scan on the screen, I could see the tumor. It was like a cluster of grapes and doctors believed a small amount had continued to grow after the first tumor was removed."
Starting chemotherapy on February 20 this year, Megan had eight week cycles, involving eight days of the grueling treatment, followed by six days off.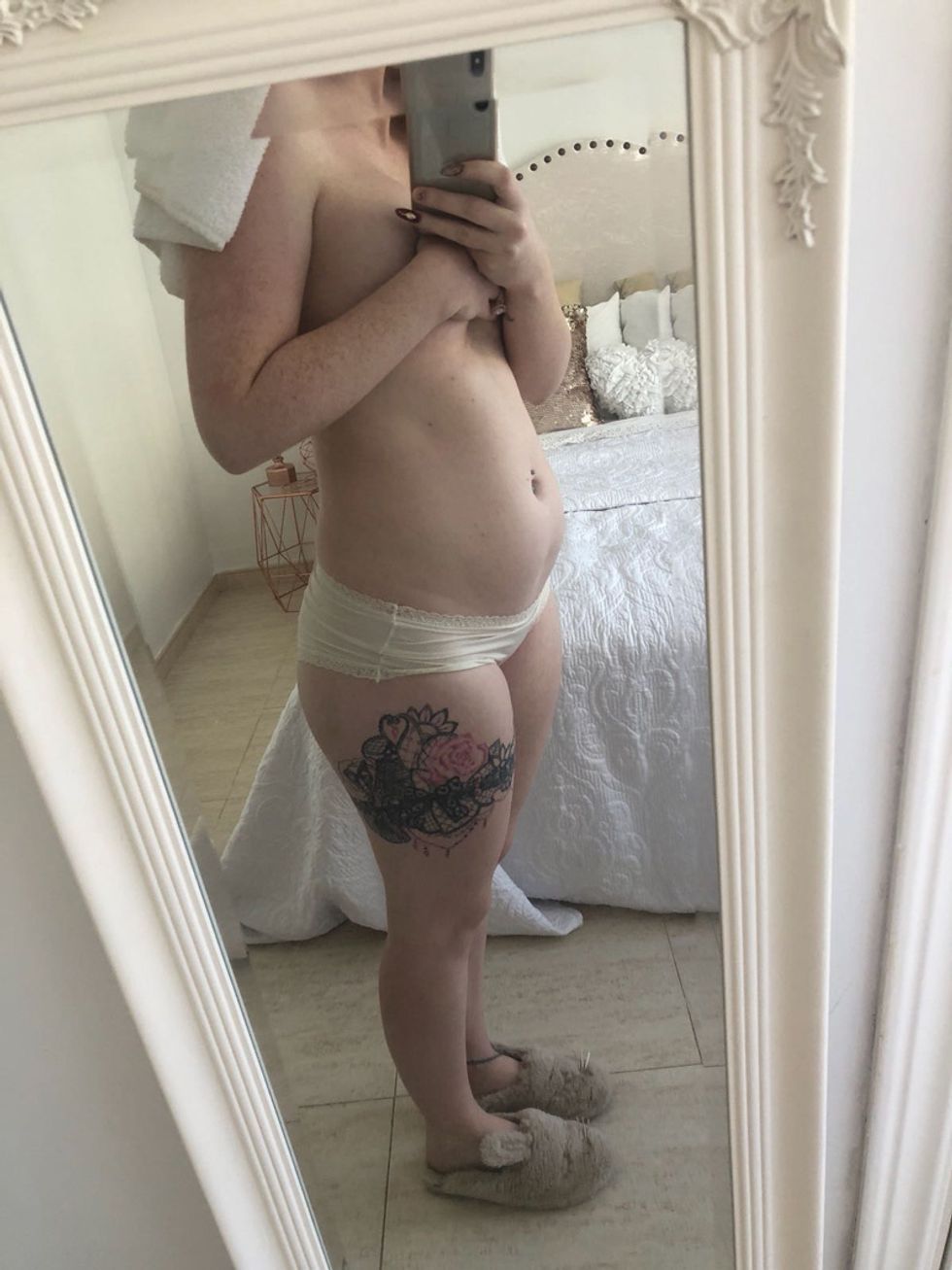 Megan's pregnancy bump (Collect/PA Real Life)
Fortunately, last week Megan and Jake received the fantastic news that the chemotherapy had shrunk the tumor and she was cancer-free.
She said:
"It was such amazing news. "Now I need to go back for a check-up in three months and three months after that we can start to try again."
"I always knew I wanted to start a family and once we were married we had it all planned out. We own our own home and, with my husband running my parents' business, we were settled and ready to move to the next stage of becoming parents."
A version of this article originally appeared on Press Association.