Another day, another woman unable to do her job in peace without a man being gross.
ESPN reporter Maria Taylor was reporting from the sidelines of Monday night's Steelers/Giants game. Taylor's broadcast was uneventful since, ya know, she's a professional.
Overall, there was nothing really unusual going on here aside from a female sideline reporter of color making some career moves. This was Maria's first time reporting from the NFL sidelines.
She has been sideline reporting for a long time and has covered other professional sports, but Monday was her first time reporting for the NFL and we should be able to just write an article about what an accomplishment that is.
It is a career moment worth noting for her.
However, that career moment was tainted thanks to Chicago radio host Dan McNeil.
McNeil took one look at this woman making career strides he never did then posted her picture in a now-deleted tweet that questioned whether she was an NFL sideline reporter or a host at the AVN awards.
He deleted the tweet, but screengrabs are a thing, Dan.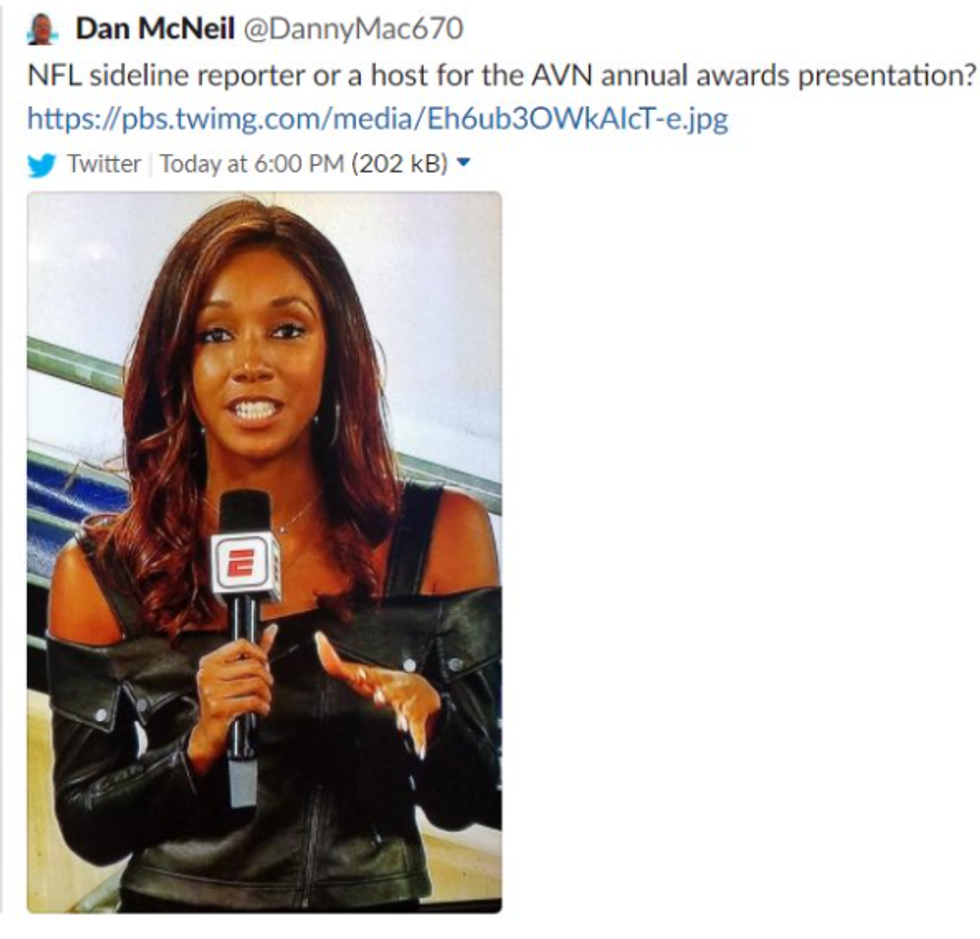 @DannyMac670/Twitter
The Adult Video News (AVN) awards is an awards show celebrating achievements in the adult video entertainment field. It's often referred to as "The Oscars of Porn."
We're not going to shame sex workers like McNeil tried to do, because sex work is work.
But AVN show attendees and hosts typically wear purposefully revealing and highly sexualized clothing. The 2019 AVN best dressed list list (yes, that's a link) features a lot of sheer mesh and a not-insignificant amount of nipple tape.
That's not what Maria Taylor's outfit looks like.
It is not revealing at all, really. There's nothing overtly sexual about shoulders unless you're creating a misogynistic school dress code.
There is a woman unapologetically doing her job in a male-dominated field. Could that maybe be why McNeil was so pressed?
Twitter seemed to think so.
But before we talk about the collective roasting McNeil got, let's talk about how Taylor handled him. She boldly called him out by tweeting him right back, inviting him to bring his misogyny to her directly.
"Danny dearest" is how people will be referring to McNeil for years.
Taylor's colleagues also had her back...
...along with some other folks from the world of sports.

The majority of Twitter was also not on Team Dan for this one.
As it turned out, this was a pattern of behavior for McNeil.
That may be why his employer, Entercom, fired him.
Entercom made this official statement:
"For each one of us our words have power. For our brands and on-air personalities that is amplified and brings increased responsibility how we choose to use our voices. (Monday) night's tweet, and its degrading and humiliating tone to a fellow female broadcaster, was unacceptable."
"We have the best teams in Chicago, and we must continue to hold ourselves to high expectations to continue to be leaders in our organization, our industry and our community. We apologize to all who were offended by Dan's words, especially Maria."
Twitter, take it away.

So yeah ... that didn't work out well for him. Having a history of being terrible rarely does.
Fumbled the ball big time, huh, Danny dearest?