In a heartbreaking post on Instagram last week, actor Laura Benanti revealed she had a miscarriage while singing for "2,000 people" on The Broadway Cruise on April 3.
The Tony Award winner was performing on the cruise when she experienced the miscarriage and shared she "knew it was happening."
Benanti began her post with a trigger warning for others:
"TW: pregnancy loss"
The Broadway star wrote:
"On Monday April 3rd, I performed on stage for 2000 people while having a miscarriage."
"I knew it was happening. It started slowly the night before."
She continued that what she was experiencing was sadly all too familiar.
"If it had been our first loss, or even our second, I likely wouldn't have been able to go on."
"But unfortunately, I am not a stranger to the pain and emptiness of losing a pregnancy. It is a path I have walked before, hand in hand with my husband."
"But this time we walked it alongside some of the kindest, most loving humans I will ever have the honor to share space with."
Benanti continued the post by sharing her gratitude for the audience for their "grace" and for "lifting me out of my grief."
She also thanked those "rallying around" her and "graciously accommodating" her needs.
"Thank you to my band for holding me, unconditionally, in your hearts, and to the crew for working so hard to make me as comfortable as possible."
"Thank you to my friends and fellow performers for rallying around me and so graciously accommodating my changing needs."
Additionally, the My Fair Lady star thanked the producers and their teams as well as her in-laws who gave her daughter Ella the "time of her life" while "Mama's back hurt."
Her heartfelt note was accompanied by a picture from her performance.
Friends, fans and fellow entertainers sent their love to the Gypsy actor and her family, many thanking her for her vulnerability and courage in sharing her story.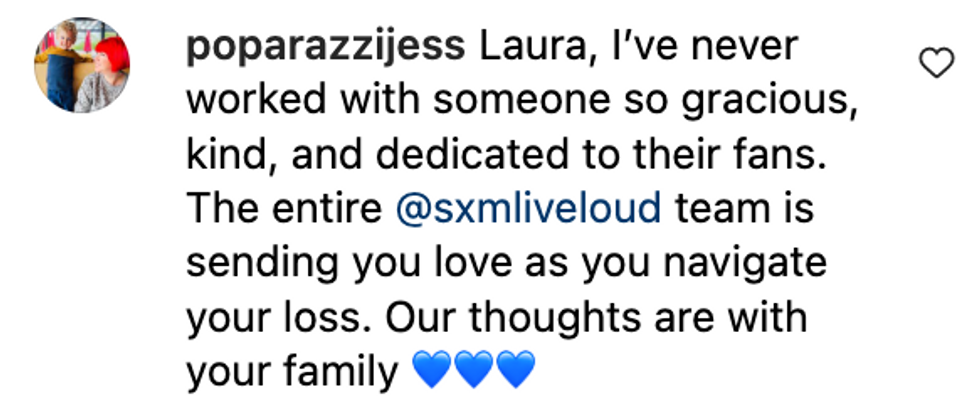 @laurabenanti/Instagram

@laurabenanti/Instagram

@laurabenanti/Instagram

@laurabenanti/Instagram

@laurabenanti/Instagram

@laurabenanti/Instagram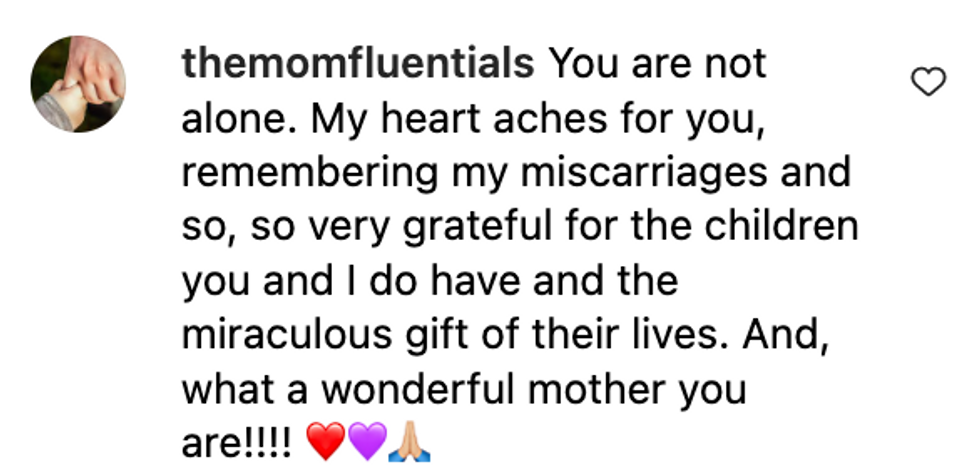 @laurabenanti/Instagram

@laurabenanti/Instagram

@laurabenanti/Instagram

@laurabenanti/Instagram
In her post, Benanti also shared:
"Thank you to that little soul for choosing me as your home, even for a short time."
"Patrick and I are so grateful for the family that we have, and the miracle of our two little girls. On carried by me and one carried by an angel-on-earth."
"My husband and I are heartbroken but we will move through this together as we, and so many others, have done before."
She finished, expressing others going through a similar experience "are not alone."
"I share all of this, not to garner sympathy or attention, but to remind the many people and families who have and will suffer in this way that there is no shame in this kind of loss.
"That you are not alone."
"And to remind myself as well. 🤍"
"My hand in yours, Laura"